chris - Fotolia
Veeam Availability Suite v10 enhances NAS, ransomware support
Veeam released the much-anticipated Version 10 of its Availability Suite software, a product that executives have promised for years. NAS support headlines the key additions.
Years in the making, Veeam Availability Suite v10 launched today with enhanced NAS backup and ransomware protection among the more than 100 features.
Dubbed the "biggest release in the history of Veeam," version 10 of Veeam's flagship Availability Suite was "built on a decade of experience in data management," said CTO Danny Allan.
In 2016, Veeam asked enterprise customers what they wanted in the product. Over the ensuing years, Veeam satisfied most of those requests -- including cloud tiering and agent management -- in product updates. Veeam waited, however, to call the product "version 10" until it included the NAS support.
"It is wonderful to release it," said Allan, who is also senior vice president of product strategy at Veeam. "However, I wouldn't want to diminish all of the [more than 1,000] capabilities that we've introduced over the last three years."
Veeam Software entered the market in 2008 with a product focused on virtual machine backup. The company has had to add more support to keep up with the market, said Henry Baltazar, research vice president at 451 Research.
"The last few years have been about broadening beyond that message," Baltazar said.
Veeam has since added physical and cloud protection, and is currently focused on data protection and management.
Veeam Availability Suite v10, which includes Veeam Backup & Replication as well as the Veeam One monitoring and reporting tool, has previously been generally available to the vendor's partners and cloud and service providers.
The launch comes as Veeam is in the process of getting acquired and relocating its headquarters from Switzerland to the United States. Insight Partners said in January it is buying Veeam at a valuation of $5 billion, in a deal expected to close by the end of March.
NAS backup 'more innovative' than previous offering
Customers often requested the enhanced NAS backup, Allan said.
Veeam had offered basic NAS support through the Network Data Management Protocol (NDMP), which was designed in 1996. Over the years, other vendors developed faster ways to back up and restore NAS than using NDMP.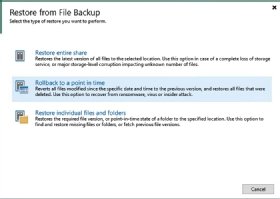 "We looked at the market and said, 'There has to be a better, more innovative way than using this protocol,'" Allan said of NDMP.
Veeam Availability Suite v10 introduces what the vendor is calling "changed file tracking," which is similar to Changed Block Tracking. The product can determine which files have changed since the last backup and only protect those. The modernized NAS support also protects data at a bigger scale than NDMP, Allan said.
Uses for the NAS support may go beyond backup.
"One of the interesting things that we've observed in the early [proofs of concept] is customers will actually use this for migration," Allan said. "They'll use it to move data from one storage system to another storage system."
451 Research's Baltazar said he heard Veeam was losing deals because of its prior level of NAS support, but features like the changed file tracking mark an improvement.
"This was a gap they had to fill," Baltazar said.
A look at other new, future and potential features
Veeam Availability Suite v10 increases security through immutable backups with Amazon S3 Object Lock. Immutable data cannot be modified and thus protects the user from ransomware infections.
While a customer performs a backup, Veeam copies it to object storage -- for example, S3 or any S3-compatible system, Allan said. The destination could be an on-premises platform such as Cloudian, which launched an integration with Veeam Availability Suite v10.
"We'll do an immediate copy and if it supports immutability, then we will set the object-level immutability," Allan said. "There's no window of time where you only have two copies -- you immediately have three copies of your data, one of which is immutable.
"One of the things that we've observed is ransomware will purposely attempt to delete the backups, or encrypt the backup systems, and obviously immutability protects against that."
Veeam's previous ransomware capabilities include Secure Restore, which inspects a backup before recovery to make sure it's not infected.
Among the other 150 features in Veeam Availability Suite v10 are Multi-VM Instant Recovery and the ability to instantly recover to VMware vSphere.
"We made the software itself so much smarter, which ultimately for the customer results in two things," Allan said. "It results in faster recovery and a cheaper cost of recovery because they can use the hardware that they already have."
In addition, the Veeam Data Integration API gives users the ability to inspect backups for security, compliance or other analysis purposes.
"It sets us up for a future where data is not just held as insurance for the organization, but it's leveraged as a competitive advantage," Allan said.
Veeam executives have also promised continuous data protection (CDP), which Allan said is still on the roadmap. The vendor currently offers what its co-founder Ratmir Timashev has called "near-CDP."
Baltazar expects Veeam to expand further beyond backup. Veeam has already started to extend into data management capabilities such as compliance and analytics. He suggested a collaboration on artificial intelligence, which could enhance data use.
"At the end of the day, it's about data," Baltazar said.