Creativeapril - Fotolia
Nakivo dives into SaaS backup with Office 365 protection
Version 9.2 isn't as features-heavy as Nakivo's previous releases, but Office 365 backup is a significant step. The vendor plans to delve deeper into SaaS application data backup.
Nakivo 9.2 is a light update with potentially heavy implications.
The latest version of Nakivo Backup and Replication released last week added backup capability for a single but significant workload: Office 365 Exchange emails and accounts. Customers can quickly recover emails and mailbox folders to their original locations or to another mailbox. Nakivo v9.2 also allows customers to search for specific terms within backups and surface them for e-discovery.
This update marks the first SaaS application backup for Nakivo, but the vendor's director of product management Veniamin Simonov said it won't be the last. Nakivo plans support for other Office 365 applications such as OneDrive and SharePoint in the next release.
Nakivo's Office 365 backup feature is priced on a per mailbox basis, separate from other Nakivo licensing costs.
Simonov said in contrast to the early days of SaaS application adoption, customers are more aware of their responsibility for their data. Fewer believe the myth that the data they generate in SaaS applications is automatically protected by the SaaS provider. He said the increased demand for Office 365 email support from Nakivo customers proves this.
"It's pretty widely understood by customers these days that Microsoft won't restore deleted emails for you," Simonov said.
Simonov added that Nakivo intends to provide data protection for Salesforce because it is the next most popular SaaS application. He said SaaS adoption will grow in popularity because even though it's more expensive long-term, it has lower upfront investment and offloads the burden of owning and managing infrastructure. That makes it an especially good fit for SMBs, Nakivo's target market.
Nakivo started in 2012 with VMware backup on Windows machines and competes with larger vendors such as Veeam and Commvault. The vendor has been on an aggressive quarterly release pace, adding platform support with each update. Nakivo's previous update introduced backup to tape, Linux servers and Windows workstations.
Steven Hill, senior analyst at 451 Research, said Nakivo is following larger competitors with its foray into SaaS application backup. He described it as the logical development path of a smaller player in a large market.
"You want to mirror what the guys at the top are doing," Hill said.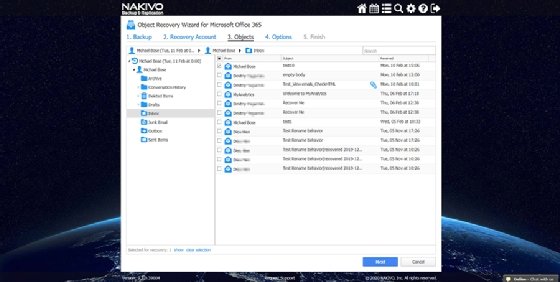 Hill described Office 365 as the "lowest-hanging fruit" and the perfect entry point into SaaS application backup. The vast majority of companies don't need physical mail servers, which is why Office 365 has seen such widespread adoption. He said an expansion into SharePoint and OneDrive makes sense for Nakivo, and he expects backing up Microsoft Teams conversations to be another area for growth. Hill said SaaS applications are still underserved when it comes to data protection and when it comes to availability and business continuity. Companies such as Spanning, Backupify and OwnBackup have products for restoring SaaS application data in case of accidental or malicious deletion. However, Hill said as far as he knows, Odaseva is the only vendor with a tool specifically designed for maintaining uptime when Salesforce goes down.
Hill admitted that the demand may be low because of how naturally resilient cloud environments are. Few customers want to buy insurance when there's a low chance of anything bad happening.
"There's a high confidence level in the cloud. It's deserved, because there are very few cloud-based outages," Hill said.
However, Hill expects that when popular SaaS applications becomes truly critical to the success of a business and downtime translates to meaningful losses, there will be stronger demand for business continuity products.