Sergey Nivens - Fotolia
Nakivo Backup & Replication software gets automated
Nakivo updates its software for quick and automated recovery. While the vendor has a focus on virtual data protection, it has expanded to include cloud support.
Nakivo cranked up the automation in the latest edition of its flagship data protection software.
Continue Reading This Article
Enjoy this article as well as all of our content, including E-Guides, news, tips and more.
With automated virtual machine disaster recovery, Nakivo Backup & Replication 7.4 will provide VM failover with one click. That helps Nakivo cloud service providers to produce cheaper and easier disaster recovery as a service, according to the vendor.
Nakivo provides data protection for VMware, Hyper-V and AWS Elastic Compute Cloud (EC2). Nakivo Backup & Replication 7.4 is entering beta, with general availability scheduled by mid-2018.
A self-backup feature automatically backs up the system configuration. Administrators can instantly restore the product configuration and perform a planned system migration.
"It's easier to back up and it's easier to restore," said Veniamin Simonov, lead product manager at Nakivo, which is based in Sparks, Nev.
Backup confidence and the better automation stand out in Nakivo Backup & Replication 7.4, said George Crump, founder of IT analysis firm Storage Switzerland and its lead analyst. There are more features in this Nakivo update than others and some of them are major, including the automated VM failover, self-backup and instant VM recovery for Hyper-V, Crump said.
The self-backup provides the ability for the application to protect itself.
"It's very common for a data center not to be protecting backup applications," Crump said.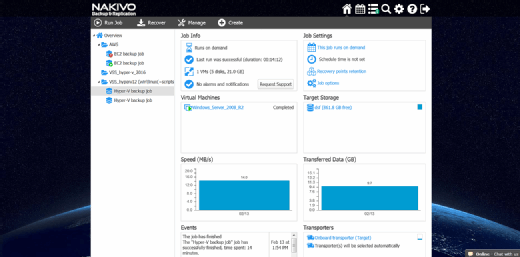 Recovery in an instant
A new instant recovery feature provides the ability to boot Hyper-V VMs directly from compressed and deduplicated VM backups.
A lot of it now is getting everything to work easier, rather than, 'We need this really cool backup feature.'

George Crumplead analyst, Storage Switzerland
"It's almost an expectation that a modern backup application will have [instant recovery]," Crump said, adding that this feature facilitates easier testing.
Other new features include:
instant file recovery to source, which retrieves files from deduplicated VM backups and can restore them to their original location on the source VM;
enhanced EC2 instance backups, which can be stored in the cloud or on premises; and
bandwidth throttling to set speed limits for data protection jobs.
Nakivo closes competition gap
Nakivo is a relatively new entrant to the market, with its first product launching in late 2012. Crump said he thinks the company was generally playing catch-up until the middle of last year, but it has been able to quickly \ with the competition and now offers many leading elements. Though the list of Nakivo Backup & Replication features is getting close to complete, Crump said tape support is missing.
Nakivo is planning to add support for physical servers and tape, Simonov said.
"A lot of it now is getting everything to work easier, rather than, 'We need this really cool backup feature,'" Crump said.
One way the company has closed the gap fast is through its quarterly release schedule, which it has kept up since Nakivo Backup & Replication 1 launched in 2012. Nakivo last quarter added support for deduplication appliances with version 7.3.
"We plan to keep our pace," Simonov said. "We believe it's the better way to deliver value."
Crump said Veeam is still Nakivo's biggest competitor, even if their target markets don't match up exactly. Veeam, which recently enhanced its physical support, is going after the enterprise more, but it is still in the midmarket, which Crump said is a sweet spot for Nakivo.
Crump said he thinks Nakivo's managed service provider program stands out, thanks to its better management console and more favorable pricing strategy. But he noted that some cloud service providers have been incredibly successful with Veeam Cloud Connect.
Simonov said he sees Veeam and Commvault as Nakivo's biggest competition. Nakivo, which started out as purely backup for SMBs, is trying to improve its value for the enterprise and midmarket while still focusing on the SMB market, he said.
Nakivo claims more than 10,000 customers and about 2,400 channel partners.
Dig Deeper on Disaster recovery planning and management