Definition
virtual disaster recovery
What is virtual disaster recovery?
Virtual disaster recovery is a type of DR that typically involves replication and enables a user to fail over to virtualized workloads.
For the most efficient virtual disaster recovery, an organization should copy VM workloads off-site on a regular basis. Replication essentially makes a real-time copy of VMs in a separate location, strengthening DR.
Benefits of virtual disaster recovery
Virtualization provides flexibility in disaster recovery. When servers are virtualized, they are containerized into VMs, independent from the underlying hardware. An organization does not need the same physical servers at the primary site as at its secondary disaster recovery site.
Other benefits of virtual disaster recovery include ease, efficiency and speed. Virtualized platforms typically provide high availability in the event of a failure. Virtualization helps organizations meet recovery time objectives (RTOs) and recovery point objectives (RPOs), as replication is done as frequently as needed, especially for critical systems. DR planning and failover testing is also simpler with virtualized workloads than with a physical setup, making disaster recovery a more attainable process for organizations that may not have the funds or resources for physical DR.
Consolidating physical servers with virtualization saves money because the virtualized workloads require less power, floor space and maintenance. However, replication can get expensive, depending on how frequently it's done.
Adding VMs is an easy task, so organizations must watch out for VM sprawl. VMs operating without the knowledge of DR staff may fall through the cracks when it comes time for recovery. Sprawl is particularly dangerous at larger companies where communication may not be as strong as at a smaller organization with fewer employees. All organizations should have strict protocols for deploying virtual machines.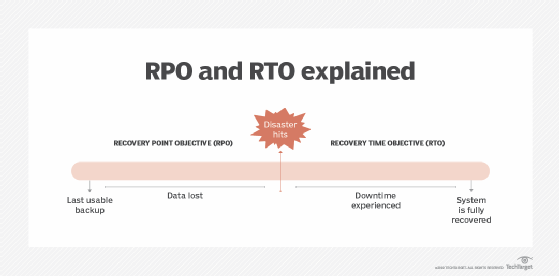 Virtual disaster recovery planning and testing
Virtual infrastructures can be complex. In a recovery situation, that complexity can be an issue, so it's important to have a comprehensive DR plan.
A virtual disaster recovery plan has many similarities to a traditional DR plan. An organization should do the following:
decide which systems and data are the most critical for recovery;
document critical systems and data;
get management support for the DR plan;
complete a risk assessment and business impact analysis to outline possible risks and their potential impacts;
document steps needed for recovery;
define RTOs and RPOs; and
test the plan.
As with a traditional DR setup, clearly define who is involved in planning and testing, as well as the role of each staff member. That extends to an actual recovery event, as staff should be ready for their tasks during an unplanned incident.
The organization should review and test its virtual disaster recovery plan on a regular basis, especially after any changes have been made to the production environment. Any physical systems should also be tested. While it might be complicated to test virtual and physical systems at the same time, it's important for the sake of business continuity.
Virtual disaster recovery vs. physical disaster recovery
Virtual disaster recovery, though simpler than traditional DR, should retain the same standard goals of meeting RTOs and RPOs, and ensuring a business can continue to function in the event of an unplanned incident.
The traditional disaster recovery process of duplicating a data center in another location is often expensive, complicated and time-consuming. While a physical disaster recovery process typically involves multiple steps, virtual disaster recovery can be as simple as a click of a button for failover.
Rebuilding systems in the virtual world is not necessary because they already exist in another location, thanks to replication. However, it's important to monitor backup systems. It's easy to "set it and forget it" in the virtual world, which is not advised and is not as much of a problem with physical systems.
Like with physical disaster recovery, the virtual disaster recovery plan should be tested. Virtual disaster recovery, however, provides testing capabilities not available in a physical setup. It is easier to do a DR test in the virtual world without affecting production systems, as virtualization enables an organization to bring up servers in an isolated network for testing. In addition, deleting and recreating DR servers is much simpler than in the physical world.
Virtual disaster recovery is possible with physical servers through physical-to-virtual backup. This process creates virtual backups of physical systems for recovery purposes.
For the most comprehensive data protection, experts advise having an offline copy of data. While virtual disaster recovery vendors provide capabilities to protect against cyberattacks, such as ransomware, physical tape storage is the one true offline option that guarantees data is safe during an attack.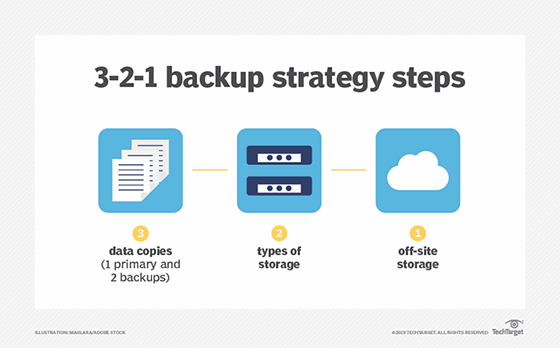 Trends and future directions
With ransomware now a constant threat to business, virtual disaster recovery vendors are including capabilities specific to recovering from an attack. Through point-in-time copies, an organization can roll back its data recovery to just before the attack hit.
The convergence of backup and DR is a major trend in data protection. One example is instant recovery -- also called recovery in place -- which enables a backup snapshot of a VM to run temporarily on secondary storage following a disaster. This process significantly reduces RTOs.
Hyper-convergence, which combines storage, compute and virtualization, is another major trend. As a result, hyper-converged backup and recovery has taken off, with newer vendors such as Cohesity and Rubrik leading the charge. Their cloud-based hyper-converged backup and recovery systems are accessible to smaller organizations, thanks to lower cost and complexity.
These newer vendors are pushing the more established players to do more with their storage and recovery capabilities.
Major vendors
There are several data protection vendors that offer comprehensive virtual backup and disaster recovery. Some key players include the following:
Acronis Disaster Recovery Service protects virtual and physical systems.
Nakivo Backup & Replication provides data protection for VMware, Microsoft Hyper-V and AWS Elastic Compute Cloud.
SolarWinds Backup features recovery to VMware, Microsoft Hyper-V, Microsoft Azure and Amazon VMs.
Veeam Software offers backup and recovery for physical and cloud workloads as well.
VMware, a pioneer in virtualization, provides DR through such products as Site Recovery Manager and vSphere Replication.
Zerto's flagship Virtual Replication product features one-to-many replication and automated recovery.
This was last updated in
December 2022
Continue Reading About virtual disaster recovery
Dig Deeper on Disaster recovery planning and management