Petya Petrova - Fotolia
Nakivo update supports tape, physical servers
Nakivo now supports tape and physical servers, a departure from its initial focus on cloud and VMs. Demand and expert opinion suggest there will always be need for physical backup.
Backup vendors today mostly talk about protecting virtualized environments, cloud-based applications and containers, but businesses still need protection in the physical world, as well.
Nakivo Backup and Replication started by protecting virtual machines and cloud environments, but its 9.1 update adds support for tape, Linux servers and Windows workstations. Nakivo already supports Windows servers. Version 9.1 also added the ability to quickly boot up a VM off-network to check its recoverability.
Nakivo claims around 12,000 customers, including government agencies and large corporations such as Coca-Cola and Verifone. Veniamin Simonov, director of product management at Nakivo, said 10-20% of Nakivo's customers asked for tape support, and he's noticed that demand is rising among medium-sized and large customers.

Simonov said tape demand is mostly driven by regulation and compliance. He said some customers are required to archive data and hold it for a certain number of years. Some of Nakivo's bank and hospital customers have even stricter rules demanding that copies of data be stored off-site and in a different format.
Tape also has a use case in ransomware defense.
"I don't believe tape is dead," Simonov said.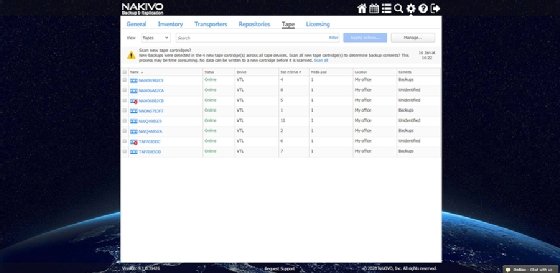 Nakivo, founded in 2012, started as backup software for VMware and has aggressively developed wider platform support over its life. Nakivo provides data protection for Microsoft Hyper-V, Nutanix AHV and AWS Elastic Compute Cloud and features automated disaster recovery from a "cold" VM. It competes with Veeam in the VMware backup market.

Nakivo is not the first or only example of a backup vendor that started in VMs and went back to cover on-premises. Vinny Choinski, senior lab analyst at Enterprise Strategy Group, pointed to Veeam as the "textbook example" of that.

Veeam, which was recently acquired by Insight Partners for $5 billion, had its entry point in protecting and managing VMware. Over time, its customers asked for backup for their Windows servers, Linux servers and eventually tape, and Veeam now supports all of those. All the major backup players such as IBM, Veritas, Commvault and Dell EMC have a tape-out mechanism, Choinski said, while some newer backup vendors might not -- but perhaps they should.

"If you want to get to the enterprise, you need that coverage," Choinski said. He added that perhaps a company focused on protecting SaaS data such as Office 365 and Salesforce won't need tape coverage, but most vendors will want to "land and expand" after penetrating the market with their core product.
Adding tape support isn't a trivial matter, though, Choinski said. In terms of developing device support for backup software, disk is the easiest target because all that's needed is a device driver. Choinski said with tape, there also needs to be a volume management mechanism of some sort -- something that can recognize and understand robotics, cartridges and barcodes -- to identify where exactly the data lives.
Choinski said formatting is also an issue. In the early days of tape, the various tape vendors such as Legato, Veritas and IBM Tivoli Storage Manager (TSM) had different and incompatible tape formats. Today, LTO and IBM are the two major tape formats, but Choinski said releasing software today that covers all the tape libraries of old would be difficult.
Nakivo's tape support extends to LTO-3 and later as well as AWS Virtual Tape Library. Simonov said market research found that 95% of tapes are LTO and regarded the format as a stable standard.
Nakivo Backup and Replication v9.1 is available and sold both as a perpetual license starting at $99 per socket and as a 3-year subscription starting at $18 per machine per year.

Simonov said Nakivo will focus next on backing up Microsoft Office 365 and automating archiving to different formats. He also said a UI update is in the works.