canjoena - stock.adobe.com
Veritas Enterprise Vault adds cloud-based supervision
Veritas added Advanced Supervision to its cloud archiving platform and said even customers outside of heavily regulated industries demand communications monitoring tools.
Veritas has a new SaaS tool to help supervise data, which is already likely protected, archived and perhaps classified.
Veritas Advanced Supervision (VAS) is an add-on to Enterprise Vault.cloud, which archives data in the cloud and makes it immutable so it cannot be changed.

The VAS module searches and samples all of the emails and communications that have been indexed and stored on Veritas Enterprise Vault cloud. Through VAS, users can set the content and scope of their review when searching for instances of potential policy violations, such as words and phrases that constitute insider trading or private health information. Enterprise Vault.cloud uses Azure immutable blob storage.

The on-premises Enterprise Vault already has communication supervision capabilities, and it is up to the customers to point it at an immutable storage target to meet compliance needs.

VAS is aimed primarily at organizations in heavily regulated industries such as finance and healthcare. These organizations often employ staff to sample and review company communications to ensure that they meet SEC or FINRA requirements. VAS helps classify those communications and allows the employees to filter and find relevant content.

VAS works with over 80 different content sources, including emails, Bloomberg messenger and Instant Bloomberg. It is comparable to software such as Proofpoint and Global Relay. It costs $125 per user, per year as a stand-alone product. VAS can also be bundled alongside Discovery Archive, Personal Archive and data classification for $230 per user, per year.
Ryan O'Leary, senior research analyst in IDC's legal, risk, and compliance research program, said Veritas's "bread and butter" is heavily regulated industries. However, those companies are generally slow to adopt cloud due to security concerns. O'Leary said Veritas seems to be anticipating its core customers eventually going to the cloud, while looking to capture non-heavily regulated customers who are already there.

O'Leary said besides monitoring employee communications, VAS has other applications such as conducting internal investigations and spotting trade secret leakage. He said any business that needs to fiercely protect its brand can use something like VAS.

"We're operating in a world where brand trust is important, so evaluating reputational risk has become more important," O'Leary said.

The supervisory tools market is crowded, with vendors such as Micro Focus, Commvault and Proofpoint. O'Leary pointed out that Microsoft Office 365 also has compliance tools out of the box. He said VAS' advantages are its e-discovery functionality and Veritas' large install base.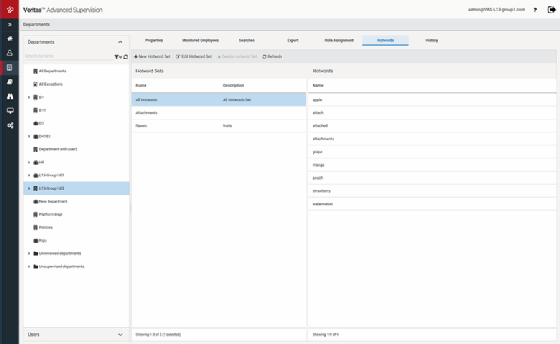 O'Leary said even with the enactment of new data privacy regulations, archiving is still usually more a matter of data governance than compliance. However, there is certainly rising attention if not demand. Under the new California Consumer Privacy Act (CCPA), each private data breach incident can cost up to $7,500, enforceable through the court system by private citizens.

"If you're not paying attention, you can find yourself in a lot of litigation very quickly," O'Leary said.

David Scott, director of product management for digital compliance at Veritas, said Veritas Enterprise Vault and its cloud version started as storage optimization tools. They were archives for offloading infrequently accessed data from production environments. Over time, though, Veritas has seen more compliance use cases among its customers as they used the archiving platform for data retention and e-discovery.
Scott said most of the use cases came from Veritas' finance and healthcare customers, but some customers outside of heavily regulated industries have also become interested. He said data privacy regulations such as GDPR and CCPA affect all businesses, so customers now have to pay more attention to how they manage their data.
"Everyone has to play by the same book," Scott said.
Scott added that VAS is seeing use outside of financial and healthcare applications, as it can find evidence of sexual harassment or hostile work environments.