GP - Fotolia
New FalconStor StorSafe uses containers to archive backups
FalconStor's new StorSafe product combines container, erasure coding and data reduction to archive backups and make them portable across cloud sites.
FalconStor Software took a novel approach with its new StorSafe long-term archive product that can containerize backups and let customers move them across on-premises systems and public cloud object storage.
FalconStor uses standard software container technology to separate the data from the underlying storage components and enable users to migrate their StorSafe archives as systems become outdated or cloud vendors offer new options.
Marc Staimer, president of Dragon Slayer Consulting, said StorSafe's container technology would allow customers to move their oldest backups to cheaper storage.
"Data movement is the biggest bugaboo in the data center," Staimer said. "Usually, once you send something, that's where it is forever. This makes it easy to move that data from one storage medium to another."
Tape alternative
Mike Matchett, principal IT industry analyst/principal consultant and technology strategist at Small World Big Data, said organizations could migrate data protection from tape and other backup and archive storage targets to the StorSafe virtual storage containers. They could then distribute and protect the containers across clouds rather than shipping physical tapes offsite, he said.
"Because those virtual storage containers are portable and retained online, they offer significant opportunities to improve backup and disaster recovery processes, accelerate and ensure recovery, and take advantage of cloud-scale utility pricing," Matchett said.
To reduce the storage footprint, StorSafe would deduplicate and compress data in line as the backup application sends the data stream to a caching engine and then to the product's single instance repository (SIR). The FalconStor software extracts the backup header, hash tables and unique blocks from the SIR and encrypts the data, letting the customer keep the keys.
Protection through erasure coding
StorSafe uses erasure coding to shard the encrypted data set into six "mini" containers and creates checksums for each one. The customer can store the mini containers across pre-selected on-premises and S3-based public cloud object stores. StorSafe needs four of the mini containers to reconstruct the data set. That means two mini containers or sites can be down or unavailable, and StorSafe could still restore the full data set.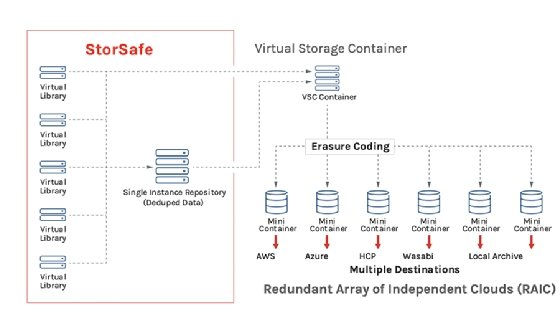 David Morris, vice president of global product strategy and marketing at FalconStor, said the erasure coding removes the need for two full data copies. That reduces the amount of data that customers need to store. He said customers could also lower costs by rebuilding the data set from the cloud storage with the lowest egress fees, or in the case of Wasabi, no egress fees.
StorSafe's erasure coding also would add a level of resilience against certain types of ransomware, according to Staimer. He said an attack would likely affect only one cloud bucket, not all six of the mini containers. On the down side, the erasure coding could have an impact on performance due to the network latency associated with multiple cloud sites, Staimer cautioned.
StorSafe pricing model
FalconStor released a beta version of StorSafe last week and expects to ship the final product in the second half of 2020. Morris said StorSafe pricing consists of a license fee for the software and a charge for the container, no matter how much data it stores and how many mini containers it uses. Customers need to arrange the storage through on-premises systems or cloud providers.
StorSafe virtual storage containers can hold any type of data and vary in size. Morris said containers exceeded 100 TB in tests and theoretically could contain more than a petabyte of data.
StorSafe supports the same backup software compatibility list as FalconStor's Virtual Tape Library (VTL) product, including products from vendors such as Commvault, Dell EMC, HPE, IBM, Microsoft, Oracle, Veeam and Veritas.
Although StorSafe currently works only with backup products, FalconStor plans to support operational data in the future. Morris said the second StorSafe phase would take data from FalconStar's Network Storage Server (NSS) and Continuous Data Protection (CDP) products, and the third phase would facilitate streaming any source into a container.
Based on their roadmap, there is potential to solve some significant data center problems.

Marc StaimerPresident, Dragon Slayer Consulting
"Based on their roadmap, there is potential to solve some significant data center problems," Staimer said. "They become data management in the sense that they can put it wherever you want it and move it whenever you need it. And it'll lower the cost of where you put it, with their dedupe, et cetera."
Founded in 2000, FalconStor claims to have more than 800 customers in more than 50 countries. StorSafe is a key piece of the vendor's strategy to rebound from steady revenue declines since 2009. FalconStor revenue dropped to $16.5 million in 2019 from $17.8 million in 2018 and $89.5 million in 2009. FalconStor has had five CEOs in the last decade, with Todd Brooks holding the job since August 2017.
Morris said the new StorSafe product will target verticals such as oil and gas, media and entertainment and second-tier or concierge cloud providers with large data sets. He said StorSafe could also be useful for companies that need to archive financial records from an Oracle backup or keep data subject to regulatory, compliance, electronic discovery and GDPR retention requirements. Morris noted that StorSafe could do validation checks and journal the health of the container over its lifetime.
StorSafe's competitors include Dell EMC's Data Domain and Quantum's DXi. Staimer said StorSafe would have edges in flexibility with the container technology, resiliency from the erasure coding and potentially deduplication with FalconStor's claimed 26-to-1 ratio.