Petya Petrova - Fotolia
SaaS-based Unitrends Helix automates tedious backup tasks
Unitrends Helix automates the tasks of monitoring, remediating and maintaining backup servers. While tedious, they are necessary to prevent failed backups.
While many backup products have broadened the types of environments they support, the job of managing backup hasn't gotten much easier.

With that in mind, Unitrends launched a tool to automate backup processes. Unitrends Helix, released last week, automates some of the most tedious tasks associated with backup management. It monitors the real-time status of backed-up devices and determines likelihood of failures before a backup runs. It detects problems with services that impact Microsoft Volume Shadow Copy Services (Microsoft VSS) and remediates them through automatic service restarts. Lastly, it automatically applies appliance upgrades at optimal times.

Unitrends Helix is an add-on for customers using Unitrends backup appliances. Customers download and install the Helix agent to their Unitrends-protected Windows machines.
Joseph Noonan, vice president of product management at Unitrends, said the vendor wanted to avoid adding another interface and set of configurations to learn.

"It's a silent helper to the IT team," Noonan said.

The price of Unitrends Helix is based on a percentage of the appliance cost. It uses the Kaseya VSA platform for SaaS-based monitoring, but customers will not need a separate Kaseya license for Helix. Kaseya acquired Unitrends in May 2018.

Unitrends Helix uses machine learning to scan for problems and fix them. Noonan said much of Helix's "knowledge" comes from Unitrends' support team experience and analysis, and new conditions to check for can be implemented quickly as this knowledge grows. In the future, Helix will be able to recognize virtual machine or hard drive failures and help provide IT resilience by detecting conditions that merit a failover. Ultimately, though, Noonan said most people are uncomfortable with automating failovers, so there would have to be a way for a human being push the button.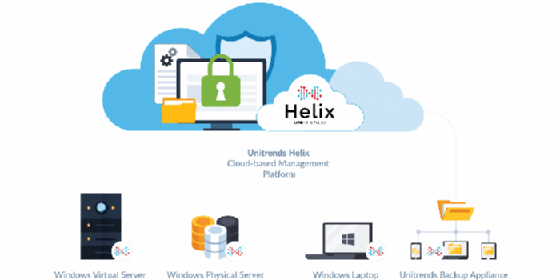 Automated backup testing isn't a new concept: Veeam SureBackup has been around since 2010. However, there has been a growing trend toward more automation in the world of data protection. Tools not only verify whether backups are viable -- they also silently fix problems in the background. SIOS AppKeeper, which automatically reboots frozen or failed applications in Amazon EC2, saw a U.S. release in January 2020.

Christophe Bertrand, senior analyst at Enterprise Strategy Group (ESG), said Unitrends Helix comes at the right time. Citing data from ESG's 2020 Technology Spending Intentions survey, he said simplicity and automation are big deals for two reasons: IT is becoming more complex, and there's an IT skills shortage.

In the survey, 64% of 658 respondents said their IT environments had grown more complex compared to two years ago. When asked in which areas they had problematic skill shortages, 23% said data protection. Cybersecurity was the top response, with 44%.

Bertrand said Helix's importance stems from using machine learning-powered automation to simplify potentially complex and time-consuming processes. Anything that gets rid of redundant tasks and improves operational efficiency adds value.

"You don't have a lot of people with extra time to do stuff like that, so any time you can give back is a good thing," Bertrand said.

Unitrends Helix is made available to MSPs and SMBs, and Noonan said the latter is where the complexity and skills shortage problems are most prevalent. SMBs usually don't have a large IT staff, which means an individual IT admin has a wide range of duties outside of backup. Helix is targeting these multifunctional admins because even in some larger organizations, there are rarely any individuals whose sole purpose is managing backup.

"The role of the backup admin has really diminished," Noonan said.