ra2 studio - Fotolia
Veeam backup software targets Google cloud data, containers
Veeam is launching more cloud-native backup and continuing to move forward on its integration with recently acquired Kubernetes data protection provider Kasten.
Veeam backup software is adding the final piece of the "Big Three" hyperscale cloud providers to its suite.
Veeam Backup for Google Cloud Platform will join Veeam's AWS and Azure backup products.
"It's a continued theme of helping customers with multi-cloud management," said Veeam CTO Danny Allan in advance of Tuesday's virtual Veeam Live user event. The event featured three major themes of multi-cloud, cybersecurity and modern data protection.
Veeam full steam ahead on cloud, containers
Similar to Veeam's AWS and Azure products, Veeam Backup for Google Cloud Platform (GCP) is native to the cloud provider. Previously, Veeam users needed an agent for Google data protection, but native backup is superior.
Also like the AWS and Azure products, the Veeam backup software for Google can integrate back into Veeam's core platform, Allan said.
"Google Cloud Platform is getting more traction among enterprises, meaning it is increasingly important to backup vendors to support GCP," Krista Macomber, senior analyst at Evaluator Group, wrote in an email.
Veeam has not released a general availability date for the Google backup offering. It will be available in Google's Marketplace.
Veeam Backup for AWS and Veeam Backup for Microsoft Azure both launched in the last year.
As part of the "modern data protection" theme at Veeam Live, Veeam planned to showcase some of its early work with Kasten, the Kubernetes backup and disaster recovery provider it acquired in September for $150 million in cash and equity. Veeam will integrate Kasten into its cloud data management platform. In addition, Kasten's K10 platform will continue to be available independently.
Veeam has developed a prototype of the integration that takes a Kasten backup and sends it to a Veeam repository, Allan said.
Veeam needs to find the right balance of allowing Kasten to operate independently and deepening the technology integration within its platform for the optimum collaboration, according to Macomber.
"The two companies right now are engaging with different personas and using different sales motions, and from a technology perspective, having native protection of container-based workloads is very important and a differentiator," Macomber wrote.
Containers are entering enterprise IT environments in a big way, and they need to be protected.

Krista MacomberSenior analyst, Evaluator Group
Veeam has not announced a general availability date for the Kasten integration yet. The integration is the most important next action for Veeam as a company, Macomber said via email.
"The Kasten acquisition is a huge step forward for Veeam," Macomber wrote. "Containers are entering enterprise IT environments in a big way, and they need to be protected. It's a critical need for IT shops to address."
On the security side, Veeam backup software added a checkbox that enables users to configure a Linux repository so it's immutable, which is important for ransomware protection. A ransomware attack can't encrypt or delete immutable data.
That feature will be in Veeam Availability Suite version 11, Allan said. Veeam is targeting the end of the year for the release of version 11, which is in beta.
At the VeeamON virtual conference in June, Veeam announced several other major features included in version 11, including continuous data protection, instant recovery of Microsoft SQL Server and Oracle databases, and Agent for Mac.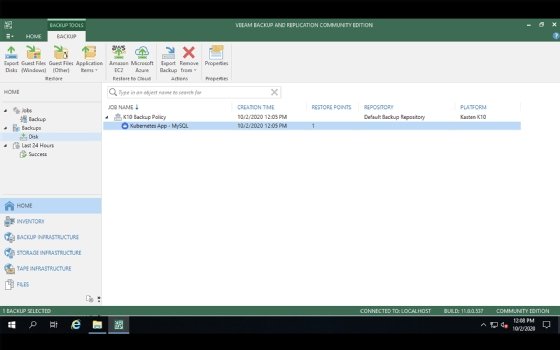 Veeam Availability Suite includes Veeam Backup & Replication and the Veeam One monitoring and reporting tool.
Veeam backup software protects nonprofit's growing data set
Bipin Jayaraj, vice president and CIO of Make-A-Wish, said he is watching how Veeam is progressing and enabling his organization to tackle a multi-cloud model. Make-A-Wish, a nonprofit devoted to fulfilling the wishes of children with a critical illness, has been a Veeam backup software customer for about four years.
"I'm very curious to look at their product portfolio, what will be coming up," Jayaraj said in advance of his Veeam Live session. "It seems like they're ahead of the curve."
Make-A-Wish uses Veeam Backup & Replication and its disaster recovery as a service. The organization also has PhoenixNAP to host and manage its private cloud infrastructure.
The organization has 460 TB of backup, which PhoenixNAP houses in its primary and secondary data centers, and 66 TB of production data. Jayaraj noted that Make-A-Wish has a large volume of media, as it is a storytelling organization, so there are many HD videos and images.
"Our data has grown a lot in the last couple of years," he said.
Jayaraj said he likes how easy Veeam is to use and its many options for backup. Make-A-Wish is looking to potentially add backup for Office 365.