michelangelus - Fotolia
Gartner analyst lists application migration strategy essentials
Application prioritization, risk assessment and cost evaluation are key migration strategy components for organizations looking to move workloads from on prem to the cloud or a colo facility.
As organizations expand data processing requirements and implement new software architectures, executives and admins might wonder if it is necessary to maintain an on-premises data center. Cloud services and colocation can help ease data center management hassles, but organizations need a strong application migration strategy before they move anything.
Successful migration plans require business case identification, risk assessment and post-move monitoring, in addition to planning for hardware decommissioning.
During a presentation at this year's Gartner IT Infrastructure, Operations & Cloud Strategies conference, Doug Toombs, research vice president at Gartner, focused on how organizations can evaluate where applications should live within any organizational infrastructure.
The goal of migrating applications off premises is to reduce the amount of data center management organizations must do on a daily basis, Toombs said.
"For the most part, [organizations] just don't have to manage the equipment themselves, and it's safer for them; they don't have to do the upfront investment," said Seow Lim, director of enterprise and solutions architecture at phoenixNAP.
Migration strategy: Why, how much and when
Toombs said that organizations should establish a real business reason before diving into a cloud or application migration.
Organizations could choose to investigate a cloud migration due to C-level interest or because the organization feels it's the next step in innovation. But better motivations for application migration prioritize business outcomes that solve performance issues, improve productivity and expand access to new tech, Toombs said.
Documentation of any cloud migration or move of data off premises is an absolute must. For this process, organizations must decide how much of their data is moving off premises and determine a time frame for the migration.
Toombs said that the average organization sets three years to move data and apps, whereas those that want to move a higher percentage of data and applications estimate four to five years. Though not all organizations are moving every workload to the cloud. According to Toombs, the bell curve peaks between 40% and 80% of shifting workloads to the cloud.
Whether it's colocation, private cloud or even a combination of the two, "different customers want different things. The bigger [clients] would prefer all their own stuff [in the colo center]," Lim said.
He added that one of phoenixNAP's clients does genome mapping and uses colocation for its high-performance data sets but only uses a small amount of colocated hardware.
Once how much data and a time frame are decided, developing a full application migration strategy is necessary. Detailing all potential components, risks and costs of moving to the cloud or off premises ensures that both executives and key stakeholders agree on how to implement cloud and what technology will be used.
"If you don't have an agreed-upon strategy at the beginning, those differences of opinion will resurface later," Toombs explained.
After organizations establish a migration framework, the next step is to decide what specific applications to migrate or keep on premises.
Assessing application execution venues and costs
Risk assessment is key when moving applications off prem because executives don't often see a lot of risk involved in data center management, especially if its admins built the data center themselves. Once applications move off premises, the amount of control admins have over applications decreases.
Toombs said that admins should ask themselves, "Will [the stack] meet the goals of confidentiality, integrity or availability?" He added that most organizations place lower-risk portfolios in the cloud as part of their application migration strategy.
Gartner's Application Migration Prioritization Matrix places software into four main categories: Initial Focus, Refactor/Revise, Hold Off and Don't Migrate -- Yet. This lets admins group applications into different phases and decide how quickly software -- and data -- can move off premises.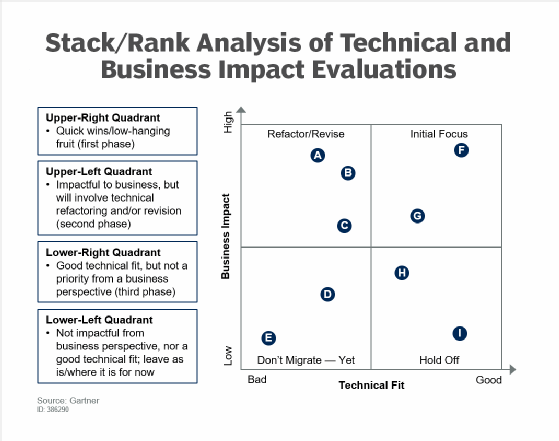 Outside of the Application Migration Prioritization Matrix, organizations can split considerations into technical and nontechnical components. Technical considerations include latency, available connections, data extraction capabilities, audit logging and continuity, as well as recovery.
Nontechnical options home in on service-level agreements, customer support, transitive risk and financial viability.
Toombs said that organizations can easily calculate fixed or initial costs to run workloads via the cloud. There are extra facility, backup, software and people costs to consider.
"You need to start thinking 'Is this cost-effective?' instead of 'Will this cost less?'" he said.
However, the main cost model of cloud or hosted services remains attractive to a lot of organizations. In using an Opex model, organizations can simply pay for the bandwidth they use via a subscription model.
"Our C-level [executives] want to invest that way," Lim said. "Even with our networking switches, they are trying to get more of a subscription model rather than buying connects."
Keeping track of resources
Once an organization moves off its data center infrastructure and executes its application migration strategy, admins still need a way to track the migration's effectiveness. A great option is kilowatts.
Toombs said that using kilowatts to track progress abstracts the complexities of disparate systems, accounts for energy usage and cooling components, and is provable against any utility bills.
Admins can also use the new tools and dashboards from service providers. This enables them to get a snapshot of their resource utilization and expand resources without needing to track all possible metrics on a daily basis.
Dig Deeper on Data center ops, monitoring and management