Essential private cloud migration steps
Executive buy-in, application evaluation and tool configuration are all important parts of cloud selection. With these steps, admins can ensure a smooth move to private cloud.
Organizations can use private clouds for increased resource control, security and operation continuity. Also, private clouds are often much more customized to the organization's needs than public clouds.

The most-cited inhibitor of private cloud adoption is a lack of in-house expertise, according to IDC analyst Sriram Subramanian. This often leads to using a third-party service provider to help build the cloud or host it altogether.
"It is imperative to build that in-house expertise either directly or through partners that bring that expertise," he said.
Regardless of whether an organization decides to build its own on-premises cloud or go with a service provider, there are cloud migration steps that admins must take when their organization moves a workload to a private cloud.
Buy-in from stakeholders such as executives and IT managers is essential for any cloud migration. Before any sort of goal setting, software purchase or beta testing, leadership must agree with the move to private cloud as a key step in enabling self-service capabilities or bringing benefits to the organization.
Establishing the first cloud migration steps
System administrators need a plan before they move any workloads. Start with clarifying business goals. Common goals include optimizing total cost of ownership, increasing scalability and agility, decreasing time to market and de-centralizing IT, Subramanian said.
There is also a lot to be said for adopting an as-a-service model, which admins should evaluate as part of the planning process. Typically, Subramanian said, one of the inhibitors to cloud adoption is the internal resistance from IT administrators who tend to view an as-a-service model or self-service provisioning as a limit to their control. These models can also shift how organizations spend IT budgets, because they generally use a chargeback system, which might require recalibrating accounting procedures and budget allocation.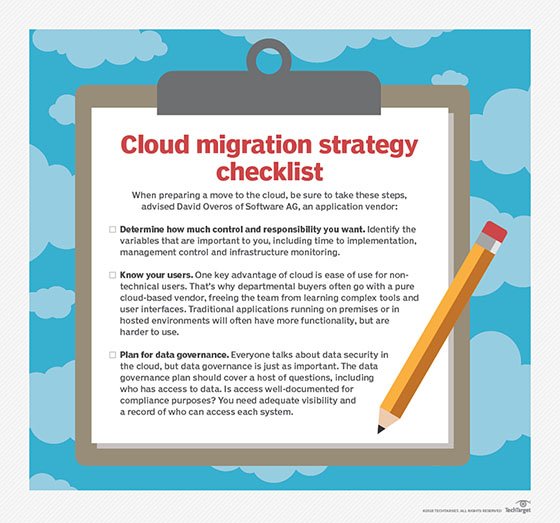 In a successful private cloud setup, "IT administrators continue to play a central role; they continue to own the uptime of infrastructure," Subramanian said. "It is also helpful in convincing other parts of the organization to embrace this model of IT delivery," he said.
Admins should also understand the organizational goals and context for why they are making the move to private cloud, said Samir Datt, managing director at Protiviti. Clarifying objectives sets admins up for agreed-upon success and helps the organization align departments to effectively manage the workload and infrastructure as they move ahead with a cloud model.
Another key cloud migration step, according to Datt, is gathering data to form a proper deployment strategy. During the data gathering process, admins should not only document system and application inventory, but also licensing, available skills, service-level agreements and even depreciation tables for existing investments.
Gathering supporting resources
Datt warned that cloud migration should not be viewed as a cost reduction effort. There could even be increased short-term costs related to some cloud migration steps, he said.
Though organizations have a higher upfront cost for private cloud, they won't really get the full benefits unless they -- and executives -- adopt a mindset that views the cloud migration as a step toward establishing a digital enterprise.
If organizations consider things such as scaling out cloud infrastructure, enabling DevOps, using infrastructure as code or introducing containers, admins can "go beyond the lift-and-shift" mindset, said Mike Lombardo, principal at Maven Wave.
Public cloud might be better known for delivering those modern touches, but a private cloud can implement these functions more efficiently, Lombardo said.
Then there is the matter of selecting the right tools to create the cloud. Unless it's a very small organization, most admins don't have the final choice in cloud selection -- the decision is ultimately up to C-level executives. However, admins can guide decision-makers to the best fit. For example, admins can provide technical requirements and help vet platform choices based on the business requirements.
Lombardo points out that admins must also devise a plan for cloud backup. There are many possible approaches, but a good place to start is by assessing a recovery point object and recovery time object and determining how best to accomplish those backup workflows as the organization moves into a private cloud.
How long it actually takes to move a workload depends on its nature and an organization's in-house expertise, according to Subramanian. Admins can move applications that are packaged together and have tight internal coupling between computation and data as-is, or with minimal configuration changes. Applications that require refactoring into cloud-native or distributed architectures take longer to migrate because the software code must know to use cloud-based resources. Subramanian suggests using automation when possible to speed up the process.
Finally, it is important for admins to carefully consider available private cloud technologies to make sure they select what the organization and their team need, and to develop the right cloud migration steps. Look under the offering's covers and get advice before committing.
Dig Deeper on Data center ops, monitoring and management