10 benefits of adopting project portfolio management
Project portfolio management takes a centralized approach to managing projects and focuses on aligning projects with company goals. Learn how it adds value to project management.
The complexity, cost and size of projects have grown exponentially in recent decades. So, too, have the number of projects undertaken by organizations. Taken together, it's no wonder that managing projects efficiently and completing them successfully have both become critical priorities for many organizations.
In fact, the success of projects has become so central to enterprise success that the Project Management Institute (PMI) has labeled the commerce of this age as the Project Economy, saying it's an era "where organizations deliver value to stakeholders through successful completion of projects, delivery of products, and alignment to value streams."
PMI put the value of worldwide project-oriented activities at $12 trillion in 2017 and has estimated that it would grow to $20 trillion by 2027.
The volume and value of projects has necessitated the need for strong oversight of project costs and delivery. As such, many organizations have implemented the project management discipline, and they've increasingly also adopted project portfolio management.
What is project portfolio management?
Project portfolio management (PPM) brings the methodologies, processes and technologies used by an organization's project management office (PMO) as well as all its project managers, project teams and the projects themselves under one governance structure.
This centralized management helps ensure that the methodologies, processes and technologies are being used consistently and efficiently across the individual projects within the enterprise, with the goal of generating higher project delivery success overall.
PPM's centralized management also enables the organization to focus on continuously improving upon those methodologies, processes and technologies and measure how effectively project managers and project teams are using them.
"It's the management of the processes that are used throughout the project management organization," said Karen Willow, senior sourcing consultant at the management consulting firm Swingtide, of PPM.
PPM creates a top-down approach to project delivery, rather than letting each project manager or project team operate autonomously with little or no oversight or coordination.
The objective of PPM is to optimize how projects are delivered within the enterprise, making PPM not synonymous with project management -- or even program management. Rather, it is about the governance of how all that work happens.
A host of software and tools are available to support PPM activities, with some tools geared more toward strategic project management and others enabling tactical agility.

Benefits of adopting PPM
According to multiple project experts, organizations that adopt PPM are more likely to have the right people working on the right things with the right resources flowing to the right projects at the right time. PPM also ensures that projects, material resources and workers are scheduled in an optimal sequence.
"It's important to have portfolio management so you can see across different projects to make sure there's standardization, to make sure they're all working toward a common goal, to see if there are synergies and to make sure they're complementing each other," said Amit Grover, who, as director with the Advanced Solutions group at the consultancy Guidehouse, focuses on enterprise system implementations.
Not all organizations are large enough or have the volume of projects to warrant the adoption of a full-scale PPM practice, Willow said, but she noted those that do adopt it will see multiple benefits for the enterprise, including the following.
1. Better decision-making
PPM brings consistency to how organizations qualitatively and quantitatively evaluate projects throughout the entire project delivery function, which in turn helps organizations be more objective in evaluating and prioritizing projects.
"PPM takes the emotion out of projects," Willow said. "Organizations tend to get people who are emotional about their pet projects. With PPM, you have someone evaluate projects to see what they're going to cost, what's the ROI -- it helps people who might want a specific project done to see that there's maybe no ROI."
2. Acceleration of new product and service delivery as well as transformation
With PPM's coordination of project delivery methodologies, processes and tools across all projects and programs, time-consuming redundancies and inefficiencies can be minimized and even eliminated.
That, in turn, enables the organization to move more quickly through project delivery, said Samir Datt, global lead of the technology strategy and operations segment at the consulting firm Protiviti.
"You can maintain control but get rid of slowdown," he explained.
3. Consistency across enterprise project teams
PPM creates and brings the same standards and strategies to all project teams, thereby ensuring that everybody understands and is working to the same set of goals and using the same processes to measure and report success, experts said. PPM also helps enforce consistency of the tools being used, Datt added, which can eliminate use of unsanctioned technologies -- so-called shadow IT -- within the project delivery function.
4. More opportunities for continuous improvement
The centralization of project governance through PPM lets organizations see what's working and what's not across all projects. That gives PPM officials the opportunity to identify areas for improvement, Datt said.
At the same time, he noted, those PPM officials can also see opportunities to automate processes in the project delivery function. This brings further improvements to project delivery work through increased efficiencies, cost savings and productivity gains.
5. Optimized resource allocation and increased efficiencies
Similarly, Willow said PPM can help organizations become more efficient in how they deliver projects because project portfolio management encourages the use of repeatable processes.
Here's why: Because teams are using a set of approved approaches, they're spending less time determining which approaches to use with each new project, and they're spending no time getting workers up to speed on unfamiliar processes.
Furthermore, Willow noted that because project teams are repeatedly using options sanctioned by the PPM function, they become quicker and more skilled at using them, thereby delivering even more efficiencies to the project delivery function.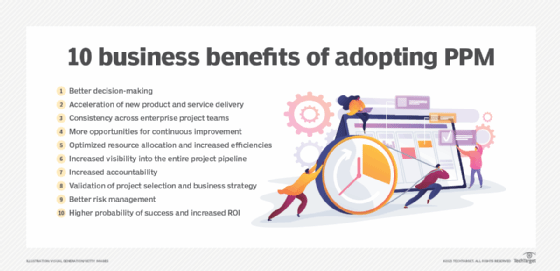 6. Increased visibility into the entire project pipeline
That consistency of methodologies and processes also helps create more visibility into the project pipeline and project status. The reason? All project managers and project teams would be using the same tools and techniques to measure and report, Willow explained. "Because you're using the standardized tools and templates, it's all on a level playing field for reporting," she added.
PPM can make sure you're doing the right projects, that the projects provide the right value to the organization and that they align with strategy, goals and objectives.

Anil KrishnanandaDirector of IT strategy and transformation, Guidehouse
7. Increased accountability
That increased visibility also enables enterprise leaders to be more effective in holding project managers and project teams accountable for each project, as well as for their success rates across multiple projects over time.
"You can see how many projects you get on time and on budget, and then you're able to motivate everyone across the organization as a whole to adopt the tools and processes they need to be more efficient," Willow said.
8. Validation of project selection and business strategy
Through the better decision-making and improved visibility that PPM delivers, organizations can more readily validate that they're moving forward with the projects that actually support their overarching objectives, said Anil Krishnananda, director of IT strategy and transformation at Guidehouse.
"PPM can make sure you're doing the right projects, that the projects provide the right value to the organization and that they align with strategy, goals and objectives," he said.
9. Better risk management
PPM lets organizations more effectively manage project risks by giving officials a view of potential issues not just in each project but across all projects, experts said. That broader perspective lets the PMO and/or enterprise leaders better manage risk by more accurately allocating resources or prioritizing projects, Grover said. For example, executives with a full view of the project pipeline and the associated risks could decide to undertake a cloud migration project first if it would lower a security risk in another IT project.
10. Higher probability of success and increase ROI overall
Taking all the benefits together, Willow said adopting PPM delivers a higher probability that the organization can consistently complete all projects successfully -- a key objective for any organization aiming to thrive in the marketplace.