Definition
PMO (project management office)
What is a PMO?
A project management office (PMO) is a group, agency or department that defines and maintains the standards of project management for a company. The PMO retains the documentation and metrics for executing projects and is tasked with ensuring projects are delivered on time and within budget.
The primary goal of a PMO is to achieve benefits from standardizing and following project management processes, policies and methods. PMOs are sometimes external to a company. Whether internal or outsourced, PMOs should embody the organization's culture and strategy to be most effective.
As more companies with PMOs have received returns on investment, the popularity of the office has increased. Nearly seven in 10 organizations globally have a PMO, according to the Project Management Institute (PMI).
What's the difference between a PMO and a project manager?
As the oversight body for an organization's projects, PMOs have a broad scope and are staffed by people from many disciplines. The office typically comprises a mix of professionals from IT, planning, finance and risk management who collaborate to ensure that all projects meet the defined organizational outcomes. Not every organization needs a PMO, but most will need a project manager.
A project manager is the individual responsible for the overall control and success of a single project from start to finish. The project manager's job is to define project goals, gather data, schedule tasks and manage the resources, costs and budget. Project managers typically need strong leadership and communication skills, as they often oversee teams from multiple functional areas that must work together during the project to reach its goal.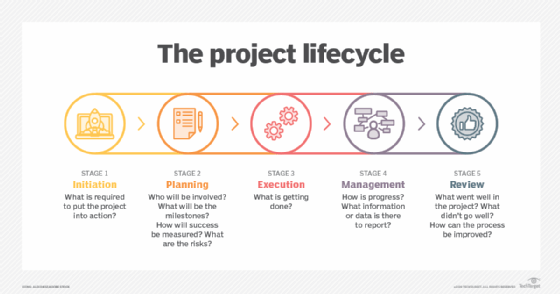 PMO roles and responsibilities
A PMO is generally responsible for guidance, documentation and metrics related to the practices surrounding the management and implementation of projects within the organization. A PMO might also get involved in project-related tasks and follow up on project activities through completion. The office might report on project activities, problems and requirements to executive management as a strategic tool in keeping implementers and decision-makers moving toward consistent, business- or mission-focused goals and objectives.
A PMO generally bases its project management principles, practices and processes on an industry-standard methodology. Here are a few commonly used project management methodologies:
What are the benefits of a PMO?
A PMO brings several benefits, including standardized methods and procedures. A centralized approach to projects helps ensure clarity and consistent, accurate results. In some cases, this can result in decreased project costs because the PMO is responsible for setting accurate time, cost and resource estimates. The oversight can lessen the likelihood of revisions during the course of a project.
Having a PMO ensures that projects align with an organization's goals and add value. The office also acts as the central repository of different types of knowledge. For example, the PMO can flag any similarities among projects and provide information and resources to different teams to facilitate completion -- and avoid having to reinvent the wheel.
A PMO is typically tasked with identifying and training project managers and providing professional support. This produces staff who are better trained, which helps ensure project success and can lead to employee retention.
What challenges come with a PMO?
Even the most organized PMO is bound to hit some roadblocks. These could include failing to set appropriate objectives, goals and milestones, as well as poor stakeholder management and resource management.
Scope creep is another common issue that can occur when a project's requirements change from what was agreed to at the outset. This can lead to budget overruns that can cascade and affect multiple projects the PMO oversees.
Further, if the PMO is not given the appropriate level of authority, or lacks support from top management, or if its areas of scope are not clearly defined, this can result in serious challenges. Other challenges that undermine or derail the benefits of a PMO include the following:
lack of communication between the PMO and team members;
forming teams that lack the right skill sets;
lack of visibility into a team's work; and
failing to anticipate or adequately resolve team conflicts.
Considerations before starting a PMO
A successful PMO needs people with a wide range of skills. PMI has identified the following so-called power skills as a necessity for today's project management experts:
communication skills
conflict management
emotional intelligence
empathy
negotiation
problem-solving
teamwork
The institute defines power skills as "abilities and behaviors that facilitate working with others and help project professionals to succeed in the workplace." It divides theses skills into two categories: essential skills (listed above), and various types of leadership styles described here.
PMOs should also provide formal training to project managers.
Types of PMOs
There is no standard approach to PMO development; however, an effective PMO is always strongly aligned with the organizational strategy of the company.
Some enterprises have a supportive or advisory PMO, which compiles and stores an organization's projects but plays more of a consultative role. This type of PMO will provide advice based on knowledge gleaned from past projects. Many organizations have department-specific, regional or divisional PMOs.
The type of PMO with the greatest level of managerial control has the power to enforce organizational standards and practices. This is sometimes referred to as a directive PMO, which acts as the central authority on projects.
How a PMO is designed for maximum effectiveness depends on a variety of organizational factors, including targeted goals, traditional strengths and cultural imperatives.
Historically, there are three basic organizational structures for project management offices:
The project repository. This model occurs most often in organizations that empower distributed, business-centric project ownership or in enterprises with weak central governance. The project office simply serves as a source of information on project methodology and standards. Project managers continue to report to, and are funded by, their respective business units.
The project coach model. This model assumes a willingness to share some project management practices across business functions and uses the project office to coordinate the communication. Best practices are documented and shared, and project performance is monitored actively. The PMO in this model is a permanent structure with staff and has some supervisory responsibility for all projects.
The enterprise project management office. This model also assumes a governance process that involves the PMO in all projects, regardless of size, enabling it to assess scope, allocate resources and verify time, budget, risk and impact assumptions before the project is undertaken. Funding is generally a combination of direct budgeted allocation for baseline services and a fee-for-service charge for others.
How to staff a PMO
PMO staff members are typically highly experienced professionals in the project management field, many of whom have earned Project Management Professional certification. Staff should include people with budgeting, scheduling, planning and organizational experience. You will want people who can provide leadership, guidance, support and management skills.
According to a report from PMI and PwC, five capabilities are essential to successful project completion: relationship building, collaborative leadership, strategic thinking, creative problem-solving and commercial awareness. The report found the top 10% of companies with successful project management place greater emphasis on recruiting individuals with these skill sets.
PMO tools and software
Project management tools and software can help keep projects on track. They centralize data and give all stakeholders access from multiple devices. Some features to look for include the following:
ease of use
customization
scheduling
automated tasks and notifications
time management
collaboration
project reporting
dashboard analytics
flexibility
integration
PMO tools include Monday.com, Wrike, Celoxis, Smartsheet, Zoho Projects, ProofHub, Scoro, HubSpot and ClickUp.
This was last updated in
January 2023
Continue Reading About PMO (project management office)
Dig Deeper on IT applications, infrastructure and operations