Getty Images
Will data centers become obsolete?
Many organizations want to simplify or scale down their data centers -- but they won't disappear. Admins can examine as-a-service options and cloud to offload some applications.
Gartner has predicted that, by 2025, 85% of enterprises will shut down their traditional data centers. But it does not mean the end of data centers -- just a period of rapid evolution.
As decision-makers face challenges like budget cuts, opportunities to move beyond the data center to options like as-a-service and cloud are becoming more appealing. Cloud has been a big factor in data center considerations for decades -- first, just as a glimmer and, now, at center stage. And reaction to its emergence as the central player in IT has varied from wholehearted embrace to more cautious implementation and, less frequently, complete rejection.
But the concerns that drive these responses -- like not having as much control over the infrastructure and data when using cloud -- have remained much the same, even as the facts of the matter evolve.
But, with experience as their guide, few organizations take an all-or-nothing approach to scaling down their data centers or adopting as-a-service and cloud models. There's even anecdotal evidence of some reinvestment in data centers.
Challenges of maintaining on-premises data centers drive change
Ed Featherston, director of hybrid cloud architecture and infrastructure technology strategy at Thermo Fisher Scientific, said he felt any notion of widespread flight from data centers was "kind of naive and not reflecting reality."
However, he agreed that the days of businesses building, owning and maintaining their own data centers are waning. Simply put, that's because the time and resources required to operate and maintain those data centers are not core business activities. The challenges of operating data centers, particularly when it comes to finding talent, only grow more daunting, Featherston said.
Numbers back up that shift. Rob Brothers, program vice president for data center and support services at IDC, said his firm's research predicted a modest reduction of the enterprise-owned and -operated data center space in the future but an overall -5.9% compound annual growth rate in worldwide enterprise data center capacity measured by square footage by 2026. While traditional data centers will not become obsolete, the scale of the largest data centers is likely to decrease in the future, he said.
Organizations likely to keep some services on premises, offload others
Scott Sinclair, practice director of cloud, infrastructure and DevOps at Enterprise Strategy Group, a division of TechTarget, said the firm did research in early 2022 on distributed cloud. The research asked participants how many data center locations they had five years ago, how many now and how many they expect to have in five years. There was no clear pattern in responses except that the average number looking to the future increased, and only 1% to 2% expected to have no data center at all.
But, again, it doesn't mean there won't be change. Companies with the biggest on-premises investments are the most anxious to modernize, Sinclair said. That often means they're trying to offload some of those applications, so there is growing interest in technologies that can help organizations integrate, automate, consolidate and yet be flexible.
"We asked about plans for applications, and a strong majority said that they are moving more applications to the cloud," Sinclair said. "A rising tide floats all boats. The needs for data and applications are growing so quickly; you are typically growing in the cloud, and growing -- maybe not as much -- in the data center. … But, at the end of the day, companies need to modernize what they have on premise."
That means products like Azure Stack or AWS Outposts that offer the promise of cloud and on-premises integration get a lot of attention, even if the spending hasn't gone there yet, Sinclair noted.
Competing IT priorities drive push to automated systems
When IT staff are so busy, they want to find ways to offload work, which is helping the as-a-service approach earn more attention.
On the human side, the need to address so many needs within the organization means that the old model of sustaining the consumption element is gone. People saw that as their job -- for example, being an expert in forecasting infrastructure needs. But, now, with more automation, IT departments want to focus on other areas.
"I talked to a user a couple of months ago; he was talking about how as-a-service has improved the working experience of employees," Sinclair said. "Now, they get to work more on the fun stuff."
Part of the challenge organizations have in modernizing their on-premises infrastructure or offloading some applications frequently revolves around lack of true cost visibility into their current on-premises facilities. For his part, Featherston takes exception to the cloud being the only, or even the primary, option.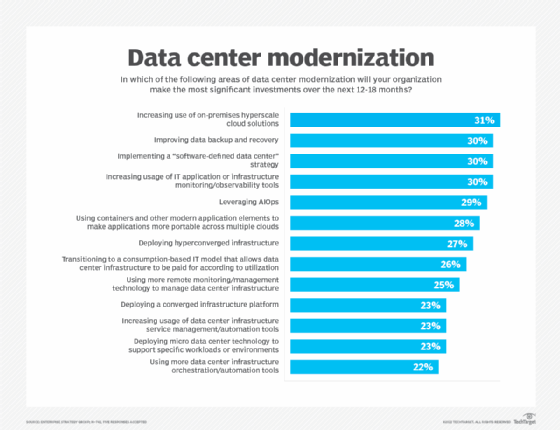 "There is a significant move and focus to colocation facilities and managed services," he said. There, just like in the cloud world, organizations start getting economies of scale for real estate, power, cooling and staffing, he noted.
"When [colocation] and managed services prices are looked at, the pricing at first might be intimidating," Featherston said. "But those that do [look at] it find, ultimately, it is a much easier paradigm to manage."
Plan early and often to adapt data centers to new demands, including staff
Tracy Woo, senior analyst at Forrester Research, said the most important way to prepare for any of the changes ahead is to make sure to hire people with the right skills. For example, organizations heading to the cloud will need to find talent that can support that. As IT roles compress, many will need to know how to code, handle infrastructure as code, and use automation and orchestration tools.
"It isn't about provisioning and providing services anymore," Woo said. "Much of that is done through self-provisioning, but it is more about integration and support activities."
Likewise, there used to be more functional silos, such as testing. Now, IT is more about platform teams and integrated teams. It isn't like the old "develop it and throw it over the wall" model, Woo said.
Because of that, traditional infrastructure management services teams need to know how to do continuous delivery and monitoring. Using observability, they need to figure out how to have visibility across the whole environment and how to use multi-cloud management tools.
Greg Schulz, founder of IT analyst and consulting firm StorageIO, urges practitioners to think broadly about their existing data centers and their potential value. Some data centers are particularly well located relative to reliable and affordable power and bandwidth.
"You can scale down your IT operations, but perhaps, you can use the facility for other things within the business," Schulz said. "There may be a high value to that facility that can help you or the business meet new goals."
Dig Deeper on Data center design and facilities