Evaluate
Weigh the pros and cons of technologies, products and projects you are considering.
Illustrated guide to converged infrastructure and vendors
Prequalified, turnkey systems from converged infrastructure vendors deliver the flexibility of traditional IT approaches with some of the support and management aspects of HCI.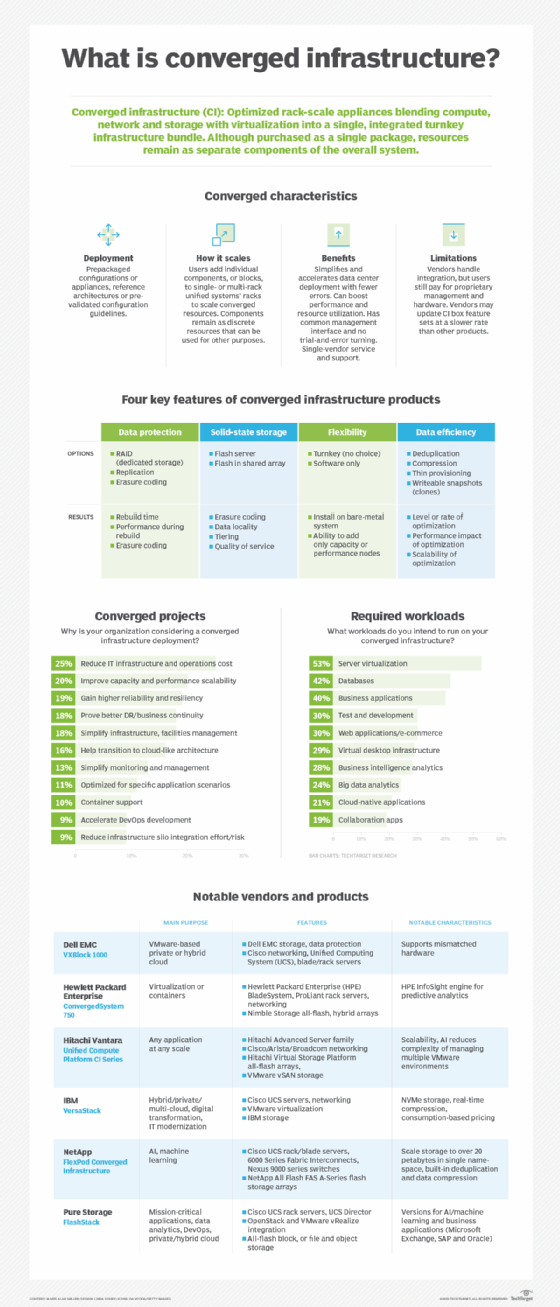 Hyper-convergence may be hot, and newcomers disaggregated hyper-converged infrastructure (dHCI) and composable infrastructure might be the talk of the town, but more standard data center architectures aren't going anywhere any time soon. This is particularly true of products from converged infrastructure vendors.
Unlike in HCI, data center components in a converged infrastructure remain separate, which Is traditionally how IT has approached data center architectures. Dissimilar to traditional IT approaches, however, vendors prequalify these components to work together in rack-scale turnkey appliances with a management software toolkit or a reference architecture.
Because components aren't tightly integrated in a single box or node as with HCI, converged infrastructure users don't have to expand all resources simultaneously. Users can simply add and remove components individually as needed. Also, since vendors precertify all data center converged components as interoperable, time-consuming configuration testing -- often hallmarks of traditional builds -- isn't required. However, because users tend to source all constituent parts from a single converged infrastructure vendor, often not the case traditionally, they do lose some flexibility for choosing individual components.
Notable converged infrastructure vendors include Cisco, Dell EMC, Hewlett Packard Enterprise, Hitachi Vantara, IBM, NetApp, Oracle, Pure Storage and Rackspace.