bluebay2014 - stock.adobe.com
Nutanix launches clusters for AWS
Hyper-converged infrastructure pioneer Nutanix puts clusters on AWS, enabling common management of applications and workloads on premises and in the public cloud.
Nutanix took a major step in its cloud integration strategy by making Nutanix Clusters on AWS generally available.
Nutanix Clusters on AWS gives the hyper-converged infrastructure (HCI) vendor's customers a way to move data and applications between its on-premises nodes and bare-metal Amazon Elastic Compute Cloud (Amazon EC2) instances in the public cloud.
"This lets you run Nutanix software in the public cloud and move workloads between an on-prem data center and the cloud the same as if you were moving between two Nutanix clusters in your own facilities," said Eric Slack, Evaluator Group's HCI analyst.
Nutanix Clusters on AWS (NCA) has been in beta since late 2019. Manoj Agarwal, Nutanix SVP of engineering and GM of cloud partners, said the goal is to allow its customers to share data and applications on premises and in the cloud using the same virtualization stack.
"When we talk to customers, it becomes clear that rearchitecting your applications -- doing a change of any type of IT operating -- is extremely expensive and time-consuming," Agarwal said. "So, when we talk about what we call the hybrid cloud, we mean you can lift and shift on your side without making any change on your side."
Agarwal said virtual desktop infrastructure (VDI) and critical applications such as databases are prime workloads for NCA. NCA is also a good fit for disaster recovery, he said.
Analysts see NCA as Nutanix's answer to VMware Cloud Foundation (VCF), which acts similarly to integrate Dell EMC VxRail and other HCI nodes running VMware's vSAN to public clouds. VMware and Nutanix dominate the HCI software market, with more than 70% of the share, according to IDC. They also expect Nutanix to integrate with other public clouds, including Microsoft Azure and Google Cloud Platform. VMware also has cloud partnerships with Azure, Google, Oracle and IBM clouds.
"It's their next evolutionary step in abstracting infrastructure," Enterprise Strategy Group senior analyst Bob Laliberte said of NCA. "Nutanix started out abstracting individual components of the storage, networking and servers. Then they moved to the rack, then the data center and then multiple data centers. Now they're looking to use their software to abstract cloud infrastructure. In that way, it's similar to VCF."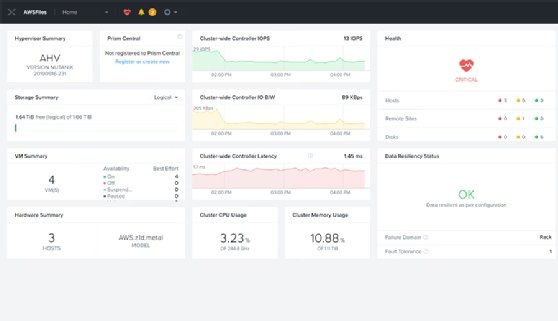 NCA look and work the same as on-premises Nutanix HCI clusters. They run in the Nutanix operating system (AOS) and AHV virtualization stack without requiring changes to the user interfaces or application APIs. Organizations can run Nutanix Files, Volumes (block storage) and Buckets (object storage) workloads on AWS EC2. They can also replicate between on-premises nodes and AWS for disaster recovery and backup. Clusters on AWS are managed through the Nutanix Prism dashboard.
Slack said VMware and Nutanix are the only vendors that allow their HCI software stacks to run as instances in the public cloud. "Nobody else has that," he said. "NetApp's Data Fabric lets you do some of the same things" but NetApp sells traditional storage arrays, not HCI.
While VMware has years-long head start with VCF, Nutanix claims it has greater integration with AWS -- particularly on the network side. Instead of using network overlays that create layers of network abstraction for software virtualization by requiring virtual machine management, Nutanix assigns its AHV virtualization layer IP addresses provided by AWS networking. Virtual machines communicate within NCA and EC2 VMs directly through AWS switching. That allows virtual machines to access cloud services without performing any network translation. The native integration can improve performance without adding network latency.
"The network piece is highly integrated, so it automatically works when customers bring it up in the cloud," Laliberte said. "This required a fair amount of development work. It's not one-size-fits-all, otherwise Nutanix would have done it for all the clouds. They'll do integration with the other cloud providers now."
Besides supporting other cloud providers, Laliberte said he expects Nutanix to add more automation to its clusters in public clouds.
"The next step will be driver of higher levels of automation," he said. "The first step is to leverage the data to figure out where I should have it, and to monitor it. Then, it's now that I've notified you where it is, push this button to move it. Eventually, it will recognize there's a workload that's better off running on premises than in the cloud or vice versa and go ahead and move it for cost optimization. I think that's ultimately what people are going to want."
Customers can use existing AWS and Nutanix licenses for NCA. NCA software licenses can run from around $9,000 to $24,000 per node, depending on the performance and capacity of the AWS bare-metal instances and the level of data services that Nutanix provides.
Dig Deeper on Converged infrastructure management