Anterovium - Fotolia
Nutanix Next steps into cloud: Clusters available in Azure
The Microsoft deal is part of Nutanix's pivot from an HCI vendor to provider of cloud software as it battles VMware and faces the same challenges as other infrastructure companies.
Nutanix and Microsoft have revealed a partnership allowing Nutanix hyper-converged infrastructure clusters to run on the Azure public cloud.
The companies disclosed the deal on Tuesday during the opening of the Nutanix Next 2020 digital user conference. Partnering with public cloud provider Microsoft is part of Nutanix's attempt to pivot from a hyper-converged infrastructure (HCI) company to a cloud software company particularly suited to hybrid clouds.
Nutanix Next 2020 also comes as the vendor prepares for new leadership. Dheeraj Pandey, a founder and Nutanix's CEO from the beginning, said 12 days ago that he will retire after the board completes a search for his replacement.
The Nutanix-Microsoft partnership includes Nutanix Clusters on Azure, which allows Nutanix customers to run their on-premises HCI workloads on Azure's cloud. They can deploy and manage Azure instances from Nutanix's on-premises interface. This is similar to Nutanix Clusters on AWS, which became generally available in mid-August.
IT teams -- including developers -- can also manage servers, data services and containers running anywhere on Nutanix HCI through the Azure Arc control plane. The third part of the deal involves licensing portability. Microsoft Azure customers can use Azure credits to purchase Nutanix software, and Nutanix customers can use their term licenses for Clusters on Azure or Nutanix software in the Azure Marketplace. Nutanix and Microsoft will partner for customer support.
Nutanix announced other new services and enhancements during Nutanix Next. They include performance improvements, network and security features and Kubernetes Platform Services, a platform as a service for developing and deploying microservices-based applications across clouds.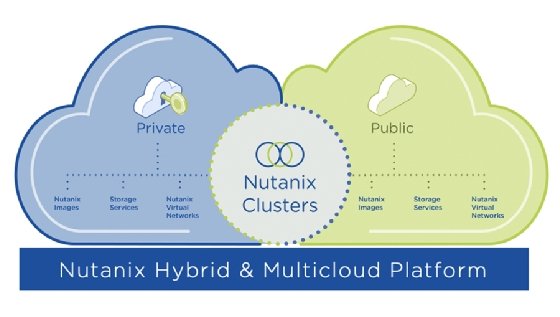 Nutanix CTO Rajiv Mirani said the HCI vendor's focus has turned to making it easier for customers to move workloads from data centers to public clouds.
"This is part of our broader story of moving hyper-converged infrastructure to hybrid cloud infrastructure," Mirani said. "It's still HCI, but it's not about hyper-converged infrastructure, it's about hybrid cloud infrastructure."
The key to having a hybrid, multi-cloud setup is going to be, 'How do you take the complexity out of operating and building apps on multiple cloud providers, and streamlining operational efficiency?'

Bob LaliberteSenior analyst, Enterprise Strategy Group.
Nutanix was a pioneer of the HCI concept that combined storage, compute and virtualization in one system. Like many on-premises storage vendors, it now faces the challenge of serving customers as they move to public clouds.
"They're trying to change the perception of what they do," said Bob Laliberte, a senior analyst at Enterprise Strategy Group.
Nutanix executives have talked about shifting from being an HCI vendor to a cloud platform vendor for years, but the transition has been slow. Laliberte points to the vendor's recent general availability launch of Nutanix Clusters on AWS and Azure, and today's Kubernetes as a service as evidence that its hybrid cloud strategy is progressing.
"Those are the biggest things they're bringing out to become an independent hybrid multi-cloud provider," Laliberte said. "They're geared at enabling organizations to seamlessly move workloads between on premises and public clouds. The key to having a hybrid, multi-cloud setup is going to be, 'How do you take the complexity out of operating and building apps on multiple cloud providers, and streamlining operational efficiency for your developers and operations team?' And I think that's a big problem that they're trying to solve."
Nutanix races VMware to hybrid cloud
Laliberte and other analysts point out that Nutanix and rival VMware are trying to solve the same problems. Both vendors sell HCI storage software and hypervisors. The two vendors account for around 70% of the HCI software market, according to IDC. Now Nutanix Clusters on AWS and Azure counter VMware on AWS and VMware on Azure for running virtualized workloads in the cloud.
"VMware lets you slide workloads around," said Mike Matchett, principal consultant of Small World Big Data. "If I have a workload on-prem, with VMware, I can put it up on VMware on AWS pretty easily. Now if I have Nutanix clusters on-prem in a private cloud, I can build a Nutanix private cloud up in the public cloud. And it will look the same, and operate the same, and manage the same."
Matchett said the challenge for Nutanix will come when public cloud providers AWS and Azure build full storage services.
"I'm just not convinced once everything is in the cloud, you need Nutanix as an intermediate layer," he said. "Does hyper-converged infrastructure even have any meaning once you're all the way in the cloud?"
Cooperating to compete with AWS, Azure
Naveen Chhabra, senior analyst for infrastructure at Forrester Research, called Nutanix's relationship with public cloud providers "a state of coopetition -- it's not pure competition. On one hand, Nutanix is bringing AWS and Azure services into its fold, but they're also competing with AWS and Azure. If it was pure competition, Nutanix would never invest in the capability to run its clusters on the public cloud."
Chhabra said Nutanix and other IT infrastructure vendors need to enable customers to build hybrid clouds to remain relevant.
"It's increasingly important for all data center infrastructure vendors -- HPE, Cisco, NetApp, Dell, VMware. They're all under significant pressure because customers do not find these traditional technology vendors as relevant as they use to be," he said. "And they increasingly fear they won't be as relevant in times to come. How to find the sweet spot and make yourself relevant over time is a multi-billion-dollar question. And there's no easy answer to that."
The following upgrades were also announced at Nutanix Next:
Karbon Platform Services include managed Kubernetes, containers as a service, SaaS-based infrastructure lifecycle management and role-based access control for security of cloud-native apps.
Performance enhancements include Nutanix Blockstore and a Storage Performance Development Kit (SPDK). Blockstore helps workloads on Nutanix take greater advance of NVMe and Optane solid-state drives (SSDs), and the SPDK in technical preview is an open source library developed by Intel that allows applications to access NVMe capacity directly to reduce latency.
Nutanix Flow Security Central SaaS management for compliance and network monitoring across workloads managed by Nutanix on premises and in the cloud.
A roadmap for new virtual networking capabilities in Flow, including ways to create and manage software-defined networks connected private data centers and public clouds.
Prism Ultimate, part of Nutanix Prism management, which adds troubleshooting capabilities for app-related infrastructure bottlenecks and cloud IT resource consumption.
Dig Deeper on Converged infrastructure management