Build a migration plan for enterprise edge infrastructure
Micro data centers are essential to edge computing use cases. Build an effective migration plan through site selection, application inventory and post-move monitoring tools.
For edge computing to be efficiently deployed at scale, it must have a more compact infrastructure, offer cost savings and provide new possibilities for network connectivity. With micro data centers, organizations can implement infrastructure closer to the edge data source and reduce regular maintenance requirements from IT staff.
With lower latencies due to the close proximity of servers to devices, companies can more easily deploy next-generation technologies with enterprise edge infrastructure, such as augmented and virtual reality for training, machine-to-machine communications for automation and robotics, and more granular data analytics.
These edge-enabled innovations require more than cloud-based resources, which may not meet processing requirements and near-instantaneous data relays. Before an organization invests in edge computing hardware and infrastructure, it is essential to develop a migration plan.
Are micro data centers the answer?
A micro data center can consist of a self-contained, single-rack computing infrastructure that includes all the necessary storage, processing and networking components to run applications. The data center can also be a compact, passively cooled and quiet appliance that is deployed within an office.
For IT teams, a self-contained micro data center swaps out aisles of racks and network cabling for modular enclosures designed for accessibility and portability. Operations can significantly lower data center maintenance costs and energy expenditures with reduced cooling requirements.
These data centers can also minimize the IT burden via remote management of these appliances. This management type helps admins monitor network traffic, restart servers and gather alerts for any downtime issues.
The increase of digital transformation in the enterprise requires organizations to completely reconsider data center strategies.
Micro data centers bring a form factor of stand-alone, self-contained appliances that offer the ability to handle more use cases that rely on massive volumes of streaming data from multiple different endpoints.
Edge infrastructure eliminates the need to relay data between different infrastructure points for processing or analysis. This increased demand for preintegrated and remotely monitored containerized data centers will eventually eclipse on-premises data centers. According to Gartner Research, 80% of enterprises will transition away from current data centers to micro offerings by 2025.
The increase of digital transformation in the enterprise requires organizations to completely reconsider data center strategies. Though cloud computing offers vast storage and scalability, enterprise edge infrastructure is better suited to help companies deal with use cases such as branch offices, internet-enabled and IoT devices, sensor-equipped remote assets, asset tracking, supply chains and corporate inventory.
This is because edge designs are often flexible and decentralized, and specifically address high-performance and latency-sensitive use cases.
Building enterprise edge infrastructure
As admins identify and migrate workloads to a stand-alone, rack-level system at the edge, they must consider security. The security plan should cover what data and applications will reside outside an on-premises data center and the appliance's actual physical security.
A single, self-contained enclosure that resides within a corporate office can also be the target for theft, which poses severe operations and business consequences. For micro data centers in more rugged areas, admins must review any additional power or protective casing requirements along with security measures.
Transitioning to an enterprise edge infrastructure involves standard premigration planning, the physical move itself and post-migration application reassembly.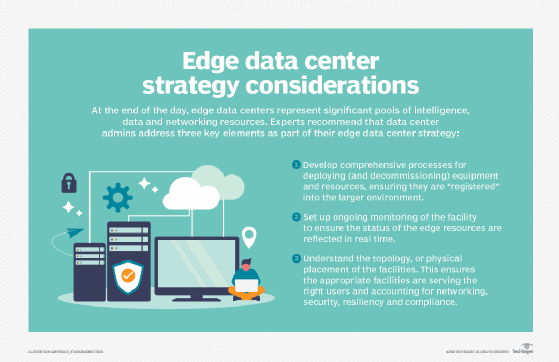 In addition to clearly defining the scope of the migrations, admins should analyze their migration plan to address key organizational goals of an edge approach. These can include reduced latency metrics, better customer service, more efficient operations and improved data movement.
Admins must also identify and classify workloads and applications to migrate and calculate costs in terms of hardware, infrastructure modifications and maintenance.
Once an application inventory is complete, admins should select an actual physical site for their micro data centers and set up edge infrastructure. Micro data center site evaluation must include questions such as:
How serviceable is the location?
Is the geographic site in proximity to the desired market?
How many racks or cabinets will initially be installed?
Can the site be retrofitted, and does it have adequate infrastructure in place?
Can the modular unit be serviced by multiple utility grids?
What is the average power requirement for the infrastructure type?
Once admins identify that sufficient power resources are in place, the right HVAC elements are a crucial part of successful micro data center operations. Admins should address how to cool the hardware and consider if any specialized hardware is needed to keep all hardware online.
After business case development, site selection, plus hardware upgrades and placement, admins can choose to bring the enterprise edge infrastructure online all at once or on a rolling basis. Whatever the choice, the goal of post-migration application assembly should be to ensure application functionality and implement any remote monitoring measures to oversee micro data center health.
Dig Deeper on Data center ops, monitoring and management