zentilia - Fotolia
5 steps to include on your software update checklist
Training, testing and automation are all essential components to software updates. Implementing these concepts makes version maintenance a less herculean task.
Regular software updates make both financial and operational sense. Organizations are more productive thanks to the systems' improved reliability. Neglecting to regularly update data center software can cost companies time, money and business performance.
According to Uptime Institute, the cost of unplanned outages has risen to $8,851 per minute, with software errors causing more than one-quarter of all outages. Software update checklists let admins save resource time and effort because they're working proactively, instead of reacting to issues and downtime caused by outages.
Maintenance can also help maintain IT staffing levels because it increases IT admins' productivity and job satisfaction, which can reduce employee turnover. Optimized network systems also allow the business to enjoy lower IT costs over time, and IT admins can increase data center management efficiency, which provides better guidance for IT planning and spending.
Create a smooth software update checklist
The first step is to designate teams or specific staff to handle the updates in advance, so work schedules are not negatively affected. Rotating the update activities between team members also takes advantage of each person's skill set and experience while giving them a chance to expand their knowledge into related areas.
The second step is to document any update schedules, processes, procedures and troubleshooting options for the entire team. This ensures every admin understands the scope and timeline of the update, and can notify the appropriate stakeholders.
The third step is to train staff on any update procedures. Procedure run-throughs identify any potential gaps or obstacles before undertaking the updates in the production environment. It also prepares admins for the specific tasks they'll do during the update, so they're familiar with the workflow and are aware of potential issues, because priorities may change depending on the infrastructure type.
The fourth step is to double-check that the correct stakeholders are listed in the update documentation. Different updates require specific notification trees and procedures, and depend on stakeholder involvement level with the updated software and how it affects their work. For example, network application updates have a different set of stakeholders than a business-critical software update.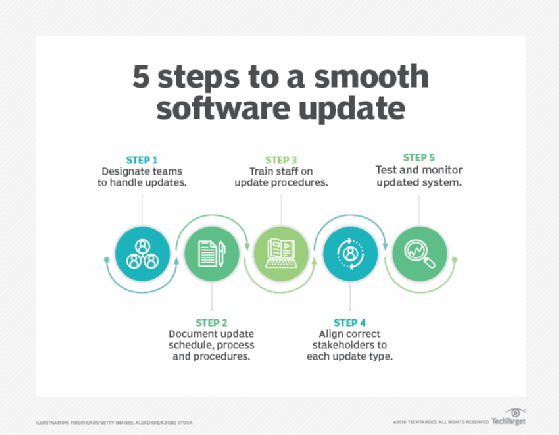 The final step of a software update checklist is to test and monitor the updated system. This might include automated monitoring applications that alert admins to issues during and after the update, as well as manual software performance monitoring. For business-critical software updates, IT admins should conduct end user testing and monitoring procedures; it's possible an update looks fine on the backend, but does not work for end users.
Automation tools streamline post-update operations
Automated tools -- when combined with a software update checklist -- can help IT admins maintain a proactive posture for their data centers. Newer software often comes with automation features and wizards that handle most update tasks, or at least automate portions of the update process, which reduces errors and speeds up time to production. Certain update tools let admins synchronize updates with other software and specific hardware devices based on rules they define during installation.
Automation tools can recognize incompatibility issues or imminent system or part failures before they happen, which eliminates downtime and keeps productivity losses to a minimum. They can also automatically update any configuration management databases when new software versions go live; this task is usually done manually, which leads to information gaps and potential data entry errors.
Certain software -- such as legacy applications -- still requires admins to apply and verify manual updates. Admins are often too busy to handle these updates on time or during regular business hours. But with automation tool implementation, admins can program automation tools to update newer applications and then be available for the more specialized updates.
After an update, admins should verify all the key account passwords for the affected software and systems. This task alone can be arduous, depending on the number of applications being updated at any given time. Add in the security compliance requirements for passwords and other login credentials, and it becomes an even more burdensome task. Admins can configure an automated update tool to authenticate and track changes of required passwords as well as remove inactive user IDs from critical systems.
Dig Deeper on Data center ops, monitoring and management