Getty Images
Navigate Energy Star data center standard and certification
Organizations can use the Energy Star data center standard and certified assets to be more energy efficient. Consider Energy Star certification to preserve capital and save energy.
Data center and facility managers can use the Energy Star standard to improve energy efficiency, identify green equipment and become Energy Star-certified to display their commitment to running a green data center.
The program covers data center equipment, such as servers, uninterruptible power supplies (UPSes), storage hardware, switches and routers. Energy Star also provides data centers with an overall energy efficiency score that compares them to similar facilities around the U.S.
Prioritize energy efficiency in data centers to bring potential energy and financial savings to operators and owners. It can also prevent technical failures and breakdowns, increasing cyber threat protection and reducing the chances of data loss.
Energy Star requirements for data centers
Start the certification process by using Energy Star-rated equipment in the data center. Each has been tested and certified to use less energy than noncertified products. For example, some certified enterprise servers save up to 30% in energy, while some UPS battery backups are certified to reduce energy waste by up to 52% as compared with conventional UPS units. The Energy Star website provides a product finder tool that data center owners can use to find the right certified product.
The Energy Star score for data centers
The Energy Star score applies to spaces and facilities designed and equipped for high-density computing, such as edge and colocated data centers. Based on actual, measured data for the facility, the score assesses how the data center performs overall based on a number of factors, such as its physical attributes, its operations, external factors like weather and how the employees inside use it.
The score is created through statistical analysis of data gathered from surveys collected by the Environmental Protection Agency (EPA) in coordination with major industry associations, including the Uptime Institute, Green Grid, 7×24 Exchange and AFCOM. It then compares the actual energy data you enter in the Energy Star Portfolio Manager tool to determine how your data center ranks relative to other similar facilities.
Portfolio Manager is an interactive resource management tool that monitors and benchmarks energy use in any type of building. Facility owners enter building data, such as size, location, number of occupants, number of pieces of IT equipment and the type of IT equipment, to generate the score.
While the tool also gives owners and operators an estimate of energy usage along a spectrum of energy usage levels, ideal to worst, it only uses the actual energy data entered to generate the Energy Star score. The score is displayed as a 1-100 percentile ranking. Data centers must have an Energy Star score of 75 or higher to apply for certification.
Steps to Energy Star certification
Applying for Energy Star certification is straightforward, as it involves gathering information that many facilities are already monitoring. Data centers must meet the following requirements to apply for Energy Star certification:
Meet the definition of a data center as outlined by Energy Star and the EPA.
Receive an Energy Star score of 75 or higher.
Be located in the U.S., U.S. territories or Canada, or be owned by the U.S. government.
Have access to a minimum of 12 months of energy consumption data for the facility, including IT loads for computing hardware and the total facility.
After applying for certification through the Portfolio Manager, an Energy Star Licensed Professional will conduct a site visit to verify the information submitted.
It is free to apply for Energy Star certification, and the certification must be renewed annually. The EPA also randomly selects applications to undergo additional audits and reviews to ensure that the program works as intended.
Benefits of Energy Star certification
There are currently over 200 data centers with the Energy Star certification. Each one enjoys financial and energy savings because they've reduced data center energy waste and optimized performance. Facility owners enjoy a higher ROI on the equipment and hardware because they're more energy efficient to install, use, maintain and operate. Operational costs are lower in certified data centers because they increase power usage effectiveness by reducing energy consumption.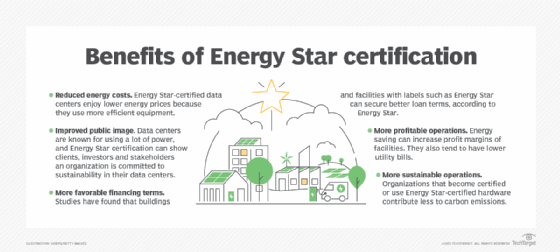 From a technology perspective, Energy Star-certified data centers enjoy improved security because they use the latest technology and hardware that offer stronger protections and cybersecurity options. They have a higher overall system performance because the efficient equipment and systems are less prone to breakdown, also leading to reduced maintenance and replacement costs.
The Energy Star certification program for data centers was last updated in 2010 and is currently under review. Updates should be arriving in 2023 or 2024. For more information, refer to the EPA's website.
Dig Deeper on Data center hardware and strategy