michelangelus - Fotolia
Focus, scope and spotting opportunity are key to role of CDO
Chief data officers and experts see the CDO role as changing to a more strategic orientation -- especially finding key opportunities in vast troves of data.
CAMBRIDGE, Mass. -- In the age of big data, the opportunities to change organizations by using data are many. For a newly minted chief data officer, the opportunities may actually be too vast, making focus the most essential element in the role of CDO.
"It's about scope," said Charles Thomas, chief data and analytics officer at General Motors. "You struggle if you do too many things."
As chief data officer at auto giant GM, Thomas is focusing on opportunities to repackage and monetize data. He called it "whale hunting," meaning he is looking for the biggest opportunities.
Thomas spoke as part of a panel on the role of CDO this week at the MIT Chief Data Officer and Information Quality Symposium.
At GM, he said, the emphasis is on taking the trove of vehicle data available from today's highly digitized, instrumented and connected cars. Thomas said he sees monetary opportunities in which GM can "anonymize data and sell it."
The role of CDO is important, if not critical, Thomas emphasized in an interview at the event.
The nurturing CDO
"Companies generate more data than they use, so someone has to approach it from an innovative perspective -- not just for internal innovation, but also to be externally driving new income," he said. "Someone has to [be] accountable for that. It has to be their only job."
"A lot of industries are interested in how people move around cities. It's an opportunity to sell [data] to B2B clients," Thomas added.
Focus is also important in Christina Clark's view of the role of CDO. But nurturing data capabilities across the organization is the initial prime area for attention, said Clark, who is CDO at industrial conglomerate General Electric's GE Power subsidiary and was also on hand as an MIT symposium panelist.
Every company should get good at aggregating, analyzing and monetizing data, Clark said.
"You then look at where you want to focus," she said. The role of CDO, she added, is likely to evolve according to the data maturity of any given organization.
Focusing on data areas in which an organization needs rounding out was also important to symposium panelist Jeff McMillan, chief analytics and data officer at Morgan Stanley's wealth management unit, based in New York.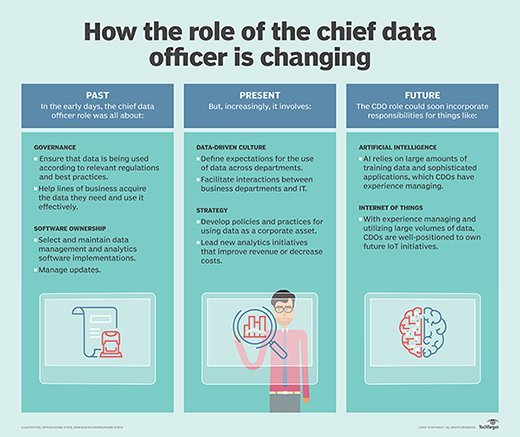 It's about the analytics
"Organizations say, 'We need a CDO,' and then bring them in, but they don't provide the resources they need to be successful," he said. "A lot of people define the CDO role before they define the problem."
It's unwise to suggest a CDO can fix all the data problems of an organization, McMillan said. The way to succeed with data is to drive an understanding of data's value as deeply into the organization as possible.
"That is really hard, by the way," he added. At Morgan Stanley, McMillan said, his focus in the role of chief data officer has been around enabling wider use of analytics in advising clients on portfolio moves.
All things data and CDO
Since widely materializing in the aftermath of the 2008 financial crisis, the role of CDO has been seen largely as seeking consensus.
Compliance and regulation tasks have often blended in a broad job description that has come to include big data innovation initiatives. But individual executives' refinements to chief data officer approaches may be the next step for the role of CDO, longtime industry observer and Babson College business professor Tom Davenport said in an interview.
"Having someone responsible for all things data is not a workable task. So, you really need to focus," Davenport said. "If you want to focus on monetization, that's fine. If you want to focus on internal enablement or analytics, that's fine."
The advice to the would-be CDO is not unlike that for most any other position. "What you do must be focused; you can't be all things to all people," Davenport said.