kentoh - Fotolia
Actian Avalanche Real-Time Connected Data Warehouse adds integration
Actian is expanding its Cloud Data Warehouse with data integration capabilities to enable users to onboard and search data from both cloud and on-premises data sources.
With growing volumes of real-time data coming from different sources, it can often be a challenge to integrate all that data into a data warehouse.
Hybrid data management vendor Actian, based in Palo Alto, Calif., is looking to help solve the real-time data integration challenge with its new Avalanche Real-Time Connected Data Warehouse Solution, launched April 22. The offering brings together Actian's Avalanche Cloud Data Warehouse with the company's data integration capabilities to create the new platform.
Among key features are the ability to integrate with real-time data pipelines as well as a federated hybrid query capability to search for data across different sources, both on premises and across multiple cloud deployments.
Like many vendors, Actian recognizes the need to provide cloud-based systems, said David Menninger, an analyst at Ventana Research. However, the vendor has also recognized that many organizations will have a mix of on-premises and cloud data processing requirements. Menninger noted that his firm's research shows the need for hybrid support as a critical requirement since less than a quarter of organizations are purely cloud-based.
Every organization needs to integrate a variety of data sources into its data warehouse and increasingly organizations are processing more and more data in real time.

David MenningerAnalyst, Ventana Research
"Every organization needs to integrate a variety of data sources into its data warehouse and increasingly organizations are processing more and more data in real time," Menninger said.
From Ingres to cloud data warehouse
Actian has a long history in the database market and was known as Ingres until 2011, when the company rebranded. The Ingres database first emerged in 1980 and was a pioneer in the relational database market. Ingres is still used by organizations today and the evolution of the core structured database technology underpins Actian's current efforts.
Actian launched the Avalanche Cloud Data Warehouse in March 2019, bringing analytics and data warehouse capabilities to the cloud. Emma McGrattan, senior vice president of engineering at Actian, noted that typically the first thing users do after creating a data warehouse is to populate it with data. Actian has an existing data integration technology known as DataConnect, which was extended to work in the cloud and rebranded as Avalanche Connect in 2019.
Before the new Avalanche Real-Time Connected Data Warehouse release, the Avalanche Connect technology wasn't seamlessly integrated, McGrattan said. She noted that the data warehouse and integration technologies were coming from different development teams at Actian and users would have had to engage with two different support teams for deployment.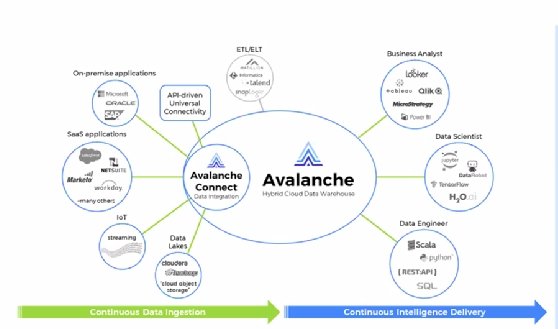 "What we've done now is unified the team and the technologies, so the data integration is just kind of a natural extension of the warehouse," McGrattan said. "So when you first create your warehouse, if you want to import some data, you've got the ability then to customize templates and pull in the data."
Connecting data in the cloud
McGrattan said the new integrated Avalanche Real-Time Connected Data Warehouse can now pull in data from a variety of different sources ranging from basic CSV-based data sets, to streaming data technologies including Apache Kafka, as well as information hosted in data lakes. The system can also be used to connect to on-premises sources of data that run within an organization's own data center.
In the cloud, organizations also need to connect to data from SaaS-based applications such as Salesforce, NetSuite and ServiceNow. Connecting SaaS data to the Avalanche Real-Time Connected Data Warehouse is enabled with customizable templates that Actian provides to make the integration process easier for users.
While Actian is now providing a built-in integration capability as part of its cloud data warehouse, McGrattan said there could also be use cases in which an organization wants to use a purpose-built ETL (extract, transform and load) tool. To that end, she noted that Actian has existing partnerships with multiple ETL vendors including Talend, Dell Boomi, SnapLogic and Matillion among others.
"We're providing the ability for customers to retain the investment that they've made in ETL and have that just work with the Avalanche platform as well," she said.
Federated query reaches across cloud data warehouse resources
Another key feature that the Avalanche Cloud Data Warehouse enables is federated query, which enables users to search across both on-premises as well as cloud data.
McGrattan said Actian is looking at building more intelligence into the cloud data warehouse platform, including machine learning and artificial intelligence workload support.
"On the integration side of things we'll continue to build out more templates and really simplify the task of bringing in large data volumes from a variety of sources," McGrattan said.