sommai - Fotolia
How to establish an operational resilience training program
Collaboration across departments is the new normal to protect business operations. Set up and promote an operational resilience training program with our included printable guide.
Organizations commonly practice the disciplines associated with operational resilience: business continuity, disaster recovery, incident management, crisis management and risk management.
However, the effectiveness of these activities in an emergency may be limited due to cultural and departmental silos. Include an interdisciplinary approach to incident response in operational resilience training.
Acceptance of operational resilience within organizations has grown steadily, after senior management recognized its importance during the COVID-19 pandemic. Based on the pandemic, increased interactions, communications and knowledge-sharing among specific corporate disciplines are needed to keep businesses operational.
The evolution to operational resilience requires communications, collaboration and knowledge sharing that transverses and integrates multiple corporate activities. Operational resilience training activities and awareness must evolve.
A high-level view of operational resilience
The figure below depicts the corporate functions that are most likely to interact in the course of achieving operational resilience.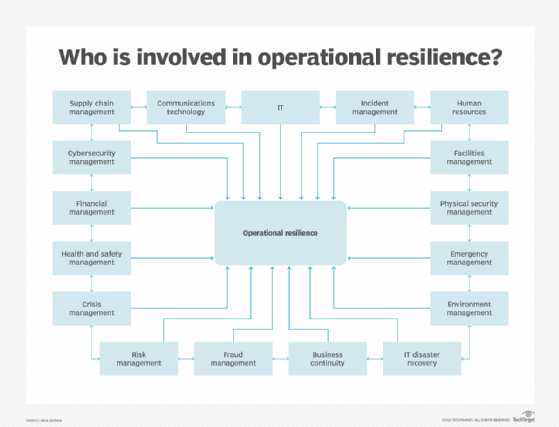 Operational resilience is beginning to supersede more traditional emergency activities, and organizations of all sizes and types need to consider adopting it in business operations. A key element is the interaction among and between the disciplines. No silos here. This is how resilience activities differ from traditional emergency initiatives. Each discipline plays an essential role in keeping the business operational. A resilient organization requires significant communication and cooperation.
Raise awareness of resilience efforts
A well-rounded operational resilience training program should kick off with awareness activities. Here's how to create and sustain awareness of operational resilience efforts:
Develop a plan. Perform an analysis to find out the existing level of operational resilience awareness. Use this analysis to develop a project plan to increase awareness within the organization.
Talk to human resources. Create documented policies and procedures for operational resilience training and awareness for internal reference. Collaborate with HR and corporate training departments to develop these policies and procedures and set up a schedule of awareness activities.
Include senior management. Invite members of senior management to participate in related meetings and ensure they endorse awareness activities. Schedule periodic briefings with business unit leaders and senior management on the operational resilience program.
Inform employees of all levels. Gather employee input on resilience efforts in various areas of the organization. Use these comments for outreach messages. Use internal email, a company intranet or social media platform to send periodic messages on the operational resilience program and ongoing training activities. Schedule periodic briefings and Q&A sessions on the operational resilience program with employees. Consider running surveys to gather comments and suggestions from employees not directly involved in the operational resilience program. Keep communications on operational resilience brief, yet informative.
Operational resilience training step by step
Operational resilience training must be focused, well organized and structured, performed regularly, and coordinated with operational resilience plan exercising activities.
Below are activities to develop a successful operational resilience training program from start to finish. Training details may vary by company size and industry, but a general outline of activities can include:
Conduct an operational resilience training needs analysis.
Prepare a training policy. Submit it to senior management and HR for review and approval.
Analyze how the training program affects the departments that form the operational resilience team.
Develop training activities that can be delivered to all employees.
Assess current staff competencies and knowledge.
Define desired outcomes from the operational resilience training program.
Establish an ongoing training program.
Develop and deliver various types of training programs, such as classroom, computer-based, test-based, and instructional guides and templates.
Communicate the program to employees, customers, suppliers and other stakeholders.
Establish and use metrics to identify focus areas, and measure training improvement.
Identify internal and external trainers, validate their teaching credentials and arrange for train-the-trainer programs as needed.
Establish record keeping of staff-training activities.
Establish competency levels for operational resilience teams and employees and how these levels will be maintained.
Develop and conduct training on IT disaster recovery activities, such as failover and failback.
Develop and conduct training on incident and crisis response activities such as assessments and evacuations.
Develop and conduct training on specialized recovery activities, such as recovering to alternate work areas or third-party resilience services.
Develop and conduct training on cross-department activities to ensure all business units are successfully recovered.
Develop and conduct training on return-to-normal activities post-disaster.
Develop and conduct training on business system and operational process restoration.
Benchmark the operational resilience training program against other corporations within a peer group or industry.
Periodically survey employees to determine their readiness to deal with a disruptive event.
Apply lessons learned from actual disasters.
Link training activities to annual employee performance reviews and compensation.
Brief management with monthly updates on all training activities.
Print out the above step-by-step outline for establishing an operational resilience training program at your organization.
Dig Deeper on Disaster recovery planning and management