Problem solve
Get help with specific problems with your technologies, process and projects.
When USB Hub Gets Weird Win-RAID Provides Fix
OK, so I'm poking around in Device Manager yesterday researching an NVMe issue. What do I spy, with my little eye? The dreaded "Other Devices" category, with the "Unknown device" beneath it (see screencap below). Because I know a little bit about this kind of stuff, my next move is to click on the details tab, and then to check the values for Hardware IDs. All three of those values start with USB\ASMEDIAROOT_Hub so I already have a pretty good idea what's up. But when I go poking around for Asmedia drivers, even at the Asrock website, I come up dry. Then it hits me: When USB hub gets weird Win-RAID provides fix!

Here's the visual cue that a Win10 device has gone off the rails. A quick check of Hardware IDs tags the culprit!
How Win-RAID Provides Fix for Wonky USB Hub
And by that I mean checking the outstanding driver mod and BIOS hacking site, Win-RAID.com, where its German operator Dieter (aka Fernando) runs the show. The Latest USB 3.0/3.1 Drivers page there includes a detailed entry for USB drivers from all major makers, including ASMedia. Here's what that entry looks like: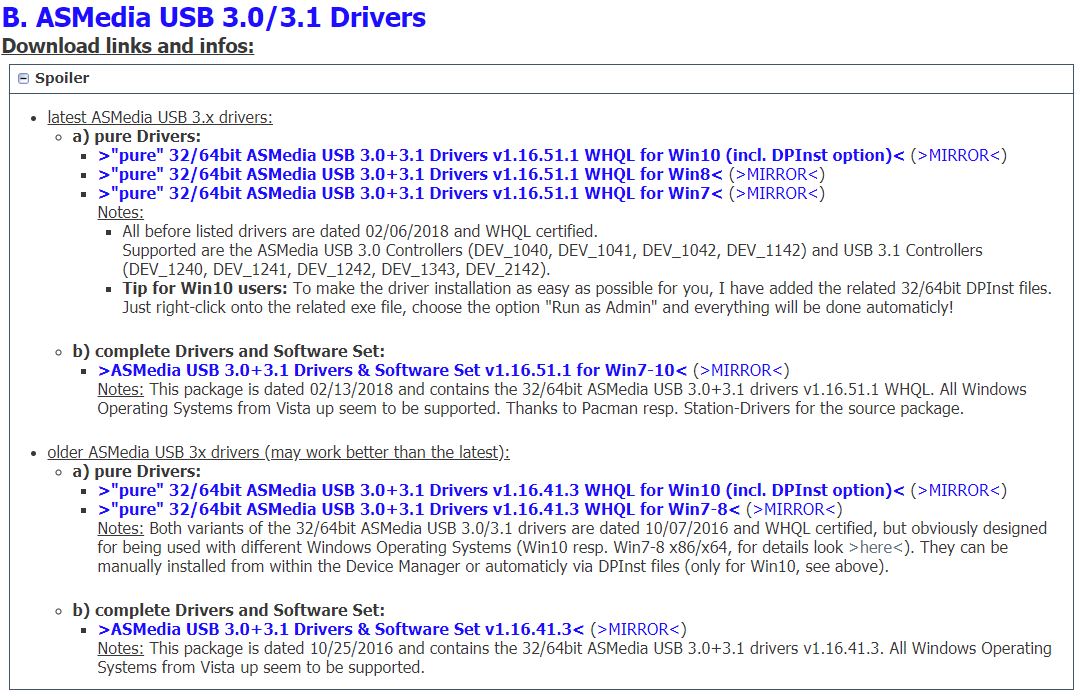 I grabbed the first entry from the list, and pointed the "Update drivers"/"Browse my computer…" functions at the folder where I unpacked the linked .rar file. Problem solved!
[Click image for full-sized view.]
Over the years, I've learnd to turn to Win-RAID when I need storage or USB drivers and I can't find a good source from the manufacturer or the motherboard maker. And indeed, this was another case where Win-RAID rode to my rescue. I'm already running their modded USB 3.0/3.1 drivers for Intel, so adding their ASMedia hub support was kind of a no-brainer for me. Great stuff! If you do decide to use these drivers, be sure to read (and follow) the instructions for installing them, which are described in the "Preliminary Notes" section at the head of the USB3.0/3.1 Drivers page at Win-RAID. Warning: It's a little different from the normal routine!