Eugenio Marongiu - Fotolia
Worker engagement is everyone's responsibility -- even IT's
Employee experience has become a catch-all phrase for every part of an employee's interaction with a company. Does that include IT? Experts say yes.
With technology becoming more central to worker engagement, IT could become a bigger factor in whether employees take and stay at jobs.
As such, IT professionals, including desktop and EUC administrators, could be asked to play an increased role in removing friction created by clunky technology experiences from an employee's workday.
Companies are now considering worker satisfaction with tech as part of IT's job, as well as factors like the advance of consumer technology, a younger, more demanding workforce and an ever-higher reliance on mobile devices driving higher expectations from an employee's tech experience. Experts said administrators can attack this problem by keeping tech up to date, solving issues before they become help desk calls and getting closer to the workers they serve.
Positive tech experience's big effect
The research on the relationship between positive technology experiences and employee productivity is definitive. Forrester Research analyst Andrew Hewitt said studies have consistently shown that the ability of employees to get work done was a key to retaining them; those who encounter impediments are much more likely to suffer burnout.
Whit Andrews, distinguished vice president of research at Gartner, said worker surveys were unambiguous about the connection between tech and employee retention.
"When we look at the sentiment given to us, it is clear that those who are dissatisfied with the tech they have are the most inclined to look elsewhere," he said. "People who are thrilled with [the tech] are likely to not only stay with the organization, but to look for new roles [within the organization]."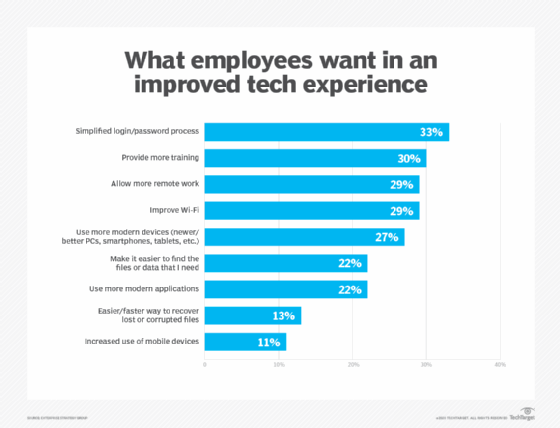 The "2019 Digital Work Survey" by Enterprise Strategy Group (ESG) indicated that 25% of workers felt a subpar technology experience would impact their decision to accept a position or leave a job. Younger workers and senior management, per the survey of 1,033 full-time employees in the U.S. and Canada, were the most likely to make an employment decision based on technology, at 30% and 43%, respectively.
Hewitt said companies have recognized the problem, with many reporting that the same issues -- a lack of flexibility or the inability to use preferred software -- arise frequently during exit interviews. Yet the outstanding issue is how companies should solve the problem.
People have recognized the issue, but they're still in the early stages of determining how to tackle it.

Andrew HewittAnalyst, Forrester Research
"People have recognized the issue, but they're still in the early stages of determining how to tackle it, how to formalize the organizational piece of this… [and] how they know if they're doing well," he said.
The changing dynamics of the workforce compound the issue. Mark Bowker, senior analyst at ESG, said younger workers are not accustomed to working with a cookie-cutter business setup: a piece of PC hardware with Windows and a set number of apps on it.
"Companies are looking at how to support the ways new workers are accustomed to thinking," he said.
The lingering effects of shadow IT
When employees believe the company has not provided the proper tools to complete their jobs, they may take matters into their own hands.
Dion Hinchcliffe, vice president and principal analyst at Constellation Research, said cost-controlled IT budgets as well as the proliferation of technology and cloud-based apps have led to the rise of shadow IT, where employees use tools unsanctioned by IT admins. The trend continues today with companies like Box offering free, easy-to-use versions of their technology.
Work tasks accomplished through unofficial apps are a double-edged sword for IT administrators. They may provide a quick fix for employees to get their work done but they also present a security worry as company data can't be pulled back or analyzed, Hinchcliffe noted.
"The worst thing you can do is hire really talented people and say they have to use the wrong tools for their job," he said. "There has to be a combination of [the proper] technology, enforcement of security policies and education."
For shadow IT to safely exist in the enterprise, Bowker said, IT admins may need to handle security through new means. That can be difficult given that enterprises have failed to provide robust cybersecurity training to its employees; per the ESG survey, one in three organizations don't provide employees with cybersecurity training, opening the enterprise up to risk.
"There are two ways to address [the security risk]: one controls devices, with a corporate-managed device and corporate security on the device, tightly managed by IT. A lot of times, that's the approach companies take," Bowker said. "An alternative method is a zero-trust model."
Such a model, he said, would not immediately trust any means of accessing company data, but would use several parameters -- such as the device, how updated the OS is, the network and the user -- to determine the level of access granted.
Ensuring an engaged workforce
Being mindful of an employee's workflow, communicating with workers and being aware of the security issues that can arise could be giving IT admins a new role to play in attracting and keeping workers.
Increasingly, Hewitt said, companies are considering workers' experience with tech when evaluating their IT staffs. Those firms, he said, may consider factors like employee satisfaction, downtime and the volume of help desk calls when determining how well IT has performed.
Andrews said there were several ways IT admins could help address worker satisfaction. One is keeping applications up to date; he reported employees who believe they are working with the most modern version of their applications are more likely to be satisfied.
Another important factor is proximity, Andrews said. Workers in a business unit with an IT person are more satisfied with their tech. Such an arrangement, he said, is mutually beneficial. IT professionals who work next to other employees gain a better sense for what it means to be a salesperson, archivist or engineer. Those employees, in turn, learn about the priorities and constraints of their company's IT staff as well.
Bowker said the important lesson to draw from ESG's survey data is that a poor tech experience puts the company at risk in terms of retaining employees. This emphasis on experience, he said, is partly driven by a tight job market but it's likely the concern will persist even when the economy softens.
"The consumer experience that people have had a history with for multiple years -- that's the experience expected of their employer," he said, noting the spread of technologies like touchscreens, intuitive apps and biometric authentication. "I really believe those things are going to be expected, no matter how strong or weak the job market is."
The traditional "one-size-fits-all" approach to technology does not hold when employee satisfaction is tied to tech performance -- and when there is an array of specialized tools at their disposal.