Microsoft Productivity Score limited by lack of data
Microsoft's new Productivity Score tool for 365 needs third-party data and security information to be entirely useful to enterprises, analysts said.
Microsoft's new Productivity Score tool in the 365 suite is of limited use to IT decision-makers because of a lack of security information and third-party data, analysts said.
Productivity Score, released Oct. 29, informs IT staff on how workers use the 365 applications Teams, Exchange, SharePoint, Yammer and OneDrive. The tool measures how well the software performs and how much workers use application features, such as video during Teams meetings.
Useful information missing from Productivity Score includes insight into third-party applications like Zoom and Slack or data about endpoint devices' security or policy compliance.
"I think that's a major miss," said Enterprise Strategy Group analyst Mark Bowker.
Meeting the needs of enterprises would mean integrating Productivity Score with other business applications, Bowker said. "If they want to evolve this further, they need to recognize that not everybody is all-Microsoft."
The tool also doesn't break down its numbers by each 365 product. Therefore, organizations would have difficulty determining how much employees use the features that companies pay for in their subscriptions, said Gartner analyst Craig Roth.
Microsoft seems more interested in using Productivity Score to encourage organizations to use 365 features, Roth said. "I think it's more a matter of trying to increase the depth of usage of the suite and, ultimately, [customer] satisfaction."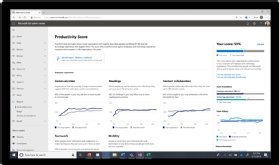 Companies want tools that can measure employee productivity and app usage, particularly after the COVID-19 pandemic forced large-scale work-from-home policies. However, it's hard to find software that can compare pre-pandemic numbers with those gathered now.
"The problem is, in a lot of cases, [businesses] didn't know how productive they were before," Roth said.
Productivity Score measures whether the 365 applications are up to date and how quickly users' computers boot up. It also examines how people use apps. For example, the software looks at whether people use Teams messages or emails, opt for ad-hoc or scheduled meetings, or share files through links or email attachments.
Productivity Score could measure the success of some IT initiatives. For example, a company could determine the efficacy of an initiative to get people to save files to OneDrive instead of the desktop, said Forrester Research analyst Andrew Hewitt.