pixeltrap - Fotolia
Microsoft Teams updates address employee engagement
In this roundup of UC blogs, analysts discuss Microsoft Teams updates, CPaaS announcements from Microsoft Ignite and Verizon's portfolio strategy for BlueJeans.
Microsoft recently announced a slew of Microsoft Teams updates focused on improving employee productivity and engagement. A few announcements, made during the annual Microsoft Ignite user conference, stood out to Futurum Research analyst Daniel Newman.
First is enhanced Together Mode, which uses AI segmentation to bring meeting participants into a shared virtual background. Teams is the only collaboration app to use the feature to address meeting fatigue, which will get worse as employees continue to collaborate remotely, Newman wrote in a blog.
Microsoft Teams is expected to introduce breakout rooms in October, which will enable meeting organizers to split video meeting participants into smaller discussion groups. This feature could be especially useful in educational scenarios, for general employee onboarding and for small sessions during large live events, he wrote.
The addition of meeting recaps is a long overdue feature, Newman wrote. With this feature, meeting attendees receive an automated recap that includes the meeting recording, transcript, shared files and chat history. The information can be accessed in the Outlook meeting event and in SharePoint.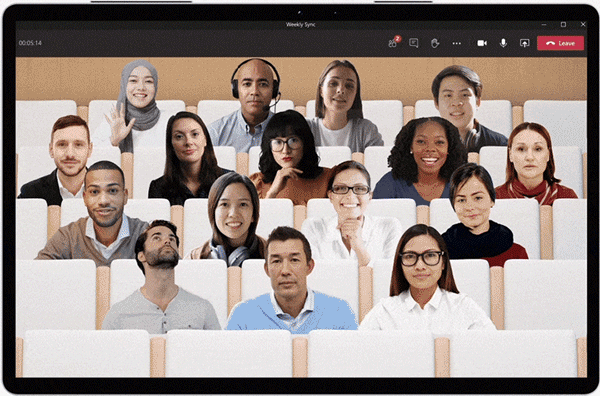 These Microsoft Teams updates show Microsoft is looking to improve employee engagement and stand out from its competition. The new features like Together Mode and breakout rooms can help Microsoft achieve those goals, he wrote.
Learn more about Newman's impressions on other Teams updates.
Microsoft takes on CPaaS and telecom markets
Microsoft is looking to expand beyond its cloud-based unified communications (UC) offerings. With the announcement of Azure Communication Services at Microsoft Ignite, Microsoft has now entered the communications PaaS market and could disrupt the telecom space.
Telecom is undergoing significant change as users abandon landlines, cloud adoption surges and communications APIs see an upswing, industry consultant Andy Abramson wrote in a blog. Legacy, incumbent providers, like AT&T, BT and Verizon, are also pivoting and becoming mobile-first service providers.
The evolution in the market has created the opportunity for the rise of a new telecom. Azure Communication Services enables organizations to use APIs to add voice and video calls, chat, and text messaging to mobile and web apps.
Microsoft Azure is a widely deployed cloud infrastructure and has an advantage over other providers since the platform offers tighter integrations into the Microsoft ecosystem. Azure Communication Services can do what AWS and Twilio do but in one platform, Abramson wrote.
"Microsoft is offering telecom and web developers a whole new playground to develop next-generation services and solution sets," he wrote.
Read more for Abramson's thoughts on Microsoft's track record with Skype as a voice over IP service.
Verizon advances BlueJeans acquisition
Cloud video conferencing provider BlueJeans has become the centerpiece of Verizon's UC and collaboration portfolio in the five months following its acquisition.
Since the acquisition, Verizon rebranded BlueJeans as BlueJeans by Verizon and added more than 50 features, including transcription, automatic closed captions and restricted meetings. Verizon has also aligned BlueJeans architecture with its network infrastructure, GlobalData analyst Gregg Willsky wrote in a blog.
Verizon's communications portfolio strategy is based on the idea that customers prefer buying product suites, he wrote. Verizon offers the entire BlueJeans portfolio, including BlueJeans Meetings, BlueJeans Rooms-as-a-Service and BlueJeans Gateway for Microsoft Teams. One product suite would include Verizon-branded meetings and events, calling and contact center.
Verizon is also integrating BlueJeans with One Talk, a Verizon telephony product for SMBs. The two services were previously bundled. The new integration will link the UIs to enable users to escalate person-to-person calls in One Talk to a multiperson conference in BlueJeans.
Read more about Willsky's impressions on Verizon's go-to-market strategy.