Lenovo to launch ThinkBook brand, next-gen ThinkPad X1
Lenovo announced the launch of its ThinkPad subbrand called ThinkBook. It will be focused on small and medium-sized businesses and will launch with two laptops.
Lenovo has announced a subbrand of ThinkPad called ThinkBook that launches with two new laptops available at the end of the month, the next generation of the ThinkPad X1 Extreme and a minidesktop called ThinkCentre M90n-1 Nano.
The goal when designing the ThinkBook S series 13- and 14-inch laptops was to start with a "new line of ultraslim laptops that embrace portability and ease of use of modern consumer-oriented devices" that will "no doubt help to empower tomorrow's successful business leaders," according to Lenovo.
Targeted at the younger employees in the workforce, Lenovo aimed to combine design, price and service advantages with ThinkBook 13s and 14s. Lenovo said it wanted to create a laptop that doesn't make tradeoffs in areas such as security, reliability and support services, but still satisfies the demand for sleek-looking devices.
The ThinkBook laptops can lie completely flat at 180 degrees and also have ultranarrow bezels to pack a larger display into a smaller package. Externally, the computers are made of aluminum and magnesium metals in a mineral gray finish. The 13s weighs 2.95 pounds, and the 14s weighs 3.3 pounds.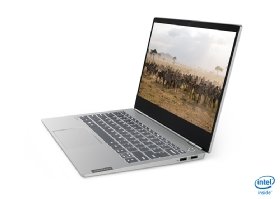 Internal features include: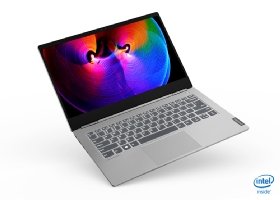 single-step authentication and power-on with a touch fingerprint reader;
Trusted Platform Module (TPM) 2.0, which enables Windows 10 security features and user data encryption;
physical ThinkShutter camera cover;
hinges coated in indium metal to reduce Wi-Fi interference;
Harman speakers by Dolby Audio;
full HD displays by Dolby Vision on 13s;
spill-resistant keyboard to resist up to 2 ounces of liquid;
up to 11 hours of battery life and RapidCharge on ThinkBook 13s; and
up to 10 hours of battery life on ThinkBook 14s.
Additionally, the ThinkBooks can download emails, receive Skype call alerts and get Windows app updates with the top closed. The laptops use 8th Generation Intel Core processors.
The new ThinkBooks will be available in late May 2019, with the 13s starting at $729 and the 14s starting at $749.
ThinkPad X1 Extreme Gen 2
Lenovo is also launching the ThinkPad X1 Extreme Gen 2, which uses 9th Gen Intel Core i9 processors and an Nvidia GeForce GTX 1650 GPU with Max-Q design. It also doubles the storage at 4 TB.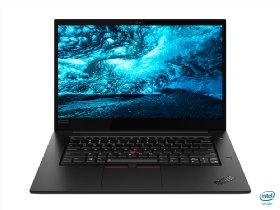 According to Lenovo, the new ThinkPad was designed for advanced business users. It uses Windows 10, has a 4K OLED (organic light-emitting diode) touch display and uses the Dolby Atmos speaker system. The laptop has a 15-inch screen and was designed for intensive workloads, such as video and photo editing, graphics rendering and augmented/virtual reality applications.
The ThinkPad X1 Extreme Gen 2 will be available in July 2019, starting at $1,499.99.
ThinkCentre M90n-1 Nano
Also new from Lenovo is a new ultrasmall desktop system for business. The ThinkCentre M90n-1 Nano can be specced up to Intel Core i7 processers, and it has up to 16 GB double data rate 4 memory. The Nano is .35 liters and 65% smaller than the ThinkCentre Tiny.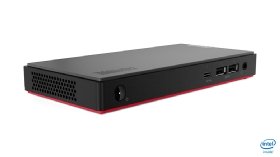 It has been MIL-SPEC 810G tested, meaning it is built to withstand 10 different conditions, including shocks, drops, dust and humidity, according to Lenovo. The Nano uses the hardware TPM 2.0 chip to encrypt data, and there is a Kensington lock slot to physically secure the Nano to an immovable object to prevent theft.
The Nano supports Modern Standby, which enables users to receive emails, voice over IP calls and IMs while on standby mode. It is compatible with Tiny-in-One and USB-C docks and monitors.
The ThinkCenter M90n-1 Nano will be available in August 2019, starting at $639.