Getty Images
How to choose a PCaaS vendor
The PC-as-a-service and device-as-a-service market is still developing and maturing, so organizations should learn who the major vendors are and how these services work.
IT departments are embracing PC as a service to help address the challenges and complexities of deploying and managing desktops, laptops, PCs and other devices across their organizations.
Several well-known vendors now offer PCaaS bundles in response to this growing demand. As this type of offering matures, organizations need to learn what these offerings include and what value they can bring.
PC as a service is a subscription-based program that provides organizations with managed desktops that include operating systems and software. With most services, the vendor leases the desktops to customers for a fixed monthly fee -- without requiring upfront costs -- and manages the systems throughout their lifespans, procuring, deploying, maintaining and monitoring the devices. At the end of the contract, they handle device removal and hardware refreshes.
However, PCaaS is not the same as a traditional leasing program. With leasing, customers manage the devices and simply rent the hardware for a set period. The typical PCaaS program manages all aspects of desktop delivery, providing services similar to a cloud platform but with the OSes running on the local device. Some vendors refer to these types of offerings as device as a service (DaaS) rather than PCaaS, often because they offer devices other than PCs. However, the principles behind these programs are the same, which is why the two terms are often used interchangeably.
What to look for in a PCaaS vendor
Traditional approaches to desktop management are fraught with challenges, and refreshing hardware can be costly and time-consuming. Users must often work on outdated technology that can increase support costs and security risks. Further, it can lead to a poor UX and eventually frustration that high-end technology isn't available to support users.
It can also be difficult for IT teams to maintain visibility into their desktop systems, especially with more users working from home. In addition, it can be difficult for a short-staffed IT team to manage device purchases and refreshes, disposal and recycling.
Traditional approaches to desktop management are fraught with challenges and refreshing hardware can be costly and time-consuming.
Because of these challenges, many vendors developed PCaaS offerings to help outsource some of these tasks. With several viable options on the market, organizations should consider numerous factors before committing to any one service.
They should start with a critical question for any service agreement: What is the vendor offering? For example, are they providing the physical devices and the management services or just the management services? Many PCaaS vendors offer end-to-end lifecycle management that simplifies everything from endpoint procurement to disposal, but this is not true for all vendors. It's also important to learn what type of support a vendor offers and how they resolve issues when they arise. Waiting until a problem arises to learn about the support structure would be a poorly constructed plan.
In addition, decision-makers need to know whether devices come preconfigured and ready to use out of the box or whether there will be an extensive setup. Remote work support is a major factor to keep in mind as well -- how will the vendor handle PC updates and device recovery? Another key question is: What tools are included for monitoring the systems and providing visibility and insights into their operations?
Beyond this, organizations must determine which device types are available with the plan, which applications are available and what configuration and customization options the vendor offers. They should also evaluate the subscription plans, understand their differences and read the fine print for any add-ons or unexpected costs. The vendor should provide a clear pricing structure that's predictable and reliable throughout the length of the contract and will provide cost consistency to help with IT budgeting.
Decision-makers must carefully analyze a potential PCaaS vendor to determine the long-term total cost of ownership (TCO) over a fixed period. They should then compare their results to the TCO analysis of a traditional approach to desktop management, which includes procuring, deploying, managing, monitoring, updating and removing the devices.

PCaaS vendor breakdown
The four top PCaaS vendors are Dell, HP, Lenovo and Microsoft, each of which provides services that simplify the process of managing desktops and other devices. Although they're similar in many ways, there are plenty of differences between them.
Dell PCaaS
The Dell PCaaS offerings include a full complement of Dell business laptops, desktops and workstations, software options and lifecycle services that include deployment, maintenance, support, managed services, asset recovery and security. Dell also offers the following:
Dell Optimizer is a built-in AI software component that learns and adapts to how a user works. It can help improve performance, connectivity and battery run time.
A PC proximity sensor uses the infrared camera and Windows Hello to automatically wake a system and log the user in when that user approaches the computer. The sensor then locks the computer when the user moves away.
The Dell ProDeploy Client Suite helps IT provision devices and enables users to get up and running within minutes.
The ProSupport Suite uses proprietary AI technology to deliver predictive alerts about potential issues from the hardware and software. The suite comes with priority access to ProSupport engineers.
Specialized security is built into every commercial device, with integrated software and services layered on top to harden the attack surface and provide administrative visibility into device security.
Dell offers two PCaaS subscription plans: PCaaS for Business and PCaaS for Enterprise. The Business plan targets organizations that need up to 299 PCs, and the Enterprise plan targets organizations that need more than that with complex environments. The Enterprise plan includes the same features as the Business plan but adds more system and financing options and a dedicated services delivery manager.
Pricing depends on the program, hardware and length of commitment -- either 36 or 48 months. Customers pay one monthly fee with no upfront costs. For specific pricing information, organizations should contact Dell sales directly. This is how accurate pricing is accessible from most vendors. However, unlike other vendors, Dell provides an example subscription: A Dell Latitude 3410 with an Intel Core-i5 1021OU runs $26.38 per unit per month, based on a 36-month commitment.
HP DaaS
HP DaaS -- or device as a service -- includes desktops, workstations, notebooks, mobile devices and other device types. In addition, HP offers repair services and device lifecycle management. Some of the unique features that HP's bundle includes are the following:
Organizations can tailor their device and accessory mix to meet the needs of individual users; the devices are backed by technical support and next-day break and fix service.
Multitype, multi-OS management capabilities are available, with the ability to monitor and inventory hardware and software across platforms and manufacturers.
AI-driven analytics provide insights into devices, applications and usage, with real-time monitoring and health diagnostics across all HP devices.
Global support and accidental damage protection are included.
Some plans include a proactive HP service agent to help monitor and manage devices and a dedicated account delivery manager that provides onboarding support and conducts regular check-ins.
HP offers three DaaS plans: Standard, Enhanced and Premium. The plans are not distinguished by the number of devices like Dell but by the available features. The Enhanced plan builds on Standard and adds accidental damage protection, predictive analytics, remote assistance and several other services. Likewise, the Premium plan builds on Enhanced and adds features such as Windows information protection, password recovery, application deployment and Wi-Fi provisioning.
HP DaaS plans include options from HP Financial Services with terms ranging from one to five years. Customers pay an all-in-one monthly subscription fee to use the hardware and access services and support. The fee is based on a price-per-device model, although HP provides no specifics beyond that. For pricing information, organizations should contact HP sales directly.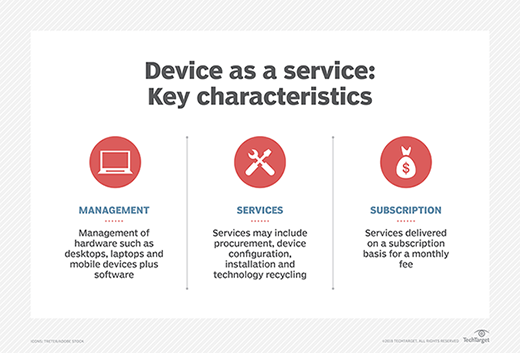 Lenovo DaaS
The Lenovo DaaS program offers customers ThinkPad notebooks and ThinkCentre desktops with the ability to choose from preconfigured packages or custom configurations. In addition, it provides complete lifecycle management and several other distinguishing features as well.
Customers can choose devices for different roles and then flex the number of devices as their needs change.
Reporting capabilities help customers track hardware and software assets and view device health and utilization information.
The program offers secure device disposal with certified data deletion in compliance with governance and environmental regulations.
Continuous monitoring includes suspicious account alerts, at-risk data discovery, application health monitoring, security posture reports and remote remediation of potential security issues.
The service includes premier support with a single end-user phone line and technical account manager; Lenovo can also manage images, image load and deployment.
The Lenovo DaaS program offers three plans: Simplify, Accelerate and Transform. Like HP, the plans build on each other and are distinguished by features instead of the number of endpoints. The Simplify plan includes services such as ThinkShield security, premier support, device tracking and secure asset disposition. The Accelerate plan adds to this by providing custom BIOS settings, asset tags, imaging and Microsoft Autopilot registration.
The Transform plan is similar to the Accelerate plan but also enables customers to build custom DaaS plans with any combination of options from Lenovo's full services catalog, such as encryption, OS patch management or accidental damage protection. All plans are on a monthly subscription fee, with no upfront investment. Organizations should contact Lenovo sales for specific pricing information.
Microsoft Managed Desktop
The Microsoft Managed Desktop offering provides end-to-end device and security monitoring for Microsoft devices and certified devices from Dell, HP and Lenovo that run the Windows 10 or Windows 11 Enterprise, Pro or Pro Workstation editions. The Microsoft Managed Desktop service also includes these notable features.
Customers get the latest Microsoft productivity, security and management tools with Microsoft first-party management of their desktop environments.
Devices receive automatic software updates, with annual or semiannual feature updates and monthly quality updates.
Preapproved devices can participate in the program to ensure they can meet Microsoft's enterprise support and security standards.
Cloud-based management that's optimized for device security and user experience, with automatic updates and intelligent monitoring.
Enterprise-grade features such as BitLocker, Windows Hello, SecureBoot, device health analytics and virtualization-based security.
Microsoft Managed Desktop requires a Microsoft 365 E3 license with Microsoft Defender for Endpoint or an equivalent license. Microsoft 365 E3 costs $32 per user, per month. The program also requires that all user accounts are managed through Azure Active Directory or are synchronized from on-premises Active Directory, using the latest version of Azure AD Connect. In addition, the program requires management through Microsoft Intune.
Microsoft Managed Desktop offers two plans: Plan 1 and Plan 2. Unlike other vendors, Microsoft's plans don't build on each other, though some overlap exists. For example, both plans provide the latest Windows, Office 365 and Teams features. However, Plan 1 offers support for hybrid Azure Active Directory Join, and Plan 2 does not. Plan 2 offers more device configuration and security features compared to Plan 1. Organizations should contact Microsoft 365 business sales for specifics on licensing and pricing.