PC as a service is an alternative and a complement to DaaS
When IT teams consider the best way to deploy and manage desktops and endpoints, PCaaS should be a strong consideration to replace or work with desktop virtualization.
When organizations decide to shift their endpoint costs to Opex, get out of the cycle of device refreshes, optimize management and switch to consumption-based pricing, they've turned to some flavor of desktop virtualization.
Today, that often means desktop as a service (DaaS), but any type of desktop virtualization over the past 20 years has demonstrated value in those areas.
There are other ways to achieve those goals, however, and I often think of a data point that our research has uncovered regarding PC as a service (PCaaS).
As written in the question posed in the 2022 survey "End-user Computing Trends" from TechTarget's Enterprise Strategy Group, PCaaS is described as "an all-encompassing solution inclusive of endpoint hardware, lifecycle services and support, and a payment model aligned to per-user per-month pricing," and an astonishing 98% of respondents said that it was strategic to them (Figure 1). Why might that be? And with that high of an interest level, why aren't we talking about it all the time?
One reason I can think of that PCaaS isn't often talked about is that, at first blush, PCaaS sounds like PC leasing, which was the first way companies shifted their endpoint costs from Capex to Opex. The similarities end there, though, because leasing PCs was simply an alternate procurement method. It was still up to IT to image, deploy and manage the devices. PCaaS is distinct from leasing because it also adds management and lifecycle services and the physical world version of demand-based subscription pricing, all in a monthly price per device and variable terms.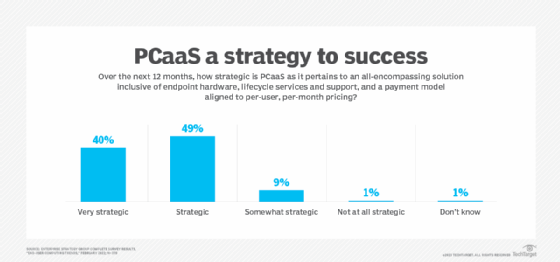 Another reason could be the name. Major vendors, such as Dell, HP and Lenovo, offer some kind of similar service, but only Dell uses the PC as a service name. HP and Lenovo use the term device as a service, or DaaS, which easily gets confused with both desktop as a service and data as a service. It doesn't help that device as a service and desktop as a service are similar both in concept and meaning, or that the buying teams tend to be the same. It's entirely possible that an organization could be using both desktop as a service and device as a service -- and maybe even data as a service!
So, before moving on, I'd like to propose that the industry standardizes on PCaaS, because it's significantly easier to tell the story without confusing the audience. If you must continue using device in the name, maybe we can call it endpoint device as a service, or EDaaS, though I can already see people writing it as eDaaS.
With that out of the way, there are many benefits of PCaaS. Let's take a look at a few of the ones most relevant to desktop virtualization.
1. It's business as usual
No matter how many virtual desktops are out there, it will always be a fraction of the number of endpoint devices in use. Organizations have been deploying traditional desktops and laptops for 30 years, and implementing PCaaS lets them continue to do so while still optimizing procurement, deployment, management and retirement processes and shifting costs to Opex. Ultimately, organizations get a lot of benefits without a lot of disruption.
2. Organizations can use PCaaS and virtualization
Desktop virtualization and PC as a service are not mutually exclusive to each other. Virtual desktops still require an endpoint to access them, so even if you do manage to deploy a complete DaaS environment that helps you optimize all your workflows and gives you pay-as-you-go pricing, your users still need endpoints.
I'd like to propose that the industry standardizes on PCaaS, because it's significantly easier to tell the story without confusing the audience.
If your company is providing those endpoints, you still have the same device procurement and lifecycle management challenges you had before. Adopting a PCaaS-like endpoint strategy can help you complete the transition to a modern, service-oriented model.
3. PCaaS has similar benefits to desktop virtualization
If an organization isn't aware of PCaaS, it might think that desktop virtualization -- in particular, DaaS -- is the only way to meet its goals. The problem is that moving to desktop virtualization isn't trivial; it's a huge project that involves fundamentally changing business as usual, which is the No. 1 competitor of just about everything.
Is PCaaS always the better option?
VDI and DaaS have additional benefits, so in no way am I trying to say that PCaaS is a full-fledged or better alternative. I am suggesting, though, that if your primary goal is to shift costs to consumption-based/Opex and lighten the load on management and procurement teams without too much of a disruption to existing procedures and workflows, PCaaS is worth a look.
Gabe Knuth is the senior end-user computing analyst for TechTarget's Enterprise Strategy Group. He writes publicly for TechTarget in addition to his analyst work. If you'd like to reach out, see his profile on LinkedIn or send an email to [email protected].
Dig Deeper on Cloud-based desktops and DaaS