Desktop as a service vs. VDI: What's the difference?
The battle for desktop virtualization domination is on. DaaS is able to pack a punch at VDI with cost benefits, cloud services and more flexibility.
The working world is demanding to be cut loose from their desks, instead relying on the capabilities of remote access for their desktop environments. To provide these capabilities, IT has seen desktop virtualization options grow more prevalent.
Desktop virtualization enables IT to deploy a hosted OS to remote clients. There are multiple ways to implement virtual desktops, including virtual desktop infrastructure (VDI) and desktop as a service (DaaS). Both technologies can help organizations provide business continuity to remote employees and offer the ability to scale up or down quickly as employee bases change. From a user perspective, these methods are most successful when they provide the same user experience a person would get from a physical, local desktop.
IT admins should compare desktop as a service vs. VDI to understand the differences between these two approaches and determine which one is right for their organization.
What is virtual desktop infrastructure?
With VDI, a desktop OS is hosted on a central server that sends the desktop interface over a remote display protocol. The user can then interact with the desktop on their endpoint device, whether that's a thin client, mobile device, laptop or other client. The user must be connected to a network to access the desktop, although some VDI software offers offline capabilities. VDI enables users to access full desktop capabilities on thinner machines, as most of the processing and computing happens on the back end.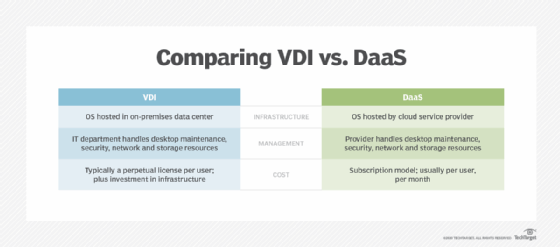 Pros and cons of VDI
VDI can be cost effective for companies that have a large employee base, particularly if IT can deploy shared or pooled virtual desktops that cut down on the number of overall desktops in the organization. Simplified management is often a benefit of VDI; groups of users can share virtual desktops or IT can deploy desktops without much customization. On the other hand, virtual desktops may result in more help desk requests from users, if they're not familiar with the software or have continuous trouble with connectivity.
Since the technology is doing a lot of the heavy lifting compared to a cloud service, the sticker price is on the higher side for VDI. VDI also requires a sturdy support system of IT professionals who can develop and customize the desktop environment, as well as maintain efficiency by deploying updates and managing data traffic. Network connectivity is also something to keep in mind with VDI. Without a strong connection, VDI slows to a crawl, cutting into valuable work time.
What is DaaS?
DaaS is similar to VDI in that it also deploys an OS from a hosted desktop to a remote device.
DaaS differs from VDI because instead of hosting desktops in an on-premises data center, DaaS uses a cloud-based back end from a third-party provider. The cloud service provider handles connectivity and security and maintains the cloud infrastructure. Options for DaaS providers include Amazon, Citrix, DinCloud, Microsoft, VMware and more.
Pros and cons of DaaS
DaaS offers companies the opportunity to have VDI capabilities while maintaining a subscription-based price. It also has an easier method of deployment, as it is not necessary to build desktops in-house. DaaS vendors usually handle connectivity and any issues, while IT maintains a role as the administrator over user accounts. It's also easy to scale up with DaaS because IT can simply update the subscription and avoid making any changes to on-premises infrastructure.
DaaS can bring challenges around connectivity as well, however, because IT has less insight into the network and is beholden to the provider's uptime capabilities. In addition, IT generally has less control over updates and security.
DaaS and VDI trends
Microsoft made a splash in the desktop virtualization market when it launched its own desktop service, Windows Virtual Desktop, in 2019. Organizations pay a subscription fee for the offering, which runs on Azure. A partnership with Samsung also makes it easier for Windows Virtual Desktop users to access virtual desktops on mobile devices via Samsung DeX. Typically, mobile devices have not been strong clients for desktop access because of their small screens and inability to provide a positive user experience with more complex applications.
The push toward more cloud services in many organizations means DaaS continues to gain in popularity. As workforces become more and more dispersed, organizations are growing more comfortable with employees working from home. That trend could be a boon for both VDI and DaaS.
As far as the technology itself, vendors have added analytics and intelligence features that up IT's game around performance reporting, security checks and more. One example is VMware's Workspace One Intelligence capabilities. Citrix Workspace has added more analytics in the past year, as well as the Workspace intelligent experience, which provides greater automation to users by integrating workflows across different applications.
When to use desktop as a service vs. VDI
So how can IT settle the desktop as a service vs. VDI debate? VDI is the winner when it comes to security and control. For companies that have the money, time and resources to put into a full VDI deployment, it is a good method.
DaaS offers flexibility in terms of development, user access and IT maintenance. DaaS does not require a huge cost investment at the start, which is a good fit for a smaller business or one that is testing virtualization. If a company is not sure of the scale it desires, DaaS can adjust to fluctuation in virtual desktop numbers, where VDI would require reworking to do so.
Each industry has its own set of security and compliance regulations to follow. Since DaaS is packaged by a provider, it can be difficult to find an offering that fits a business perfectly. The only way to know for certain that everything is up to code is if the DaaS provider enables IT to check compliance measures. In addition, if the provider gives IT control over the hypervisors' configurations, there is more opportunity for IT to customize features.
DaaS solves difficulties of data storage, cost concerns and location dependency problems using the cloud. The cloud is a double-edged sword, though, as it can also be a security vulnerability. IT must put full faith into the hands of the DaaS provider to maintain security. On the other hand, VDI security is often constructed upon older infrastructures that do not have layers to protect against online attacks. DaaS providers are very aware of the multiple assaults that can happen and can target and eliminate a threat once it is identified.