Apple's 8-core MacBook Pro is Apple's fastest laptop yet
Apple introduced its newly updated 13- and 15-inch MacBook Pros, including Apple's first 8-core laptop, that are up to twice as fast as previous models, according to the vendor.
Apple released new 13- and 15-inch MacBook Pro models featuring up to 9th-generation Intel processors and, for the first time, 8-core processing power. The 8-core MacBook Pro models are up to two times faster than 2018 models, according to Apple.
The most notable update is to the 15-inch MacBook Pro model; the base model starts with a 2.6 GHz, 6-core i7 core processor (CPU), while the higher-end model includes support for Intel's latest 4.8 GHz i9 CPU with eight cores -- a first for MacBooks.
Apple also boosted its 13-inch Touch Bar MacBook Pro with an 8th-generation i5 quad-core processor that can boost from 2.4 GHz to 4.1 GHz, an upgrade from the previous dual-core processor still available on the non-Touch Bar model.
Delivering Turbo Boost speeds up to 5 GHz, the 8-core MacBook Pro performs two times as fast as quad-core MacBook Pro models and 40% faster than previous six-core configurations.
While notebooks with less cores are still fit for everyday consumer or enterprise use, Apple claims the 8-core MacBook Pro is ideal for high performance workloads such as compiling code, processing high-resolution images, rendering 3D graphics, editing 4K video and more. Across Pro applications, Apple notes numerous performance improvements:
play back of multitrack projects with two times more Alchemy plugins in Logic Pro X;
two times faster scene rendering in Maya Arnold;
up to 75% faster editing and filtering in Photoshop;
up to 65% faster code compilation in Xcode;
up to 50% faster fluid dynamics simulation computing in TetrUSS; and
editing of up to 11 simultaneous multicam streams of 4K video in Final Cut Pro X.
The 15-inch, 8-core MacBook Pro features the following specs: Retina display with 500 nits of brightness and True Tone technology, Radeon Pro 555X GPU, 16GB of DDR4 RAM, a 256GB SSD, and an 83.6-watt-hour battery for up to 10 hours of wireless web and 30 days of standby time. All newly released 2019 models ship with macOS Mojave.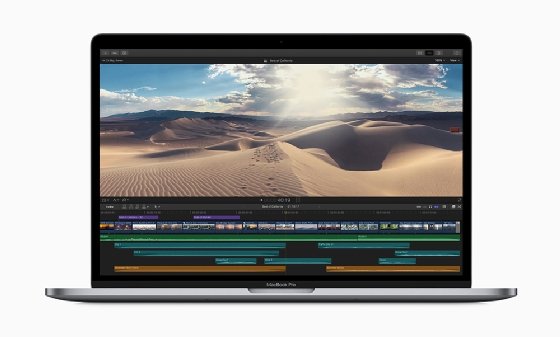 Intel released its laptop-friendly, 9th-generation 8-core CPUs in late April; previously, Intel's laptop chips were almost only dual- or quad-core. By updating MacBook Pro models with Intel's newest chip technology, Apple stays competitive with other high-performing laptop models like Microsoft Surface, Dell XPS and Samsung Windows 10 notebooks.
Both the 13- and 15-inch MacBook Pro models are available as of May 21 online and will hit retail stores later this week. The upgraded models start at $1,799 and $2,399, respectively.