CenturionStudio.it - Fotolia
Apple begins shift from Intel with debut of M1-based MacBooks
Apple has started the shift from Intel processors to its ARM-based M1 chip with the introduction of M1-based MacBooks and a Mac mini, boasting higher performance for less power.
Updated on Nov. 11, 2020:
Apple has debuted Macs with a self-designed processor that will eventually move the computers off Intel chips to silicon with a significantly higher performance-to-power ratio.
On Tuesday, the company introduced a 13-inch MacBook Air and MacBook Pro and a Mac mini desktop, all powered by its new M1 chip. Starting prices are $999 and $1,299 for the MacBook Air and MacBook Pro, respectively, and $699 for the Mac mini. Available next week, the Macs represent the first step in transitioning Apple's entire line of computers to its processors by 2022.
Apple chose to replace Intel with its ARM-based chips to increase the performance and efficiency of the Mac. At Apple's One More Thing virtual event, company executives said the M1 chip delivers record CPU performance per watt.
According to Apple, the new Macs will perform between 2.8 times and 3 times as fast as their predecessors, while providing longer battery life. The company said the Air's battery will last up to 18 hours, while the Pro's can last 20 hours.
"Advancements of this magnitude only come from making bold changes," said Apple CEO Tim Cook.
The new MacBooks will appeal to enterprise buyers looking to outfit mobile workers with long-lasting devices, said Gartner analyst Mikako Kitagawa. However, companies will be cautious of the shift to ARM. They will likely take the time to monitor developments and test the computers for compatibility with business applications.
"If the performance is as promised, it would be very impressive," she said.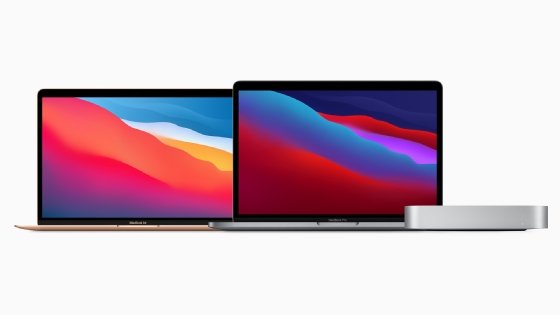 New capabilities
Apple executive Johny Srouji said M1 is a "system on a chip," consolidating a traditional Mac's CPU, security, I/O and memory controller. The processor has eight CPU cores -- four of them optimized for intensive tasks, the others for lighter workloads.
Apple said the new version of macOS, Big Sur, will take advantage of the hardware. Apple executive Craig Federighi said the new Macs can wake instantly from sleep mode, have a faster Safari browser and run iPhone and iPad apps.
Compatibility concerns
Yet to be determined is how well applications designed to run on Intel processors will fare on Apple chips. Apple said its Rosetta 2 software would ensure that most Mac programs work with the new silicon. Rosetta 2 takes on the same role as the first Rosetta, used to provide application compatibility when the company moved from IBM's PowerPC processors to Intel chips.
Still, analysts said the switch could pose compatibility issues for businesses dependent on legacy applications. When the company first announced the move, Forrester Research analyst Frank Gillett said much would depend on the quality of Rosetta 2's emulation. Though Apple has tried to make the transition sound seamless, it could create IT headaches if a business relies on an application that doesn't work correctly on Apple silicon.
However, early indicators were positive. R "Ray" Wang, an analyst at Constellation Research, said his discussions with application developers had yet to turn up compatibility issues.
During Tuesday's announcement, Federighi also spoke of Universal Apps, which are programmed to run on both the Intel and Apple silicon chips. Adobe is creating universal versions of its applications, like Lightroom and Photoshop, he said.
Apple had previously announced that Microsoft would develop an M1 version of its 365 suite of productivity software.
Federighi said the combination of legacy applications, Universal Apps and iOS and iPadOS applications meant the M1 machines had access to the most extensive collection of programs for a Mac.
The Tuesday event was Apple's third in recent months. In September, the company announced its latest iPads, and it showed off the first 5G iPhones last month.