Getty Images/iStockphoto
Apple's M2 Ultra targets Mac Pro users with a need for speed
Apple debuted it fastest chip to date, the M2 Ultra, featuring new technologies to improve speed and performance. The company also showed off a new AR/VR headset.
Apple delivered its fastest M series chip to date with double the speed and performance of its predecessor for the higher-end workstation desktop users.
The added speed of the new M2 Ultra chip comes from Apple's new UltraFusion technology, which connects the die of two M2 Max chips. The chip's unified memory architecture supports 192 gigabytes of addressable memory and provides 800 gigabytes of memory bandwidth.
The 5-nanometer chip performs 20% faster than the M1 Ultra and 40% faster when it works in tandem with the company's built-in Neural Engine, the engine for machine learning inference on Apple's silicon.
"The significant performance gains we've made in the CPU, GPU and Neural Engine -- combined with increased memory bandwidth in a single [System on a Chip] -- we think makes the M2 Ultra is the most powerful chip for a personal computer," said Johny Srouji, Apple's senior vice president of hardware technologies, during Apple World Wide Developers Conference.
The 24 processor cores in the new offering are made up of 16 higher-performance cores and eight next-generation high-efficiency cores. The M2 Ultra lets Mac Studio users run video processing 50% faster than the M1 Ultra, the company said.
While the specs of the new chips are impressive to some consultants and analysts, the true test comes when it is put in the hands of users outside Apple's four walls.
"It's hard to evaluate a chip like this just looking at its specs on paper," said Jack Gold, an analyst at J. Gold Associates LLC. "At the end of the day, you have to stick it in a system and turn it over to users to really see what the performance looks like."
Another analyst said the new chip's technical specs demonstrate Apple's continued commitment to maintaining its technology lead in chips.
"These are remarkable performance numbers," said Dan Newman, an analyst at Futurum Research and CEO of The Futurum Group.
Newman added that it won't be too long before Intel and AMD deliver competitive offerings, though Apple no longer supports competitor chips in its new Mac models.
Beginning in late 2020, Apple began the transition away from Intel-based Macs to its own proprietary chips.
Meanwhile, Intel is expected to deliver its Meteor Lake chip either late this year or early next, with versions for desktops and laptops. AMD is expected to deliver its next-generation chip, the AM5 series, no later than this year's fourth quarter, with much faster performance.
One chip performance advantage Apple figures to have against Intel and AMD is it is not constrained by the specific needs of a broad base of users requiring a general-purpose processor. Apple can introduce more technically adventurous performance capabilities that cater to a much narrower set of users.
"Makers of general-purpose chips design and optimize them for what most people need them to do as opposed to upselling them on unique features," Gold said. "That's going to be Apple's ongoing advantage. So comparing [the M2 Ultra's] performance and capabilities to a general-purpose chip is a bit disingenuous."
When the new Mac Pro desktop system with the M2 Ultra ships, the existing Mac Pro will stand as the last Apple desktop system using Intel's processor.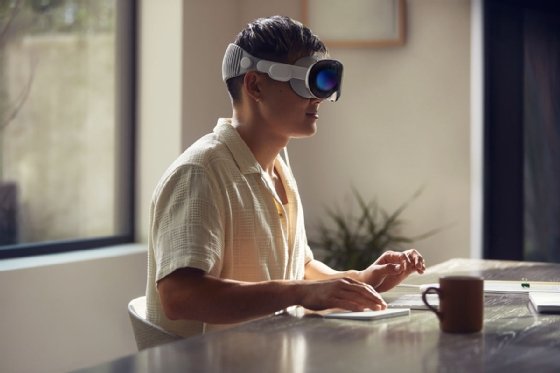 Also at the conference, Apple introduced its long-anticipated Apple Vision Pro headset, a wearable 3D camera. Company officials at the launch described it as the most important announcement it has made since 2014, when the company introduced the Apple Watch.
Apple sees ample opportunities for it in the business world, and it supports Apple's complete portfolio of business productivity applications.
Apple CEO Tim Cook said the system represents a new era for computing and believes it will introduce users to spatial computing in a way that the Mac introduced users to personal computing.
"It unlocks incredible experiences for our users and new opportunities for our developers," Cook said.
The $3,500 price tag could limit the unit's appeal to a select group of well-to-do hobbyists and niche business applications. Not expected to be commercially available until the first half of next year, the unit will go up against Meta's Quest 3 headset, a wearable that also offers an immersive VR experience but with pricing expected to start at $499. That device is scheduled for arrival sometime this fall.
As Editor At Large with TechTarget's News Group, Ed Scannell is responsible for writing and reporting breaking news, news analysis and features focused on technology issues and trends affecting corporate IT professionals.