How does Microsoft's digital workspace app compare to VMware and Citrix's?
Citrix and VMware aren't alone in offering a digital workspace experience, but does Microsoft's stack up?
When we talk about a digital workspace app, it will likely conjure up a mental image of VMware's Workspace ONE Hub or Citrix's Workspace App. But, of course, they're not the only vendors offering organizations a digital workspace platform.
Microsoft has their own workspace app interface—the Intune Company Portal app. However, they don't hype it up as much as the other two. So we were curious: How does Microsoft's digital workspace user experience compare to Citrix and VMware's?
First, what makes up the digital workspace experience?
When we talk about "digital workspaces," there are a lot of possible components, like EMM/UEM, identity management, virtual desktops and apps, collaboration tools, analytics for admins, and more. Essentially, the platform aggregates everything from the admin side and user side; though, we're focusing on the user side here.
For end users, these functions are accessible from a single workspace app. No matter what platform users are on, this is the one place they can access everything from apps to notifications and IT support. Users need to know where to go when they need to access what they want, whether it's to find an approved app or something else.
What do you get with the Intune Company Portal?
Microsoft's take on the digital workspace is the Intune Company Portal app. Here's what it actually does:
From the Company Portal app, users will see all of their Intune-managed devices. Users can download the app onto multiple devices, whether they use a desktop (Mac or Windows), iOS, or Android.
Unfortunately, you cannot access the Intune Company Portal app through a web browser. There is a Company Portal website, but it's limited to just allowing users to add, remove, or edit their managed devices, not access the app itself.
Overall, the Intune Company Portal app provides a fairly uniform user experience. Each version of the app follows the native UI conventions for each OS (e.g., the iOS has tabs accessible from the bottom while Android's are at the top). Anyone who has ever used an app will be able to easily navigate through to what they need quickly enough.
The app allows for corporate branding options, but the screenshots make it look like it could be integrated more naturally (or the shots used just aren't good).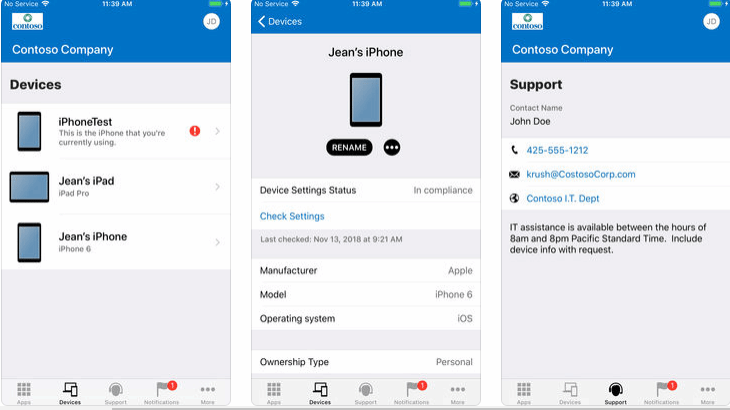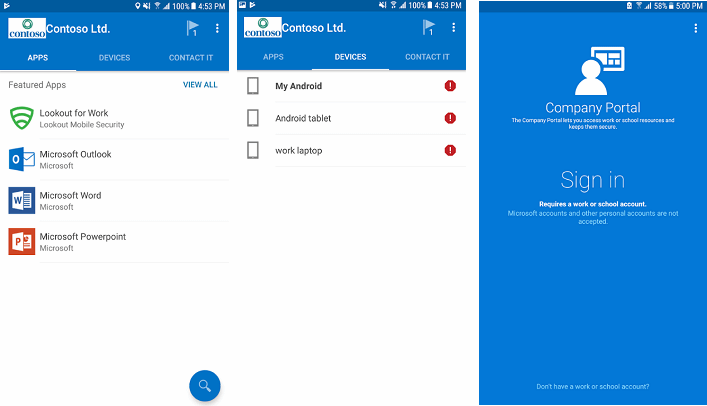 The Intune Company Portal app catalog contains all the Microsoft mainstays, like Office and Teams, as well as company-approved third party apps. For organizations that prefer a more secure browser alternative, there's the Intune Managed Browser, but it's only available on Android or iOS, not desktops—users will need to use Microsoft Edge. For collaboration, organizations can use Microsoft Teams, which offers a surprisingly robust amount of integrations with third-party productivity and workflow apps, like Adobe, Zoom, and Github.
Comparing Intune Company Portal to Workspace ONE and Citrix Workspace App
So, now that we know what users get from the Intune Company Portal, how does the experience differ from Workspace ONE and Workspace App?
Workspace ONE and Workspace App have multiplatform apps, and employees can use either through a web browser, making both much easier to access regardless of the user's preferred platform.
All three allow for corporate badging. Citrix, similar to Microsoft, created native-looking apps for their respective OSes, while VMware's app experience remains uniform across all OSes, with the app laid out the same whether accessed on Android or iOS.
When it comes to productivity apps, you could argue that Microsoft wins out there—after all, they make Office. Workspace ONE and Workspace App do provide some first-party secure apps, to better prevent against data exfiltration, though. Workspace ONE has Boxer for their mail app, while Workspace App has Citrix Secure Mail, and both offer secure browsers that can restrict users from cut/paste, etc. A user is going to recognize the name "Outlook," but may not have heard of Boxer or Citrix Secure Mail. In addition, third-party EMM vendors have to jump through hoops to integrate with the Office apps.
All three platforms allow organizations to access a variety of popular productivity apps and more, like Dropbox and others.
For workflow app integration, VMware includes Mobile Flows into Workspace ONE and Citrix acquired Sapho to incorporate their micro apps into Workspace App. For Microsoft, Teams is essentially their workflow app, given its ability to integrate with such a large number of third-party productivity and business apps. Additionally, organizations can use Sapho on Intune managed devices.
The only area where Microsoft lags is providing users one definitive location to access everything (though you could argue it gives organizations more choice). VMware and Citrix made sure to package everything into their digital workspace apps. Users quickly learn that there is just one location to go to should they need to find an approved app or notification, nothing is splintered.
For Microsoft, there's also the MyApps Portal available via an iOS app or through mobile and desktop web browsers, which allows for web-based access of SaaS apps, and doesn't require Intune management. Additionally, there's the Office 365 launcher for browser access of Office apps. In all, having three different portals could get confusing for users; it's easier to just have one spot to get everything.
Company Portal could use some improvement
This quick comparison of Microsoft's digital workspace experience shows that they have some ground to make up in order to catch up to VMware and Citrix. Though they have offered the Company Portal app for much longer than the other two, it remains the weaker option. It might be multiplatform and ultimately offers a lot of the same experience for users, but lacks browser access and doesn't have a unified experience. It lacks polish and you have to use Intune, but offers a lot of the same experience that Citrix and VMware's workspace apps provide.
On the other hand, the workspace app experience is just one small (though important) part of an EUC suite, so it's not like it's the one thing that will sway a purchasing decision. I am definitely curious about hearing from anyone using it at their organization and getting their thoughts.