Halfpoint - Fotolia
News
Stay informed about the latest enterprise technology news and product updates.
VMUG president: Carbon Black acquisition is 'compelling'

Listen to this podcast
In this podcast from VMworld, VMUG President Steve Athanas discusses Workspace One upgrades and the security potential that the Carbon Black acquisition brings to VMware.
SAN FRANCISCO -- VMware's acquisition of Carbon Black is "the most compelling security story" Steve Athanas has heard in a while.
"I don't know any other vendor in the ecosystem that has more visibility to more business transactions happening than VMware does," said Athanas, VMware User Group president and associate CIO at the University of Massachusetts Lowell.
At its annual user conference, VMware announced new features within Workspace One, its digital workspace product that enables IT to manage virtual desktops and applications, and talked up the enhanced security features the company will gain through its $2.1 billion Carbon Black acquisition. Like Athanas, VMworld attendees welcomed the news.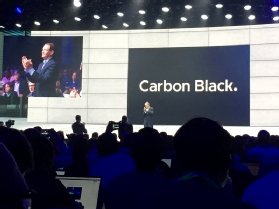 In this podcast, Athanas said Carbon Black could provide endpoint security across an entire organization once the technology is integrated, a promise he said he's still thinking through.
"Are [chief security officers] going to buy into this model of wanting security from one vendor? I've heard CSOs in the past say you don't do that because if one fails, you want another application to be able to detect something," he said. "I don't know where the balance and benefit is between being able to see more through that single view from Carbon Black or to have multiple vendors."
Aside from the Carbon Black acquisition, Athanas was drawn to newly unveiled features for Workspace One that are aimed at making day-to-day processes for end users, IT and HR admins easier. For IT admins, a new Employee Experience Management feature enables IT to proactively diagnose if an end user's device has been compromised by a harmful email or cyberattack. The feature can prevent the employee from accessing more company applications, preventing the spread of a cyberattack.
Another feature is called Virtual Assistant, which can help automate some of the onboarding and device management aspects of hiring a new employee.
"The Virtual Assistant stuff is cool, but I'm going to reserve judgement on it, because there is a ton of work that needs to go into getting that AI to give you the right answer," Athanas said.