olly - Fotolia
What to do when a Windows Insider Program build isn't working
Organizations that test Windows Insider Program builds must be prepared for bugs in the platform, and systems admins need to know what to do when they encounter them.
The Windows Insider Program is a service that provides IT pros and power users with early access to upcoming Windows 10 OS builds.
As appealing as this early access is, things can go wrong for members of the Microsoft Windows Insider Program for Business, so it's important to know how to resolve any issues. This is especially true for desktop administrators who may rely on the Windows Insider Program to test Windows OS updates in a lab setting before deploying them across an organization.
How does the Windows Insider Program work?
The Windows Insider Program is a free program that gives users access to Windows 10 Insider Preview Builds, and it can be an essential program for desktop administrators. The main advantage to enrolling in this program is that it gives IT pros a chance to see what's in store with the next Windows OS build and to learn how to use new features in advance.
Microsoft also benefits from this program because it enables the company to collect feedback on new builds before they are released to the public. This lets Microsoft fix reported bugs or revamp features that prove to be unpopular. While both parties benefit from the Windows Insider Program, some experts believe it has far too great of a role as an unofficial QA program, as customers are reporting issues that Microsoft should be finding on its own.
Common Windows Insider Program issues
By far the most common issue that will leave a Windows Insider Program build not working is undiscovered bugs. Microsoft calls the process of discovering these bugs flighting. Although bugs do sometimes make their way into insider preview builds, they don't happen very frequently and are typically minor in scope. Even so, significant bugs may occur. One bug from a few years ago, for example, caused certain application windows to gradually shrink over time. Another well-known bug caused JPEGs to display in a way that made it seem as though the files were corrupt.
If Windows administrators experience issues with Windows Insider builds, the first thing they should do is to go to the Feedback Hub, which is built into Windows 10 systems.
Significant bugs can occasionally lead to the Windows Insider build not working, and there are two cardinal rules for working with insider preview builds to mitigate any damage.
First, IT professionals should never install insider preview builds onto any device that is essential for daily business. This rule doesn't just apply to IT's own testing devices. Administrators will also need to avoid the temptation to roll preview builds out to users on physical or virtual desktops.
The second rule is to choose the insider build channel based on how comfortable the admin team is working around potential issues. Microsoft has replaced the fast ring and slow ring it used to offer with the following three channels for Windows Insiders:
Dev Channel. This channel replaces the fast ring and offers admins the earliest possible access to the latest builds. However, the Dev Channel is most likely to include preview builds that contain significant bugs.
Beta Channel. This channel replaces the slow ring and provides admins with preview builds that are more stable than those released to the Dev Channel. However, some notable bugs may remain. Even so, these bugs tend to be less serious and less pervasive than what might be found in Dev Channel builds.
Release Preview Channel. This channel provides an advanced copy of builds slated for release. These builds are supported by Microsoft and are far less likely to contain bugs than builds released through the other two channels.
Getting help when the Windows Insider Program isn't working
If Windows administrators experience issues with Windows Insider builds, the first thing they should do is go to the Feedback Hub built into the Windows 10 system to report problems and suggest features.
More importantly, admins can view feedback posted by other members of the Windows Insider Program. Admins can also search for known issues and see if a fix or workaround is available.
If desktop administrators are having a difficult time dealing with bugs, one potential option is to switch to a different channel. For instance, if admins find the Dev Channel to be too buggy, they might opt for the Beta Channel or Release Preview Channel instead.
Admins can view the current channel and, if necessary, switch to a different channel by clicking on Settings, then Update and Security, and then Windows Insider Program.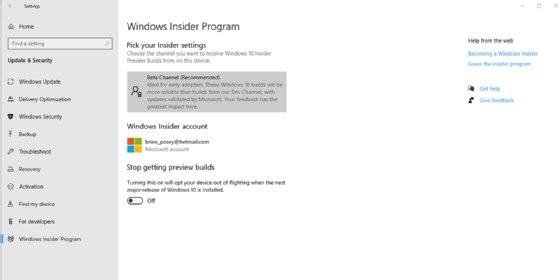 The Windows Insider Program screen lets desktop admins choose the desired channel or disable the previews altogether. Making such a change may require the administrator to reinstall the Windows platform from scratch, however.