Sergey Nivens - Fotolia
Reduce update-related downtime after a Windows 10 OS upgrade
Windows 10 updates are a necessary evil, as they add new features and improve security, but also cause downtime for users. IT can downplay the negative effects of updates.
Missing updates can cause hardware and software failure and leave organizations vulnerable to attacks after a Windows 10 OS upgrade.
With the introduction of the Windows-as-a-service update model in Windows 10, updates have become more important than ever. Windows as a service continuously updates Windows 10 rather than Microsoft releasing a new OS every few years.
By taking full advantage of Windows as a service, IT can avoid any update-related problems after a Windows 10 OS upgrade. However, staying fully up to date is no easy feat.
Quality vs. feature updates
IT professionals are probably familiar with the traditional Windows Update service, which delivers patches to desktops and allows IT to determine when or if to download and apply the updates. These are known as quality updates in Windows 10. Quality updates are the patches, such as bug fixes and security updates that Microsoft delivers on Patch Tuesday.
Feature updates, on the other hand, are feature enhancements and security improvements -- not patches -- that Microsoft used to release with new versions of Windows every few years. With Windows 10, Microsoft distributes the feature updates twice a year, in the spring and fall.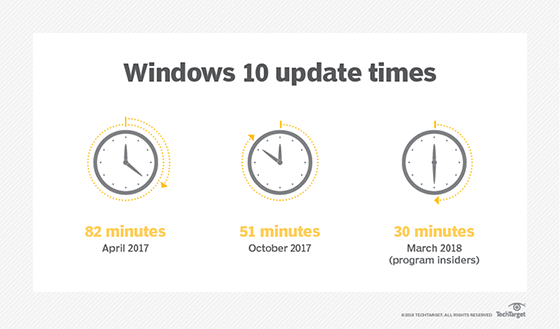 The upside of these updates is IT pros don't have to perform a full OS upgrade every few years like they used to. The downside is that they must deal with these updates twice a year for every device. Feature updates can take users offline for a while. Also, while patch updates only require one reboot, the feature updates might require multiple reboots.
The twice-a-year update cadence following a Windows 10 OS upgrade has been a major complaint of IT pros and users alike. Over the past two years, Microsoft has attempted to address these complaints by reducing the time it takes for feature updates to install, as shown in Figure A.
With the Insider Program, IT pros can send input to Microsoft to help the company fix bugs and guide the development of Windows 10.
Microsoft accomplished this by moving tasks from the offline phase -- in which the device must be offline and unavailable to users -- to the online phase -- in which the updates run as low priority tasks in the background.
However, the feature update process still takes about the same amount of time overall, but the user can work for a longer period of time. And even though it's running in the background, the update still steals CPU and other resources on a low priority basis. This can lead to performance degradation. In addition, there is still offline time when users cannot work.
To shorten the update time even more after a Windows 10 OS upgrade, there are some common sense actions IT pros can take, including:
Cleaning and defragmenting the hard disk drive.
Encouraging mobile users to update in the office if possible. Don't apply updates over a mobile hotspot somewhere like a hotel room where performance can be slower.
Avoiding wireless connections. Many remote or mobile users work on wireless networks. If they are in the office, make sure their connection is wired rather than wireless to speed up the update process.
Windows 10 Insider Program
If IT pros are interested in getting a sneak peek at new releases of the OS after a Windows 10 OS upgrade, they can join the Windows Insider Program and get interim releases. With the Insider Program, IT pros can send input to Microsoft to help the company fix bugs and guide the development of Windows 10.
The Insider Program consists of three preview readiness rings -- Fast Ring, Slow Ring and Release Preview Ring.
The Fast Ring is for IT pros who are in active software or hardware development. IT should only use the Fast Ring of the Insider Program on lab machines because these builds are the most unstable and require frequent installations of Windows 10. The Slow Ring is better-tested, has fewer releases and is more stable, while still giving IT pros the ability to report bugs and make feature recommendations. The Release Preview Ring delivers the most stable builds of Windows 10, but allows for the least amount of time to send feedback to Microsoft.