alex_aldo - Fotolia
CardioCompass platform fuses data and AI with patient navigators
CardioCompass, a remote patient monitoring platform, is backed by machine learning, lots of data and good old-fashioned phone calls.
Samantha Subramaniam sits at her desk in the One Brave Idea Science Innovation Center in Boston, monitoring patients with high cholesterol and high blood pressure.
But Subramaniam isn't a physician; she's a patient navigator with the Brigham and Women's Hospital Cardiovascular Medicine Innovation team. And she doesn't see patients in a clinical setting; instead, she uses the CardioCompass platform, a remote patient monitoring tool, to keep virtual tabs on patients.
Built in-house by the innovation team, CardioCompass continuously monitors patients with chronic conditions for potential medication complications. Subramaniam can view patient medications and lab tests, as well as real-time data from Wi-Fi-enabled medical devices, making sure patients are on the right medications without causing side effects.
The platform is an attempt to bring real-time chronic care management to health systems and payers to get ahead of significant events like strokes and heart attacks related to poor medication management. As a navigator, Subramaniam sits between patients and their primary care doctors or cardiologists. Her job is to forge connections with the patients she monitors to keep them on a healthy track between in-office doctor's visits. She not only uses the platform to do that, she also calls patients every two weeks to check on how they're managing their chronic condition.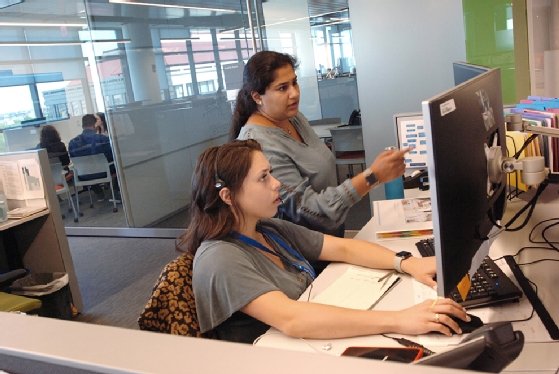 CardioCompass: A closer look
The CardioCompass platform aims to benefit the entire healthcare ecosystem, said Benjamin Scirica, M.D., a cardiologist and chief medical officer of the cardiovascular innovation team. The innovation team, comprised of physicians, data scientists, mathematicians and researchers, was created to find new ways to help patients get and stay healthy.
They're getting better care and that will correspond to reduced clinical events.

Benjamin SciricaChief medical officer of the cardiovascular innovation team, Brigham and Women's Hospital
The CardioCompass platform is aimed at patients with chronic conditions. Scirica said the goal there is to provide a "higher touch model" without as many office visits.
Ana Mercurio-Pinto, director of cardiovascular innovation at Brigham and Women's Hospital, said the current process for patients having a medication-related issues is to contact their primary care doctor and schedule an in-office visit. With the CardioCompass platform, patients can reach out directly to patient navigators via email or text with questions about their medications or about potential side effects, bypassing the in-office visit.
One of the "secret sauces" of the CardioCompass platform is having pharmacists, working under collaborative care agreements, available for medication management questions, Mercurio-Pinto said. While patient navigators monitor and communicate with patients, it's the pharmacists who check prescriptions and make sure patients are taking the right medications for their chronic conditions.
The team of patient navigators and pharmacists, as well as nurse practitioners, also educates patients on how to better care for themselves and serve as a sounding board to patients, which is part of the way CardioCompass works to get patients on a healthier track, Scirica said.
The team's efforts and the rerouting of routine medication management from physicians to patient navigators and pharmacists should result in better patient engagement without a doctor needing to be the center of every patient interaction, Scirica said. It gives patients with chronic conditions virtual hands-on care, and it gives physicians more time to focus on complicated patient management, he added.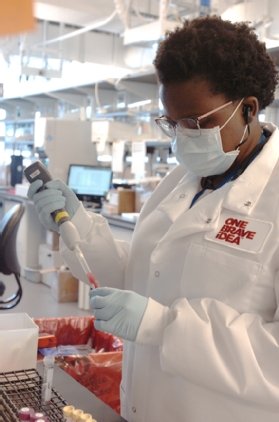 "They're getting better care and that will correspond to reduced clinical events," he said.
Indeed, Scirica said the innovation team has seen reductions in LDL cholesterol in about 40% of monitored patients over a three-month time period. The program has also succeeded in blood pressure control for a majority of patients with chronic high blood pressure within eight weeks. These patients use a Bluetooth-enabled blood pressure cuff, sometimes daily, providing the data points to adjust medication as needed.
On the payer side, Scirica said health insurers can offer the benefit of having a chronic condition continuously monitored, which could provide a significant ROI.
"If you get these reductions in lipids and hypertension and other things, they'll see reductions in total medical expense that most typically go to the payers or the employers," he said.
APIs and EHR systems
CardioCompass is an integrated software platform that sits on top of an EHR system.
Mercurio-Pinto said the platform is built using SMART on FHIR standards that feature open APIs. They enable blood pressure cuffs and other Wi-Fi-enabled medical devices to connect to the platform and feed in real-time patient information.
The CardioCompass team focused its efforts on chronic care conditions, predominantly cardiometabolic areas like high blood pressure and cholesterol. The team wanted to identify methods of care that physicians agree should be done, but often aren't.
The CardioCompass platform: A remote patient monitoring tool
The platform uses machine learning and rule-based algorithms to sift through a healthcare organization's EHR system, identifying patients who have chronic conditions that could benefit from the identified therapies, according to Scirica.
Chronic care management is then shifted to the CardioCompass team where patient navigators, who Scirica called the "real front face of our program," become the link between patient and provider. Following physician-accepted methods of care, they relay treatment recommendations, and make sure patients are getting their labs done and prescriptions filled.
Mercurio-Pinto said the CardioCompass team keeps primary care providers and specialists updated on interactions and medication changes for patients by keeping the patient's EHR updated. She's an advocate for remote patient care, saying that the platform can "tell the whole story of the patient."
From chronic care to One Brave Idea
Mercurio-Pinto said the goal is to eventually use the data gathered by the CardioCompass platform to assist researchers working on One Brave Idea, an initiative funded by the American Heart Association and Verily to cultivate more coronary heart disease research. Researchers with One Brave Idea are co-located in the Science Innovation Center with Brigham and Women's cardiovascular innovation team.
Scirica said the CardioCompass platform is a powerful tool that could enable researchers to build next-generation clinical trials for data scientists.
"It's the longitudinal, transactional data across thousands of patients that will be able to provide pretty powerful areas for machine learning and artificial intelligence -- to try to tease out some of the different signals in terms of how patients react to different therapies," Scirica said. "That would be very hard to tease out if we were just doing our normal database searches."
Dig Deeper on Healthcare IT systems and applications