everythingpossible - Fotolia
Collective Medical software enables ERs to share patient info
Software from Collective Medical is helping ERs in Oregon share patient data almost immediately. Here's a look at how that kind of connectivity is benefiting one hospital.
When Steve Hardin began working as the emergency department manager at CHI St. Anthony Hospital three years ago, he noticed a problematic trend. The number of emergency room visits was on the rise -- not due to an increase in actual emergencies but due to a large group of the same patients frequenting the ER. That trend was coupled by another: Addicts seeking narcotics.
When Hardin learned about the state of Oregon's partnership with Collective Medical Technologies, he saw a potential solution. Collective Medical is a SaaS company that created software to track a patient's ER visits from one hospital to another. Hardin and his team at the Pendleton, Ore., hospital began using Collective EDie -- that's Emergency Department Information Exchange -- to generate reports when patients checked in to the emergency department.
The technology's impact has been significant, according to Hardin. By November 2016, ER visits made by the 322 repeat visitors dropped to a total of 405 visits and St. Anthony saw an 8% reduction in the number of emergency room visits among high utilizers. The ER has also seen a drastic reduction in narcotics prescriptions, he said.
"The hardest thing in medicine is making a decision in the dark. Having the ability to pull in more information if you want, or to make sure that everyone is being honest with you is crucial to which way you go, which fork in the road do you take," Hardin said of patients.
Collective EDie establishes ER network
St. Anthony Hospital's doctors and nurses working the ER receive a printed copy of the EDie report as soon as a patient checks in. Hardin said the EDie report can be lengthy, up to 40 pages, but can be customized to fit the facility's needs. For St. Anthony, the EDie report is compiled into a one-page document.
The customizable report can include dates the patient checked into any emergency department within the state of Oregon, hospitals they've visited, any diagnoses made, medications prescribed, as well as basic information such as current address on file, current primary care provider on file and known aliases.
That kind of information enables Hardin and his team to flag patients fitting a particular criterion, such as multiple emergency room visits within a certain number of days. Identifying red flags can help the ER staff determine if repeated visits are necessary or not.
Between May 2015 and April 2016, Hardin said St. Anthony's ER handled 13,500 patient visits. After doing some digging, Hardin determined that the 322 patients that were repeat visitors had a combined total of 2,274 ER visits or 17% of the ER's volume that year. He said 60 of those patients visited the ER more than 10 times in one year.
Collective EDie imports information from the state's prescription drug monitoring program (PDMP), which is an electronic database that documents controlled substances prescribed and dispensed within that state.
Hardin said one of the issues he faced was patients lying about what medications they had already received or how many times they had visited an emergency room. Since the EDie report compiles that information, Hardin said it helped him address patients being untruthful about their medical histories. Currently in the EDie system, Hardin said 94 patients are flagged for pain medication issues.
"You can come in and say 'I'm a heavy drug user and I don't feel right because this is not like normal,' we don't care," Hardin said. "What we care about is we can't make a sound medical decision without good information. Lying to your healthcare provider is about the worst thing you can do."
Reports generated by Collective EDie also help nurses and doctors do their jobs better. When patients visit the ER, they're often asked to provide medication history, primary care information and other hospital and emergency room visits, Hardin said. By having a patient report automatically generated by Collective EDie, the patient doesn't have to recount a history of emergency room and hospital visits.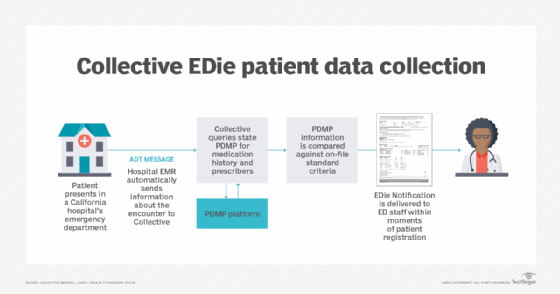 Hospital data used to compile patient report
Once a hospital opts in to Collective EDie's system, administrators have to enter information into the system's admission discharge transfer (ADT) feed, which is integrated with a hospital's EHR system and compiles patient information such as medical records, name and contact information, to generate the EDie reports for ER staff.
Hardin said Collective EDie, which is used by more than 600 hospitals in more than 18 states, streamlines the decision-making process by providing a comprehensive overview of a patient within a one-page document.
"It gives you that little bit of information you need right at your fingertips, instantly viewable," he said.