gekaskr - Fotolia
EHR vendors aim to meet pandemic demands
Healthcare CIOs are repurposing existing EHR products or rolling out new features to address COVID-19 demands.
Healthcare CIOs are facing an unprecedented time, and they are managing that unprecedented time by outfitting health systems with new tools as well as repurposing existing tools, including those provided by EHR vendors.
Take Michael Garcia, senior vice president and CIO at Jackson Health System in Miami, Fla. He is helping clinicians use an existing EHR tool from Cerner Corp. to remotely monitor COVID-19 patients. Jackson Health System has been a Cerner customer since 2007 and initially used Cerner Patient Observer for its intended purpose -- to monitor multiple patients at one time from a central monitoring station.
Garcia is not alone in his search for new tools that help health systems meet the challenges brought on by the pandemic, especially those from established vendor partners. EHR vendors are also striving to meet the demand, accelerating release schedules and offering tools at reduced or no cost.
Repurposing existing products
Before COVID-19, Jackson Health System had Cerner Patient Observer camera and speaker systems fixed to the walls of patient rooms, enabling technicians to monitor patients at risk for falling from a centralized monitoring room, according to Garcia. As a result of the pandemic, the IT team moved those units from the patient rooms onto rolling carts so providers could interact with and monitor COVID-19 patients remotely.
The remote patient monitoring tool has helped the healthcare system avoid unnecessary contact with COVID-19 patients, reduce the use of personal protective equipment (PPE) and increase communication with patients, Garcia said.
"In some cases, physicians have made quicker clinical decisions whether a patient needs to be placed on or removed from a ventilator due to remote monitoring of, not only the patient, but also all of the patient's surrounding biomedical equipment," Garcia said.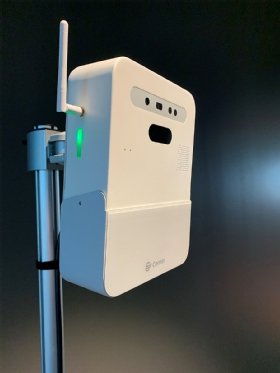 Dick Flanigan, senior vice president of ITWorks at Cerner, said the EHR vendor has been helping clients use existing tools like the Cerner Patient Observer in new ways to address challenges brought on by the pandemic.
"Many of our clients are using their existing Cerner solutions to fight COVID-19 and help keep staff and patients safe," Flanigan said. "In many instances, Cerner has provided updates or recommendations on how to best use or reconfigure existing tools for current needs."
EHR mega vendor Epic Systems Corp. has also seen healthcare systems repurposing its existing products to manage the pandemic. The vendor released an infection control application called Bugsy in 2014 to monitor and prevent infections in hospitals. Although the software has been around for years, not every Epic customer was paying to use it, said Jim Russell, a pharmacist on Epic's clinical informatics team.
With the onset of COVID-19, Epic began offering the tool at no cost to hospitals; since March, more than 70 Epic users began using the infection control feature, according to Russell. Bugsy and other tools used to manage COVID-19 are being offered at no cost during the pandemic, although organizations that wish to keep using the tools post-COVID-19 will eventually be asked to pay the licensing fee, Russell said.
Many of our clients are using their existing Cerner solutions to fight COVID-19 and help keep staff and patients safe.

Dick FlaniganSenior vice president of ITWorks, Cerner Corp.
"The software automatically notifies staff when a patient has a suspected or confirmed case of COVID-19 so the care team can take isolation precautions," he said. "It also includes contact tracing tools to identify providers and patients who might have been exposed to COVID-19 within the hospital."
Rolling out new products
Cerner and Epic are not only optimizing existing products for the COVID-19 crisis, they're also releasing new products to help healthcare systems fight the pandemic. They are joined by other EHR vendors such as Meditech and PointClickCare, which are repurposing existing products or releasing new ones, often at no cost or reduced prices.
EHR vendor PointClickCare launched an infection control and prevention tool at the end of April, months ahead of schedule, to give healthcare systems a monitoring tool for COVID cases. PointClickCare provides EHR products to skilled nursing and senior living facilities.
Russ DePriest, senior vice president and general manager of skilled nursing at PointClickCare, said the company originally planned to release the product this fall, but the current crisis prompted the vendor to accelerate development of the tool and release the product to the market roughly six months ahead of schedule.
The tool is not specific to COVID-19, but the company enhanced some of the infection reporting capabilities to be more useful during the pandemic. To use the tool, PointClickCare customers access an infection dashboard in the EHR that displays all infections reported within a facility and status of all infected patients.
Vicki Nordby, nurse consultant at Marquis Companies Inc., which operates skilled nursing facilities in three states and has been a PointClickCare customer for 10 years, said the company was an early adopter of the tool.
Marquis Companies is using the tool exclusively for respiratory infections and COVID-19 cases right now, according to Nordby. Before using the tool, staff would either document respiratory infections using pen and paper or in an Excel spreadsheet. They would then email her the information at the end of the day. PointClickCare's infection prevention and control tool automated that process, she said.
"In the morning, I go in and I look at every facility and I am done very quickly," she said. "It's right in PointClickCare, so it's not an external source of information. Any resident I have questions about, I can immediately go right into that resident's clinical record."
EHR vendor Meditech has also released new features for clients during the pandemic. Janet Desroche, Meditech associate vice president, said the vendor has introduced some new features to all platforms in areas such as telehealth, analytics, reporting and risk management. Desroche said the current areas of highest customer demand are video visit functionality, patient risk assessment and management, and tools to manage social distancing, reduce the risk of exposure and preserve PPE.
Moving forward, Desroche said the vendor will focus on clinical surveillance, reporting and analytics, and prioritizing virtual care.
"We have been in emergency management mode to ensure that our customers have the best we can offer to help manage the challenges they are facing right now," Desroche said.