japolia - Fotolia
Proposed interoperability in healthcare rules called 'essential first step'
Proposed rules are a good first step toward interoperability in healthcare, but don't go far enough, according to healthcare leaders.
Proposed rules on interoperability and information blocking from federal agencies are a step in the right direction -- but only a step, according to leaders within the healthcare community.
Stakeholders came together last week to discuss how the proposed rules from ONC and CMS might affect data sharing, as well as digital health companies. The rules lay out how the federal agencies will facilitate and require better information sharing between healthcare organizations and patients; they also detail situations when information shouldn't be shared.
The event, held in Boston, was headlined by Don Rucker, national coordinator for health IT, who offered his take on the proposed rules. Afterward, a panel of healthcare experts talked them up, calling them a good start for better interoperability in healthcare. But some panelists also tampered expectations, saying the proposed rules don't go far enough.
Proposed rules and their impact on healthcare
The proposed rules, which were announced in February, will enable an easier flow of data between providers, healthcare organizations and patients. They will also make it possible for issues like information blocking to be addressed, according to panelist John Halamka, M.D., and CIO of Beth Israel Deaconess Medical Center.
"As these rules are finalized, it will offer many great innovation possibilities," he said.
Information blocking is illegal already, as defined by the 21st Century Cures Act, but has not been well enforced due to a lack of exceptions, Rucker said. The proposed rules define seven instances when information blocking is appropriate, such as promoting the privacy and security of a patient's electronic health information. The information blocking exceptions will give more enforcement power to the Office of Inspector General, Rucker said.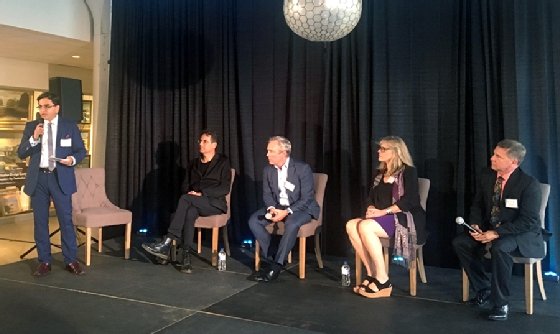 On the interoperability side, the rules would require healthcare organizations to use standards-based application programming interfaces (APIs), which enable machines to easily talk to each other. Rucker described the API requirement as "groundbreaking," saying they would open up information flow between healthcare organizations and patients.
Stead Burwell, CEO at data services provider MultiScale, called the rules vitally important to increasing interoperability in healthcare.
"The way they've been written, they clearly understand the challenges for data interoperability from clinical EMR systems into the health system," he said. "Then also from the patient side, they're clearly written to stimulate flow from the health systems to, ultimately, the patients."
Laura Esserman, M.D., director of the University of California, San Francisco, Breast Care Center, called the proposed rules an "essential first step" for interoperability in healthcare. She said the rules look to address problems such as systems that are "completely separate" and unable to communicate with each other and establish consistency, as well as data standards for the healthcare community. For example, they would require healthcare organizations to use the Fast Healthcare Interoperability Resources (FHIR) standard, developed by the nonprofit standards organization Health Level Seven.
We've got to get some blood flowing through the system with these rules.

Matthew MichelaCEO, Life Image
Once everyone is on the same page and following the same set of rules, Esserman believes that information will be more exchangeable. The rules also take steps toward making clinical trials and research part of the day to day, something Esserman said is critical to providing care.
The rules ultimately are needed to move healthcare toward interoperability and away from information silos, according to Esserman. Matthew Michela, CEO at image network company Life Image, echoed her sentiments when he said technology is not the issue. Instead, it's how healthcare organizations operate. He believes the proposed rules will help change practice patterns.
"We need a bigger stick -- and it needs to be heavy," he said. "We've got to get some blood flowing through the system with these rules."
Where interoperability will take patient data
ONC's Rucker said a main objective of the proposed rules is a competitive healthcare market by giving patients the tools they need to shop for different healthcare options to coordinate their own care as conveniently as possible.
By requiring healthcare organizations to use standardized APIs, patients could access their health data via apps of their choosing.
"APIs have transformed industry after industry," Rucker said. "Think about all the facets of entertainment, transportation, banking and finance that have been transformed with a smartphone. Congress said, 'What can we do to get healthcare on the smartphone,' and that's what this is all about."
Halamka agreed, saying the rules will foster an app ecosystem, which will result in the rise of API management companies and cloud-hosted utilities that will host the app services, as well as data aggregations and machine learning tools layered on top of the data.
Taking interoperability in healthcare a step further
While Esserman wants to see the information blocking and interoperability rules move forward, she also said one major area that needs improvement is the ability to "write back" data, such as patient-generated data from APIs or data collected during clinical trials, to the EHRs.
Without being able to be put that data back into the EHR, care quality and interoperability in healthcare can't be improved, she said.
"We have to do it against a standard," she said. "Once you set that standard, everyone should use it, and that would improve the quality of care everywhere."
Dig Deeper on Federal healthcare regulations and compliance