Gajus - Fotolia
Pandemic ushers in virtual rounds at one health system
Nemours Children's Health System combined its telehealth platform with remote monitoring capabilities to launch a virtual rounds initiative. It's helped in ways the organization didn't imagine.
Hospital halls that once would have been filled with groups of doctors and nurses doing daily patient checkups at Nemours Children's Health System facilities now stand mostly empty. Yet providers continue to do rounds -- just in a new, virtual way.
When the COVID-19 crisis began, Nemours made use of existing technologies at its two main hospitals in Florida and Delaware to launch a virtual patient check-up initiative. The tools that enable virtual rounds include the secure video conferencing platform Vidyo, a telehealth platform the health organization uses to connect providers, specialists and even family members.
Nemours also utilized a video camera and phone system already installed in every pediatric patient's room so providers can interact with their patients. The virtual rounds initiative was undertaken to reduce patient-provider contact during the pandemic and limit the use of personal protective equipment.
The idea to conduct rounds virtually originated in the ICUs at Nemours' main hospitals, as staff looked to reduce the flow of traffic into and out of a patient's room, thereby reducing exposure of vulnerable patients to large patient care teams, said Patrick Barth, M.D., a pediatrician at Nemours and one of the project leaders.
"Using this technology, we got to bring all the people who are taking care of these kids virtually together, including the family," Barth said.
Repurposing existing tech for virtual rounds
Nemours health system operates more than 80 clinical sites in five states, but its two main hospitals -- Nemours/Alfred I. duPont Hospital for Children in Wilmington, Del., and Nemours Children's Hospital in Orlando, Fla. -- were unexpectedly prepared for the COVID-19 crisis.
In 2018, Nemours launched a clinical logistics center at its Orlando hospital from which specially trained paramedics could monitor patients remotely. The paramedics keep tabs on patients through a wall of monitors that display patient vitals and other health indicators. The goal of the clinical logistics center was to help ICU staff manage the patient alarms that go off, often for non-critical events.
The center's remote patient monitoring effort included installing high-definition video cameras in patient rooms, which became a technology central to launching the virtual rounds initiative. While the virtual rounds team uses the VidyoConnect app to discuss patient care together, providers use a separate app, Milestone's XProtect Mobile app, to access the in-room video camera feeds through an Epic monitor to see patients remotely. XProtect Mobile is a video management software for video surveillance.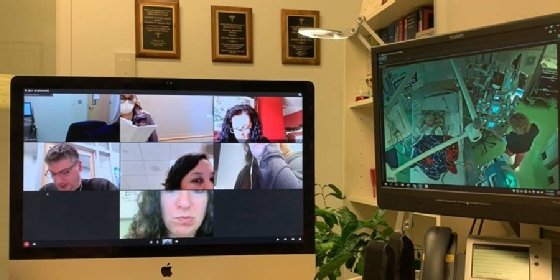 Nemours also repurposed another separate technology in patient rooms, the Cisco phone systems, so providers could talk to patients. By using the video connection and the phone system, Nemours enabled providers to see and talk to patients remotely at the same time.
But, by keeping the in-room feeds from the Vidyo platform, the virtual rounds system also provides an added level of security. To participate in the Vidyo call, family members and the patient care team are invited to a virtual meeting room to discuss patient care. But the in-room cameras are a one-way feed separate from the Vidyo platform and accessed from a secure desktop or laptop within Nemours.
"Those in-room cameras are not widely accessible, and permission has to be granted by the family to access that camera," Barth said.
The combination of technologies enables providers to see their patients and collaborate with other members of the care team, similar to what they would do during an in-person patient checkup. The virtual rounds initiative has reduced the flow of people in and out of patient rooms, which also means less use of gloves, masks and gowns by providers, Barth said. Because the care team and families can meet together, he also believes virtual rounds have increased collaborative care, which Barth described as a "real positive change to how we provide care for these kids."
"COVID-19 made this a priority," Barth said of virtual rounds. "It took some creativity from our ICU staff, our logistic center individuals and the telehealth team to make this happen."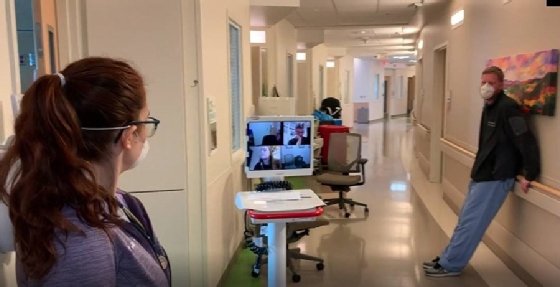 COVID-19 changes landscape of health IT
The pandemic will have long-term effects on healthcare and health IT, Barth said.
"Even once this crisis passes, there are going to be certain kids that you really want to limit access to their rooms, yet you want to provide them with that multi-disciplinary care," Barth said. "Since we have that infrastructure already built in, we will probably use it for those particular kids."
It took some creativity from our ICU staff, our logistic center individuals and the telehealth team to make this happen.

Patrick Barth, M.D.Pediatrician, Nemours Children's Health System
Carey Officer, operational vice president for health delivery innovation at Nemours, said the pandemic has thrown healthcare into a "whole new workflow." One change is the willingness by providers to use new tools and adopt new workflows to meet patient needs during the crisis. Before the pandemic, doing so was a challenge.
COVID-19 is also introducing changes to how healthcare services and patient care are delivered.
"Even though this is not an event any of us would've wished upon our society, I think there is some silver lining that's going to make us think and work a little differently going forward and it's going to be for the betterment of the patients and families we take care of," she said.
Dig Deeper on Healthcare IT systems and applications