Patient matching technology helps HIE reduce duplicate records
In this Innovation Spotlight, SearchHealthIT looks at how an HIE reduced duplicate patient records by using NextGate's patient matching technology.
Editor's note: Each month the editors at SearchHealthIT recognize an innovative software, service or technology approach. NextGate is our April 2016 selection.
Product: NextGate's Enterprise Master Patient Index
Release date: 2008
For years now, health IT experts -- particularly those involved with the College of Healthcare Information Management Executives -- have pushed for a national patient identifier not only to improve interoperability and data sharing, but also to increase patient safety by improving patient matching.
Although this has largely not come to fruition, there are technological solutions that help healthcare organizations improve patient matching and make sure the medical record a doctor looks at is, in fact, the medical record belonging to the patient sitting on his or her examination table.
One such solution is NextGate's Enterprise Master Patient Index (EMPI), enterprise, infrastructure, identity management software that can be hosted either in the cloud or on-premises.
What NextGate's EMPI does
NextGate's EMPI uses algorithms to check components of patient's medical records -- such as name, address, social security number and phone numbers -- to not only make sure the doctor is looking at the correct information about the patient he or she is attending to and trying to treat, but also to help healthcare organizations identify duplicate records that may exist for one patient.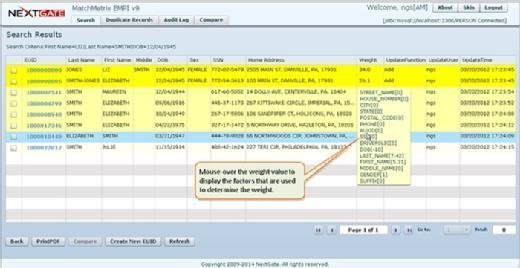 "The thing we do is we try to extract as much data as we can from as many sources as a customer can make available to use so it can go through some level of analysis," Gevik Nalbandian, vice president of software engineering at NextGate, said. "The reason this analysis step is important is for us to understand the make of the data. Yes, almost every source will give you the name component and address component, phone components, but there are certain anomalies with each source that we need to consider in order to make the matching accuracy above 99%."
For example, sometimes names are misspelled or nicknames are used or names are changed -- when someone gets married, for example.
Or, in the case of Rochester Regional Health Information Organization (RHIO), an HIE serving 1.4 million patients in 13 counties in upstate York, many hospitals participating in this HIE have refugees as patients who only knew the year of their birth.
"We had to create some logic in there that handles missing or default month and day as an example," Nalbandian said.
He explained that NextGate extracts the data from a healthcare organization, analyzes it and looks at how frequently certain elements and values occur. Then, once the analysis is done, NextGate advises the healthcare organization on how to clean the data before they reanalyze it.
"One of the basic logics of [patient record] matching is after you figure out what fields you want to match on, then you want to associate some sort of a confidence score with each one," Gevik said. The higher the patient matching score, the more confidence a healthcare organization can have that a record does or does not match a patient.
Why NextGate's EMPI matters in healthcare
To Ramesh Sridharan, CIO of the Rochester RHIO, there are two reasons patient identity solutions, like NextGate's EMPI, are important.
, it's immensely important that providers associate the correct clinical data with the right patient.
For example, "you are supposed to have a lab done, and your lab that is done for you is actually now associated with somebody else," Sridharan, said. "[A] provider might find it in some other patient record, and say that that person had a lab test. If it is a negative result it creates a big problem, right? So that's very, very important."
The second reason this technology is important, Sridharan said, is because it helps improve workflow.
For example, if a patient's records are not matched correctly, often what will happen is two records with a subset of clinical data for each record will pop up for that patient. For the provider, this may mean they are not able to see the entire continuity of care documented in once place, Sridharan said.
What a user says
The Rochester RHIO serves one million patients in upstate York and receives data from more than 200 sources. The HIE began using NextGate's EMPI at the end of 2015 and Sridharan explained that RHIO chose NextGate's EMPI because of its probabilistic matching algorithm -- where a percentage of how likely a record matches a patient or not is generated -- as opposed to the deterministic algorithm Rochester RHIO's previous patient matching platform used. The issue with a deterministic algorithm is that two records with different patient names may be matched if the social security numbers and address fields coincide, for example.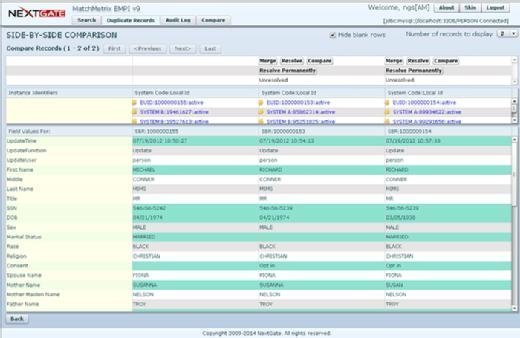 "When we got the enterprise master patient index load from our old stack and started to load that to the stack, we immediately found the number of duplicates that we had in our master patient index," Sridharan said.
Ultimately, NextGate's EMPI enabled Sridharan and the Rochester RHIO to reduce duplicate patient records among participating hospitals by 500,000 (30%).
Drilldown
Implementing NextGate's EMPI can take from 90 days -- "in an absolutely perfect world," Alexandra Priddy, senior product strategist at Nextgate, said -- to eight months in some larger healthcare organizations.
NextGate takes a snapshot of the demographic population of the hospital or healthcare organization and analyzes the data which can be six months' worth of data or even years of data. Once this is done, Priddy explained that NextGate can then "tune the EMPI and the algorithms."
"Then we create risks to take a look at based on our tuning," she added. "For example, we're seeing a whole bunch of social security numbers that are 1234567. We are going to create a report, and you can now start to create exception lists based on that to say, 'We do not want any social security numbers to have any weighted field with 1234567.'"
Another example Priddy gave was if a hospital has a large homeless population that always put the hospital as their address.
"By taking ... that snapshot of the population and running it through, we get to tune appropriately to that population," she said. "Then it's a very iterative process back and forth and back and forth, so that we eventually tune the EMPI appropriately."
Once NextGate's EMPI is implemented and tuned, healthcare organizations have two integration options: active integration or passive integration.
Priddy explained that the type of integration a healthcare organization ultimately chooses depends on what EHR the organization is using and whether it's capable of supporting either the active integration or passive integration.
With active integration, when a provider registers a patient, the EMPI is queried to see if that patient already exists in the EMPI, helping prevent duplicate copies from being made. With passive integration, the EMPI is not automatically queried to see if that patient already exists, Priddy said. This means the healthcare organization will have to deal with any duplicates made after the fact.
Pricing
NextGate's license is a perpetual license, Priddy explained. This means that once a healthcare organization purchases NextGate's EMPI, they continue to own it.
Priddy added that typically NextGate's EMPI is priced per unique patient.
"The fact that [the Rochester RHIO] actually reduced their duplicates actually meant that they reduced the cost of their license," she said.
The cost varies on whether the organization is an HIE, an accountable care organization or some kind of research lab. Pricing can be per member, per year and so on. Priddy explained that the pricing is flexible, especially as NextGate enters markets.
Next Steps
One startup is working to make a unique patient identifier a reality
Using a palm scanning technology to identify patients
CIO says national patient identifier would reduce cost, increase safety
Dig Deeper on Healthcare IT systems and applications