PatientPing helps with coordinating care among healthcare providers
In this Innovation Spotlight, SearchHealthIT features PatientPing, a startup in Boston that provides technology to improve coordinating care.
Editor's Note: Each month, the editors at SearchHealthIT recognize an innovative software, service or technology approach. PatientPing is our December 2016 selection.
Product: PatientPing
Release date: 2013
Every year, the average Medicare patient will visit seven different providers to receive care. However, those providers often aren't aware that their patient is seeing other providers in other specialties and, therefore, they can't communicate and coordinating care is a challenge.
Jay Desai realized this while working at the Center for Medicaid and Medicare Innovation (CMI), which evaluates innovative healthcare reform efforts. To try and solve the problem of coordinating care, he left CMI and launched PatientPing, a startup based in Boston with about 50 employees that creates a care coordination network.
"If you're a primary care provider that's part of a large medical group, as an example, and your patients get admitted to the hospital or they show up to an emergency room and from there go to a rehab facility, a lot of time the primary care providers just weren't aware of that," Desai, co-founder and CEO at PatientPing, said. "A lot of time that's the opportunity to coordinate care."
What PatientPing does
PatientPing is a web application hosted on Amazon Web Services that notifies a patient's physicians when they check in or check out of a healthcare organization like a hospital, rehab center or skilled nursing facility.
We spend three trillion dollars on healthcare. A lot of researchers and academics estimate that about a third of that is waste, avoidable waste. A big reason for that waste is because patients get care from a lot of providers.

Jay Desaico-founder and CEO of PatientPing
Desai explained it's similar to Gmail in that a provider logs in to PatientPing and can see a real-time feed of where their patients are. "So you've got a list of patients that you're managing or that you're delivering care for and then one shows up at the emergency room," Desai said. "[That] would go to the top of the list."
Desai illustrated how the flow of patient location information would work. He said that if a primary care provider's (PCP) patient goes to the hospital, the PCP would get notified. Then if the patient leaves the hospital and goes somewhere else, for example rehab therapy, the hospital and PCP would get notified that the patient has left and gone to rehab therapy. Then, if the patient finishes rehab and for some reason ends up in the emergency room -- maybe a different emergency room at a different hospital this time -- then the hospital, the PCP and the rehab provider would get notified.
"Everybody will be in the loop and what it does is it fits together the full care team as patients migrate through the system," Desai said.
Users can customize how they would like to receive notifications from PatientPing, Desai said. At this point, most users prefer to log in and view the feed showing where patients are. However, Desai said notification features such as text messaging, email and a mobile phone app are under development as well.
A healthcare organization participates with PatientPing to get notifications about patients' whereabouts by providing PatientPing with a list of its patients in an Excel spreadsheet. PatientPing will then connect to that healthcare organizations' EHR, create an admission discharge transfer (ADT) feed via a secure connection, such as a Virtual Private Network (VPN), and send data in an HL7 format. PatientPing is also connected to other healthcare organizations' EHRs, so it can monitor these ADT feeds and match any patients in the list with any names that come up in the ADT feed.
Why PatientPing matters in healthcare
"At the highest level, the healthcare system is trying to modernize to a place where it delivers higher quality care at a lower cost," Desai said. "We spend three trillion dollars on healthcare. A lot of researchers and academics estimate that about a third of that is waste, avoidable waste. A big reason for that waste is because patients get care from a lot of providers."
Desai explained that because patients are seeing multiple providers who don't all communicate and coordinate care, tests and X-rays are redone even if they were already done at another provider.
"Those are the reasons why we spend so much more on healthcare, these redundant procedures," he said. "The big reason for that is we don't coordinate care between providers."
The reason providers aren't coordinating care is because there isn't a good communication tool for them to use to talk and notify one another, Desai said.
Enabling healthcare organizations to effectively coordinate care is PatientPing's mission and this is why this technology is important, Desai said.
What a user says
Michigan Pioneer ACO, located in Southfield, Mich., and affiliated with Detroit Medical Center, was one of PatientPing's first users and it has been using the technology for about three years.
"We were trying to figure out where our patients were going [and] when they left the hospital," Mara Duvall, director of ACO operations at the Michigan Pioneer ACO, said. By using PatientPing, "we're able to figure out now in a more timely manner if our patients have gone to post-acute. [Then] we're able to reach out to the post-acute providers [and] case-manage with them."
Duvall said that every morning a couple of employees are dedicated to logging in to PatientPing and since using PatientPing the Michigan Pioneer ACO has been able to increase its knowledge of where its patients are by 30% to 40%.
"We like to reach out to our patients after they've been in our health system and try and help them with follow up visits and things," Duvall said. "So now that we know when they're in home care and skilled nursing facilities [and] we know when they discharge … we're able to reach out."
Not only that, but Duvall said that the Michigan Pioneer ACO also provides transportation for patients.
"If we can get ahold of them we can help them get back to their primary care providers for those appointments and help prevent rehospitalizations and I think that's huge anytime we can help them with that," she said.
Drilldown
Duvall said PatientPing sent people to train the ACO's staff as well as the post-acute providers that many of their patients visit. To get the ACO as well as the surrounding providers up and running only took a couple of weeks.
Desai explained that PatientPing doesn't charge a healthcare organization if it wants to contribute patient data. However, if a healthcare organization wishes to receive notifications about patients, it does have to pay.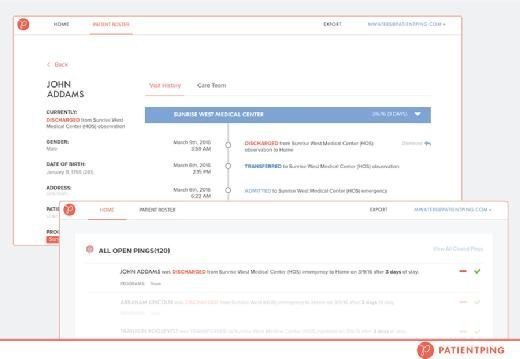 Desai also touched on security, explaining that in addition to a secure VPN connection, PatientPing also works to ensure that only the physician caring for the patient receives the information about the patient's whereabouts.
"We do have a process where when somebody submits their patient panel they will attribute those patients to the providers provisioning care for that patient," he said.
Desai said that PatientPing makes sure there's a shelf life in terms of who gets notified.
"It wouldn't make sense for the hospital to know what's going on with that patient five years after they've left the hospital," he said.
Pricing
PatientPing's pricing is based on the size of the healthcare organization -- the number of beds or number of patients.
Next Steps
HIEs and care coordination go hand in hand
Care coordination in healthcare stinks
Improving care coordination for ACOs a challenge
Dig Deeper on Federal healthcare regulations and compliance