Sergey Nivens - Fotolia
SaaS app built on cognitive computing platform helps with medical codes
Data analytics and cognitive computing are helping one hospital ensure the correct medical codes are being assigned for Medicare reimbursement via a SaaS application.
Darren Schulte, M.D., didn't go to medical school to practice medicine.
Continue Reading This Article
Enjoy this article as well as all of our content, including E-Guides, news, tips and more.
"I went to medical school, actually, for the express purpose of trying to change the practice of medicine," he said.
Schulte is working to do that as CEO of Apixio, a company based in San Mateo, Calif., that has developed a software-as-a-service (SaaS), web-based application called HCC Profiler that runs off of Apixio's cognitive computing platform, Iris.
HCC Profiler reviews thousands of doctors' notes and electronic health records (EHR) to make sure the correct medical codes are assigned to the right patient for the right illnesses and procedures that the patient has so that the healthcare organization will be properly reimbursed via Medicare Advantage (also known as Medicare Part C).
Schulte explained that patient records and files are exported securely to the Amazon cloud from the EHR using proprietary software configurations. Then, the cognitive computing platform, with the help of algorithms, will read through and analyze the data and find the relevant information about the patient concerning a chronic disease, for example. Then, through the HCC Profiler application, coders are presented the findings to review and either accept or reject and will assign the correct medical codes for reimbursement via a dashboard. Users of the HCC profiler do not need to implement Apixio's cognitive computing platform, Iris, in order to use the HCC Profiler. Healthcare organizations access the web-based application and performance dashboard via the cloud and the cognitive platform is the underlying layer powering the application.
"There's this huge communication gap between what the doctor has identified and what actually makes it all the way back up the food chain in Medicare," Don Brandeburg, director of health IT at Chinese Community Health Care Association (CCHCA) in San Francisco, said.
Brandeburg and Schulte explained that Medicare Advantage pays CCHCA depending on the severity of the population's illnesses.
There's this huge communication gap between what the doctor has identified and what actually makes it all the way back up the food chain in Medicare.

Don Brandeburgdirector of health IT at CCHCA
"In order to get appropriately reimbursed and understand their population better, [CCHCA uses] our HCC Profiler tool to better determine the chronic conditions they're actively treating for that population," Schulte said.
Brandeburg added that "the doctor may be treating you for diabetes, but if they forget to actually put the diabetes code on a claim, then our reimbursement drops a huge amount even though we're still trying to take care of a diabetic patient, which is costly."
HCC Profiler simplifies medical codes
Assigning the correct medical codes for every chronic disease and subsequent procedures that a population of patients experience over the course of a year or more can be a lengthy process for the medical coders.
Schulte described just how daunting of a task this is.
"An average medical chart over one year has a couple hundred pages with hospital notes or office visits," he said. "You can only read about three or four of those charts in a given hour."
Not only does it take the coders a long time to sift through the available documents and information, but sometimes a patient's illness is not documented very well, and then extra steps need to be taken.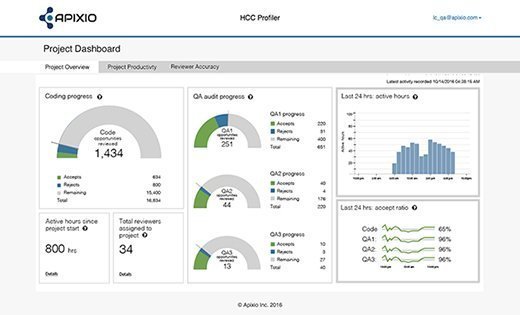 Brandeburg explained that, before the HCC Profiler, CCHCA would do annual chart reviews and even schedule supplementary visits with patients who, based on the information they already had on that patient, they thought may be sicker than as represented in the claims data.
Therefore, CCHCA would bring that patient back in and interview them to make sure they had the whole story of that patient's health.
"Very manual, laborious processes," Brandeburg said. "Very expensive, too."
This is where data analytics products like HCC Profiler come in. The application is able to locate the relevant information needed, even if that data is in various locations such as two different EHR systems, pull them into the cloud where the cognitive computing piece of the puzzle kicks in, and sifts through the hundreds of pages of notes and charts in a patient's medical record. Then, the application presents only the pages with the relevant information that coders are looking for in native form.
For instance, "the one page among 500 that indicates this patient is being treated for breast cancer and here's the oncologist's note," Schulte said. "The computer has read it, and it's determined which note has this information, in this case the chronic condition information that's relevant for coding for the capturing of this disease for the purpose of assessing the patient's risk for payment."
This is done much like the way that Amazon's analytics are able to recommend music or videos to a user, Schulte said.
"It's machines that are learning from people similar to you," he said. Or, in this case, the cognitive computing platform learns from patients with similar conditions.
The effects on patient care
Brandeburg explained that the improved process of assigning medical codes ultimately helps with reimbursement.
Schulte added that the HCC Profiler not only helps when it comes to medical codes, but also when it comes to communication between providers because not all the providers caring for the same patient are on the same page.
"You can't provide better care as a health system if you don't know what you're caring for," he said. And if a patient's oncologist doesn't talk to the patient's primary care doctor, and the primary care doctor doesn't talk to the health system and other members of the patient's care team, they won't be on the same page.
Providers could find all this information buried in the many pages of the patient's medical record, Schulte said. But in truth, no one has the time to sift through those pages and keep fully up to date.
The HCC Profiler helps in this respect because the application identifies encounter notes that lack critical documentation elements that are required for submission. This information is provided to physicians via a documentation gap report.
"It's buried in these medical records that some physicians might know of and some might not," Schulte said. "No one has the time necessarily, or even the access to the information, to knit that all together."
Next Steps
Learn about ICD-10 codes
Mine medical billing, claims data with analytics
Health system nets $23m in revenue cycle payments
Dig Deeper on Healthcare IT systems and applications