jro-grafik - Fotolia
What you need to know about blockchain and healthcare today
Health IT needs require a sweeping and complex solution that may only be found in blockchain. Healthcare CTO Roger Smith offers his take on the promise of blockchain.
Blockchain is a complex technology that could eventually be the solution to the nearly equally complex interoperability and security challenges facing health IT today.
A recent report from BIS Research predicts the blockchain health IT market will be worth $176.8 million in 2018, but will jump to more than $5.6 billion by the end of 2025. By 2020, blockchain and healthcare will be an accepted pairing -- by that time 70% of healthcare organizations will have made some investment in blockchain, the report said.
That momentum is why Roger Smith, CTO of Florida Hospital's Nicholson Center for Surgical Advancement, came to research blockchain and healthcare. Initially, he thought his hospital might be behind the curve, but after talking to others he didn't turn up any big, health-related blockchain projects, at least not yet. "We're not actually doing any blockchain projects right now," he said in an interview. "Less than half a dozen of us are trying to get smart so that the hospital will do something that won't waste our time."
But Smith is definitely enthusiastic about the potential of blockchain and healthcare. At a presentation during World Congress' 10th Annual Virtual Health Care Summit in Boston, he told the audience blockchain will bring such intense security to medical data that it will be a game changer. "All of us walk through our lives leaving a trail of healthcare data," he said. "Eventually there will be a blockchain of your health data and you will have the key to it. Each chain of the blockchain will hold data from a physical exam, for example, or will be a pointer to larger files, like scans." Because each link in the blockchain is created with data from the previous link, a unique signature is created that would be theoretically impossible to hack. And interoperability issues would disappear because blockchain would function as a layer between existing EHR systems and personal health records and act as the glue that would bring it all together, Smith explained.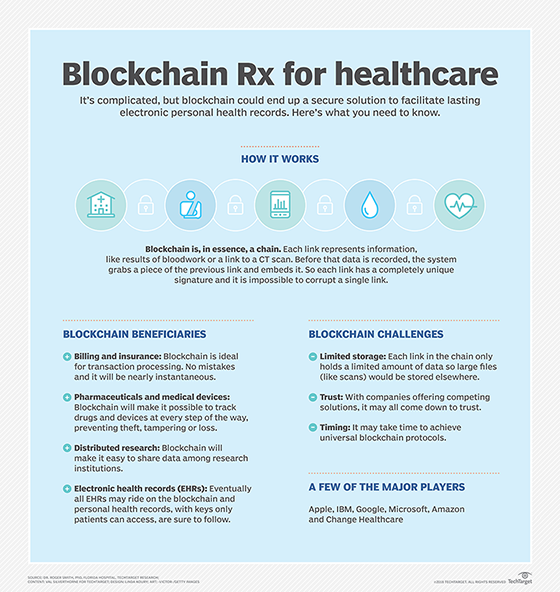 Despite Smith's optimism, he was quick to dismiss the blockchain hype. "People are saying it's going to be bigger than the internet," he told the Virtual Health Care Summit audience. "It's not." And blockchain and healthcare will require patience along the way. "We're looking at a long road of experimentation and lots of small apps. Then it will be ready for the enterprise."
Dig Deeper on Healthcare IT management and organization