ONC, CMS strive for a competitive healthcare market with open APIs
Newly proposed rules from CMS and ONC aren't just about fostering interoperability and patient data access, they're also about creating a competitive healthcare market.
ORLANDO, Fla. -- Federal regulators aim to foster interoperability and increase patient health data access with newly proposed rules, but they're also hoping to pave the way for a more competitive healthcare market.
Getting there requires transparency, said Don Rucker, national coordinator for health IT, during a press briefing at HIMSS 2019. The proposed rules from the Office of the National Coordinator for Health IT (ONC) and the Centers for Medicare and Medicaid Services (CMS) aim to accomplish this by mandating that the healthcare community use open, standardized APIs. The rules support API-enabled services that focus on patient data and require healthcare organizations to use the Fast Healthcare Interoperability Resources (FHIR) standard, developed by nonprofit standards organization Health Level 7 (HL7).
Standardized APIs will make it easier for patients to access their health data using smartphones and other devices, Rucker said. Patients can select a health application of their choosing, enabling them to take their health data wherever they go. The move will also foster a more competitive healthcare market, according to Rucker.
"That's the point of this, for powerful, pro-consumer markets to develop as opposed to markets geared toward provider convenience," he said.
ONC is also seeking public commentary on price transparency, which Rucker described as another major component of a competitive healthcare market. It is working to create more visibility when it comes to pricing information in healthcare for tests, medications, lab reports and more.
'An important step forward'
Stan Huff, chief medical informatics officer at Intermountain Healthcare and an HL7 committee member, said the proposed rules are a "tremendous" advance for interoperability and patient data access.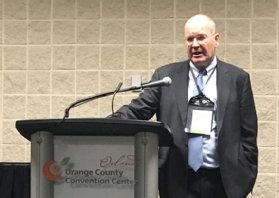 He also called them "an important step forward" in creating an open marketplace where developers can build useful applications for both patients and providers to see, use and share data, he said.
But Huff said regulators could have focused less on defining scenarios that do not constitute information blocking, which ONC's proposed rule describes in detail, and focused more on the kind of data access healthcare organizations need to support it.
"I wish they would've spent time on making absolutely clear that people have a right to have access to their data and … specifying the standards that would allow people to have access," he said.
Still, Huff said naming the FHIR standard in the regulations is a "huge step forward" for interoperability -- with a caveat: FHIR needs additional implementation guidelines to make it truly plug-and-play interoperable. Including the FHIR standard in the proposed rules will encourage people to work harder on further developing it, he said.
Dig Deeper on Healthcare IT systems and applications