Potential for AI tools in healthcare lies in the long game
AI in healthcare has the potential to help relieve physicians of mundane tasks, and the potential for greater cognitive capabilities down the road.
The potential for artificial intelligence tools in healthcare is often overhyped, but its long-term impact should not be underestimated.
That's according to artificial intelligence expert Anthony Chang, M.D., a speaker at the recent HIMSS event "Machine Learning & AI for Healthcare" in Boston. Healthcare organizations anxiously awaiting results from machine learning and AI tools should prepare themselves: The real pay-off won't come until much later, he said.
Chang is a pediatric cardiologist who serves as chief intelligence and innovation officer at the Children's Hospital of Orange County in Orange County, Calif. He believes industry stakeholders have only tapped the surface for AI and machine learning in healthcare, and stressed the importance of balancing the potential for AI with the reality of what AI can do right now.
"The best thing is to have a tempered excitement about AI, and, at the same time, realize that we tend to overexpect from technology in the short term and underexpect the dividends in the long term," he said.
Understanding AI tools in healthcare
One of the hurdles for healthcare CIOs when it comes to AI is language. Terms like artificial intelligence and machine learning are often conflated and used interchangeably, although they are distinct technologies, according to Chang.
"Think of everything you hear about artificial intelligence as sections of an orchestra that's getting bigger and bigger," he said.
For example, deep learning is "top-tier" machine learning, but it is still contained within the machine learning section. Data science is another section of the orchestra and contains data analytics. While data analytics tends to be predictive and seeks out correlation, data science is prescriptive and seeks out causality.
Natural language processing, a computer's ability to understand human voice, is one of a broad range of AI components that will play an important role in healthcare, Chang said. It will eventually sit in the background transcribing reliable notes during doctor-patient interactions, enabling physicians to focus directly on patients.
"All the interactions, chatbots, virtual assistants -- they're all going to rely on natural language processing," he said.
Chang pointed to cognitive computing, which aims to mimic human thought, as a more humanlike element of AI.
Think of everything you hear about artificial intelligence as sections of an orchestra that's getting bigger and bigger.

Anthony Chang Artificial intelligence expert
One of the basic characteristics of AI tools is the attempt to imitate how the human brain functions, including cognitive computing, he said. Yet the more humanlike quality of cognitive computing sets it apart from machine and deep learning, Chang said. Machine and deep learning enable machines to see or hear, while cognitive computing attempts to replicate human cognitive abilities. Eventually, cognitive elements will be added to deep learning, which Chang thinks of as "deep thinking."
"We're taking on different parts of the human clinician and augmenting that skill with computers and machines," he said.
The greatest impact of AI in healthcare lies in its potential for cognitive, diagnostic abilities, Chang said. While elements of machine learning are being used now, Chang believes that in the next couple of decades, cognitive computing will gain ground.
"You can see the much bigger gain in the next 20 years will be with the cognitive part of machine and deep learning," he said.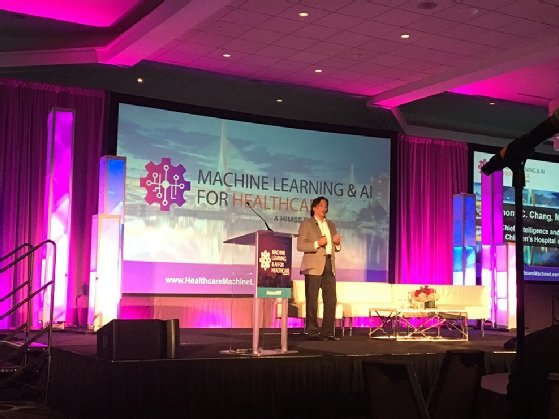 Misconceptions about AI in healthcare
While some misconceptions about AI tools in healthcare are fading, many still exist. The first is that clinicians will be replaced by artificial intelligence, Chang said.
Clinicians understand there is more to their jobs than interpreting data and medical images, which is something AI tools do well now. But machines simply aren't capable of other aspects of healthcare and patient treatment, according to Chang. For example, complex decision-making and creative problem-solving are tools human clinicians will have to teach to machines to assist with treatment -- something Chang believes will happen in the next decade.
The goal of AI tools is to assist clinicians, radiologists and others in the healthcare field and help them do their jobs better, Chang said. AI tools can alleviate mundane, administrative tasks, such as typing patient data into the computer during an appointment. Getting rid of that burden will enable clinicians to spend more time focused on their patients.
AI tools are still learning, though. As such, they will continue to need human oversight, Chang said. But AI tools that are exposed to hundreds of images a radiologist may be faced with daily will find ways to make better use of a radiologist's time by directing attention to the portion of images in need of critical assessment.
"The volume of medical images has exponentially increased in the last five years, so there's a lot more images to be looked at," Chang said. "No one is going to be losing a job. I'll predict today that there will be more radiologists in the future, not less, because their jobs will be rendered more interesting than what [they are] now."
Another misconception is that AI can only be applied to image-focused specialties such as radiology or pathology. AI will play multiple roles in healthcare, such as population health management, device integration, risk prediction and intervention, and chart review and documentation, Chang said.
Part of the misconception about AI tools in healthcare -- and AI in general -- relates to inflated expectations that the tools can deliver on something they weren't meant to deliver on in the first place, Chang said.
For healthcare CIOs looking to implement AI tools, Chang advised they start by identifying the problem they want to solve, and asking the right questions of vendors to determine if their AI tools can solve the problem the organization is trying to solve.
Dig Deeper on Healthcare IT management and organization