vali_111 - Fotolia
Microsoft Cloud for Healthcare is going GA
Microsoft Cloud for Healthcare pulls together Microsoft products such as Microsoft 365, Azure and Microsoft Dynamics as well as partner products in one place.
Microsoft is getting specific with its cloud offerings -- healthcare-specific.
Microsoft Cloud for Healthcare will become generally available Oct. 30, roughly four months after its public preview, the tech giant announced during the recent Microsoft Ignite virtual event. It is Microsoft's first vertical cloud offering, and it features healthcare-specific tools such as a suite of capabilities based on the data standard Fast Healthcare Interoperability Resources (FHIR), and it brings Microsoft products such as its productivity suite Microsoft 365, its cloud computing environment Azure and its ERP offering Dynamics 365 under one umbrella.
Its ability to consolidate multiple products into one platform is one of Microsoft Cloud for Healthcare's most compelling attractions, said Mike Smith, vice president of business development at KLAS Research. Its focus on new tools, capabilities and integrations with partner products is placing Microsoft in the same competitive arena as Google Cloud Platform and AWS, other top healthcare cloud vendors.
"Progressive healthcare providers are looking for solutions that have an edge on technology and that can encompass multiple stakeholder use cases and break down siloed departments to become better aligned and drive outcomes," Smith said.
What to expect
Microsoft Cloud for Healthcare has a strong focus on workflow efficiency.
Most healthcare organizations already use cloud-based Microsoft products such as Office 365, but Microsoft Cloud for Healthcare gives the tech giant a way to build deeper relationships with healthcare systems and healthcare CIOs as an all-access point for new and existing products, Smith said.
Microsoft Cloud for Healthcare is also strongly focused on data and its suite of FHIR capabilities for a standardized exchange of protected health information in the cloud, said Lynne Dunbrack, group vice president for the IDC Public Sector at consulting firm IDC. One of the cloud's new FHIR-based features includes Patient 360, which pulls data from a patient's EHR to give providers a more complete view of the patient's history, current conditions, procedures and appointments.
"Microsoft Cloud for Healthcare is a purpose-built industry cloud for healthcare that uses Microsoft's Common Data Model and Azure API for FHIR to address the healthcare industry's inherent data and interoperability challenges," Dunbrack said.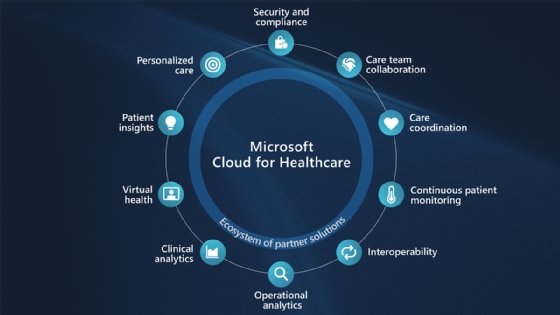 Along with pulling multiple Microsoft products together under one umbrella and building out its suite of FHIR-based products, Microsoft Cloud for Healthcare also focuses on creating better engagement between patients and providers, as well as greater healthcare team collaboration through the addition of new features for its messaging and video conferencing platform Microsoft Teams.
Creating a better virtual care workflow
In May, Microsoft previewed Microsoft Cloud for Healthcare at the height of the COVID-19 pandemic, causing Microsoft to rethink virtual care offerings and how it could group existing tools under one umbrella to create better workflows, according to David Rhew, M.D., chief medical officer and vice president of healthcare for Microsoft's Worldwide Commercial Business Healthcare leadership team.
Rhew said the pandemic shined a light on the importance of connecting virtual care tools to make for a better overall patient experience. Its Microsoft Healthcare Bot, which uses AI, was made generally available at the beginning of the pandemic to help with patient self-assessment, according to Rhew. The Microsoft Cloud for Healthcare takes the bot one step further with an integration of Microsoft Team's virtual care capabilities.
By connecting the patient self-assessment bot to Microsoft Teams, patients can be automatically set up for a virtual visit. That's where Microsoft saw value in the next step it took: integrating with its partner product the Nuance Dragon Ambient Experience (DAX) voice transcription service so providers can focus more on the patient during the virtual visit without having to type notes in the EHR, according to Rhew.
"These are examples of how what we've done is to rethink how care can be delivered virtually using these tools in a data-connected manner," Rhew said.
KLAS Research's Smith said Microsoft Cloud for Healthcare's new virtual care capabilities have created interest in the DAX virtual scribe product. The tool is integrated with Microsoft Teams and can transcribe patient and provider communication from virtual visits. The tool then integrates patient data with their electronic health records, auto-populating a clinical note for physician review inside the EHR.
Microsoft's investments in healthcare and push to develop and partner closer with providers and payers is helping it start to garner more trust in the healthcare community for some.

Mike Smith Vice president of business development, KLAS Research
"The value of combining Nuance DAX with Microsoft Cloud for Healthcare is that DAX can leverage the computing power and predictive analytics technology of Microsoft's cloud infrastructure," Smith said. "Also, the more this technology gets used, the better and more accurate it becomes, which means, if it is in the cloud with lots of users, it will become better and more accurate more quickly."
Microsoft's Cloud for Healthcare announcement included news of a private preview mode of Microsoft Teams EHR Connector, which enables patients and providers to launch virtual visits in Microsoft Teams directly through an Epic portal. Rhew said, while new capabilities like the Nuance DAX integration will be available Oct. 30, Microsoft will continue building out its health cloud with new tools and capabilities such as the Microsoft Teams EHR Connector beyond the general availability date.
It's still early days for Microsoft Cloud for Healthcare, but Smith said it's a good next step for Microsoft as it pushes deeper into healthcare.
"Microsoft's investments in healthcare and push to develop and partner closer with providers and payers is helping it start to garner more trust in the healthcare community for some," he said.
Dig Deeper on Healthcare IT systems and applications